Altered Stage, the only private club musicians who make a living in ways other than music, will showcase the talent of Chicago business executives at Reggie's Music Joint.  An eclectic collection of music — from folk to metal — come see real people doing what we all want to do. Rock out live.  The show will feature Altered Stage member originals, recently released on the Altered Records label, as well as covers from artists as diverse as Sufjan Stevens, Tom Petty, The Talking Heads, Led Zeppelin, Pearl Jam, Danzig, and Helmet. Pretty much every genre will be covered by people who are rockstars in their respective careers, and come to express themselves through music.  It's as real as it gets.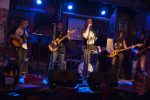 ALTERED STAGE
Located at 657 W. Lake Street, Altered Stage is a private club for recreational musicians of all skill levels — from absolute beginner to advanced players. They offer guitar, bass, drum, keyboard, and vocal lessons to adults; yet, Altered Stage is more than just music lessons. It's a journey tailored to each member's musical aspirations. It's a dynamic community of people who love music and want to learn and play with others. Through personalized music instruction and programming, as well as live gigs at local venues like Reggies, Altered Stage is uniting Chicago's recreational musicians by providing a unique and perpetual experience that takes instruction to a whole new level. It is a great place to plug in and crank it up. A place to meet new friends and live music. Everyday.
Visit alteredstage.com or call 312-953-ROCK (7625) to sign up for a tour and free intro lesson. Your musical journey can start today!