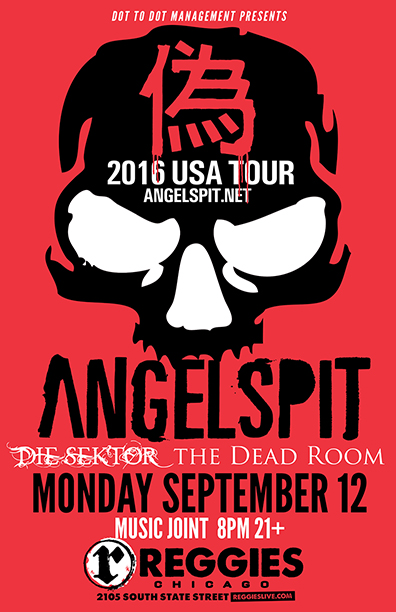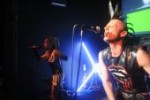 ANGELSPIT
Angelspit are an electro punk act hailing from Sydney, Australia, known for vicious distortion, biting lyrics and harsh drums. Angelspit have churned out eight releases over the past seven years and have shared the stage with acts such as KMFDM, Skinny Puppy, Frontline Assembly, Sisters of Mercy and Nitzer Ebb. The band's music and performance have been recognized and critically acclaimed through numerous media outlets.
The Angelspit lineup consists of Zoog and Destroyx, Valerie Gentile on guitar, Matt James on drums and The Liar on videography.
Ministry, KMDFM and many other bands have requested Angelspit remixes. In viral form, they reduce bandwidth to ash with a massive amount of web content including instructional "blipvert" videos, blogs, tutorials, downloadable stencils, forums and constant online interaction with their fans.Angelspit have played many major European festivals (Mera Luna, Summer Darkness, Wave Gothic Treffin and more), toured North America, Europe and UK twice and Australia 3 times. They have shared the stage with KMFDM, Skinny Puppy, Frontline Assembly, Front 242, Sisters of Mercy,Nitzer Ebb, Lords Of Acid, Architect, Legendry Pink Dots, Mortiis and many others.
Angelspit's nine releases have been praised and slandered – including Best Release of 2009 from ReGen magazine, best AND worse new band simultaneously from the same magazine (Italy's Ritual Magazine 2007 Reader's Poll), hailed as genius and critised as an annoying fashion statement.
They have declared war on all things that hold back creativity and freedom of expression. Based in New York City and Berlin Germany, Angelspit continue to corrupt audiences with their perfectly kerned mayhem.
Fuck the Revolution. This is WAR.
ANGELSPIT.NET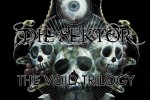 DIE SEKTOR
Die Sektor was founded by Scott Denman and Daniel Gant in 2004 as an outlet for experimenting with dark aggressive electronic music. With the addition of Alan Smith in 2005, Die Sektor released their first album 'To Be Fed Upon' on the harsh industrial label Noittek in 2006. After several week of topping the DAC and a handful of shows in the U.S. and Mexico, Die Sektor went on a long hiatus while Scott starting putting together material that would advance and not copy dark electronic music. In 2010 Edwin Alter joined Die Sektor and the album genre bending album 'Applied Structure In A Void' was written and conceived. Upon the release of 'ASIAV' in 2011 Die Sektor divided audiences and critics. For many fans in the genre of Industrial 'ASIAV' raised the bar as far as the quality and songwriting that could be done with dark electro industrial music.
After several shows across the US Die Sektor began to gain a reputation for intense, exciting and powerful live performances. In 2012 Die Sektor released the follow up to 'ASIAV' with the extremely emotional and dark album 'The Final Electro Solution'. With 'TFES' Die Sektor continued to raise the bar for the industrial genre and a specific and unique sound that is Die Sektor, began to emerge. Die Sektor set out on a US tour to support the album, gaining fans and raising the craft of electro shows to new levels. Through 2011 and 2012 Die Sektor remixed bands on almost every industrial label and of every industrial style across the globe. Die Sektor has built a strong reputation as one of the top remix producers in the genre.
2013 finds Die Sektor putting the final touches on a new studio album titled '(-) existence '. The new album has been touted as the final chapter in 'The Void Trilogy' made up of 'ASIAV' and 'TFES'. Die Sektor is preparing to unleash '(-) existence, claiming it to be their most accessible, experimental, darkest, emotional and complex work yet. (-) existence is a true concept album that follows the protagonist down a path of internal division and self destruction. Look for Die Sektor to bring their live show to your city in 2013 and prepare to enter the void.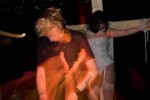 THE DEAD ROOM
The Dead Room: this where I'm supposed to be all clever & smart like, isn't it? Hmmm… let's see. We're from Chicago. Founded by S@int and now joined on stage by Napalm Bettie and Turner Xie (Negutyv Xeiro.) What more could you possibly want written here? Let's go, Start a Riot. Start a Revolution.