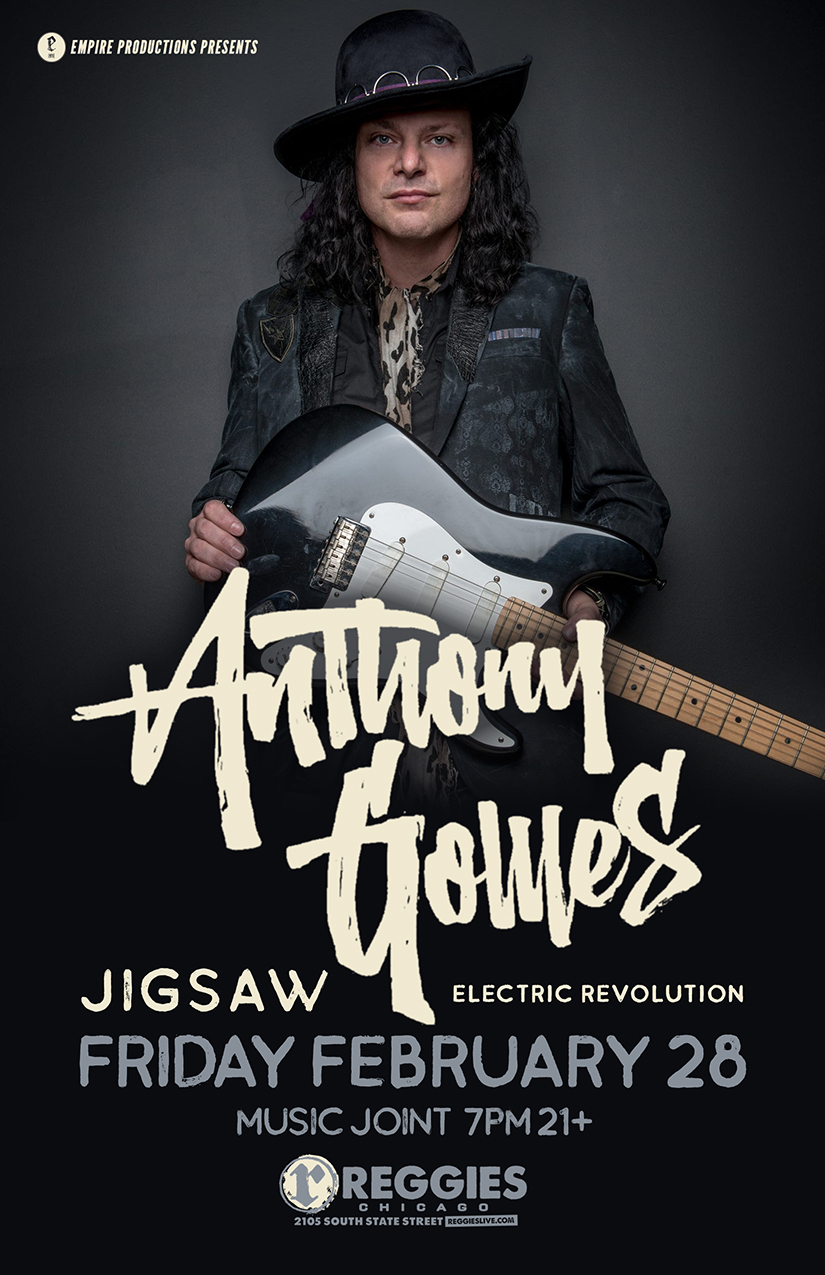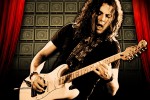 ANTHONY GOMES
Anthony Gomes, #1 Billboard Blues Artist, is a triple threat force as a guitarist, vocalist and songwriter. Blues Revue Magazine recently declared that, "Gomes' formidable guitar chops and authentic singing place him in the forefront of modern blues." This, along with his high-energy shows and dynamic stage presence, make him one of the top draws on the Rock/Blues circuit today. Gomes has headlined concerts in 17 countries and has had the honor of sharing the stage with B.B. King, Buddy Guy, Robert Plant, Joe Bonamassa, Heart, Jonny Lang and Kenny Wayne Shepherd.
Word of Gomes' electrifying performances has reached Eric Clapton, Morgan Freeman, John Goodman, Toby Keith, Jonny Lang, Ron White and Vince Vaughn who have all attended Gomes' concerts. After experiencing Gomes live, John Goodman referred to him as "a pure soul brother" and comedian Ron White declared his official endorsement of Anthony Gomes. Perhaps the greatest complement was offered by Morgan Freeman who jokingly professed that Anthony was, "not bad for a white boy."
In addition to performing, Gomes is an award winning blues history scholar, earning the University of Toronto's C.P. Stacey Award for the highest overall academic grade point average by a history major. Anthony completed his master's degree thesis on the racial and cultural evolution of blues music, graduating with high distinction.
Believing that music can inspire the human spirit, Anthony founded the Music Is The Medicine Foundation in 2010. This non-profit organization is dedicated to changing the lives of others through the healing power of music. Through private donations and winning sizable grants from State Farm Insurance and CVS Pharmacy, the foundation has funded songwriting scholarships, offered music education programs, and donated musical instruments to those in need.
Born in Toronto, Canada to a Portuguese father and a French-Canadian mother, Gomes began playing guitar Gomes was elevated to the top of the blues field just one in his early teens and was drawn to the blues sounds of B.B. King, Buddy Guy, Eric Clapton and Jimi Hendrix. He relocated to Chicago in the late '90s to learn from the blues masters. During his brief stint as a sideman for Magic Slim and the Teardrops, Gomes put together his own group and won the first annual Buddy Guy's Legends "Best Unsigned Blues Band" competition in 1998. Later that year, Gomes released his debut CD, Blues in Technicolor, which introduced him as a guitar-slinger loaded with impressive firepower.
On 2002's Unity, he accomplished the album's title with a heavy mix of styles leading Bandit Blues Radio to name it one of the "Top 30 Essential Blues CDs" of all time. Gomes was elevated to the top of the blues field just one year later when BluesWax Magazine named him "Artist of the Year," an award he would claim for several years in a row due to his endless commitment and touring. Music Is the Medicine (2006) peaked at number four on the Billboard Top Blues Albums chart, only to be outdone by LIVE (2008) debuting at number one. In 2012, Gomes received critical acclaim for his release of Up 2 Zero. The album was named the "Best Blues CD of 2012" by A1 Blues.com and the Blues Underground Network voted the album "Best Blues Rock CD of 2012." The accolades continued in 2013 with the release of Gomes' gusty acoustic album …Before The Beginning. Blues 411 honored the release with the "Jimi Award" for best Blues/Rock CD of 2013 and it continues to make many "Best Albums of the Year" lists.
Gomes shows no signs of slowing down. Early 2015 will see the release of Electric Field Holler, a guitar driven blues infused rock 'n' roll album that showcases Gomes' blistering six string work and whiskey soaked voice. Later in the year, he plans to re-enter the studio to begin recording another album entitled, Peace Love & Loud Guitars. "I feel like this will be our pinnacle year in terms of creativity and artistic achievement," says Gomes. "It's time to turn it up."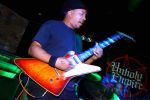 JIGSAW
Jigsaw is a blues/jazz trio with three talented Chicago music veterans. Guitarist/ Vocalist RB Green – Rock, Industrial, Blues, Funk, Punk, Hip Hop / Jazz, Fusion,Experimental, and Dance Remixes. Currently performing with the rock band WIZZO, the Blues band Dr. Malort, the AC/DC tribute Black Angus, and as a solo acoustic artist and session/side player.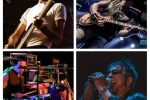 ELECTRIC REVOLUTION
The Revolution!!!! We are looking forward to many positive things,Recording, Performing and being able to see friends old and new! With David Lawson of Nick Fury Lead Vocals and Steve Crucianelli of Old Junk, Nick Fury, Br6ther on Bass Guitar and Vocals / Joe Gajan of Spider xXX, Joe Gajan Group, Soul 69 on kill Guitar and vocals / Billie Pulera of Nick Fury, Br6ther on Drums and Vocals! with the vision of creating and performing music , Hard,Heavy, soulful, Dirty Blues based 70s flavored Hard Rock and Roll,Its of our roots, Back to the vibe of bands like Deep Purple, Zeppelin,Grand Funk, Mountain, Montrose, you know of the good shit! So please keep your ears and eyes open for up and coming info and details about the Electric Revolution! With peace and much love!