We're open at 9am All You Can Eat tailgate buffet! Game will be shown with sound in the Music Joint and Rooftop.
Going to the game? Travel in style by hopping on our Reggies Rock Bus to see The Bears play the Chargers at Soldier Field.
Stick around for a post-game show featuring Dave Weld and the Imperial Flames!
Multiple runs will be made till everybody gets to the game and back.
See All Daily Specials Here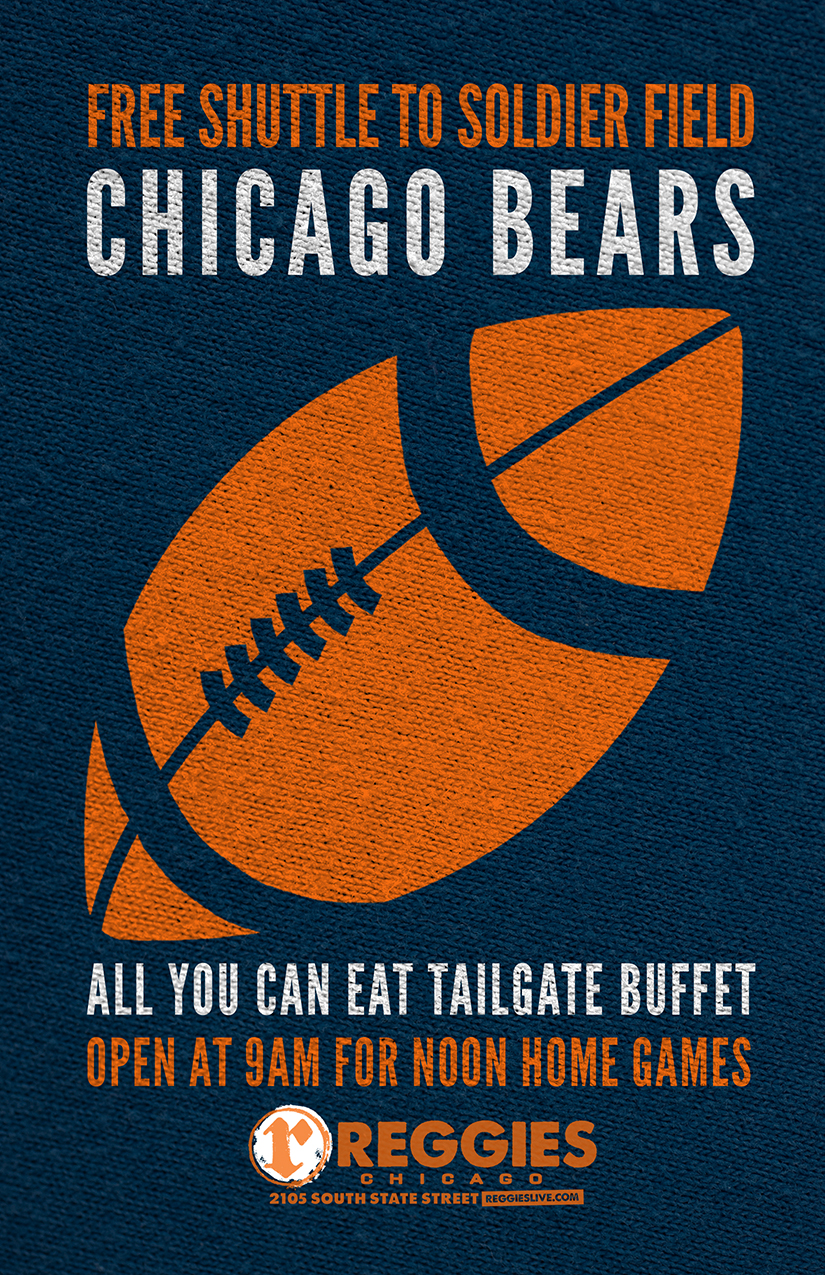 CHICAGO BEARS GAME
(with Game Feed Sound)
Watch the Bears play some NFL Football with game feed sound, while enjoying awesome food and libations.
Check out our Daily Specials Here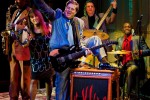 DAVE WELD AND THE IMPERIAL FLAMES
Dave Weld and the Imperial Flames, an authentic blues band with versatile talent, variety, and a cohesive show that includes original driving blues. The originals are classic in nature, the standards are revitalized with striking three part vocal harmony, three vocal stylists, blues diva and Rami winner Monica Myhre, Legendary Saxman, Abb Locke, passionate guitar schooled from the masters(J.B. Hutto), and tight, rock solid rythm section.
From l Chicago Blues fest, to Buddy Guy's new Legends, the Meridien Hotel (Paris), Canada, Japan, Spain, Holland, Caribbean, Germany, Belgium, France, Sweden, England, North, South, East and West in the USA. Here is what they say about Dave Weld and the Imperial Flames:
"We along with our guest are thrilled to see the interaction you have with the audience…your performances have set the standard for consistency, quality and entertainment…your flexibility demonstrates your dependability….Jacques D'Rovencourt, Director of Food and Beverage, The Palmer House Hilton
"You guys are great, fantastic, I loved it!!…..Bonnie Raitt
"Dave Weld and the Imperial Flames were excellent, particularly Dave Weld, who came offstage to play and give individual attention…myclients have commented how great the band played!"….Vivian Liddell, Area Sales Director, Le Meridien Hotel
"On behalf of House of Blues-Chicago, we highly recommend Dave Weld and the Imperial Flames for venue bookings thanks to there consistently high level of talent, dedication, and cooperation……..Virginia Jones, House of Blues, Chicago
"Using a metal slide, the guitarist draws on lessons from the great JB Hutto and makes his emanations of power and energy ever so purposeful"………Frank-John Hadly, Downbeat Magazine September, 2010
"this is a killer veteran all-star, real deal Chicago blues band at its house rockin' best… one of the hardest working, longest running, and most talented, cohesive, Chicago blues bands around"…….Kevin Johnson, Delmark records, Aug 2010
"Dave Weld is one of the friendliest, easiest guys in the music business to work with…never seen a crowd the didn't love him..he put together a peformance that was exactly tailored to the event… I would recommend him highly…an evening with Dave Weld is an evening well spent…..Lois Roewade , Event Makers