Rock For Hope Fundraiser: All proceeds are in memory of Ronnie Gollardo.
The Reggie Bus will be at Tiger O'Stylies in Berwyn at 8 pm to bring them to Reggies for the show.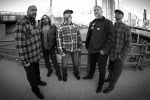 BLACK4
Get ready for some rock and roll and look no further than Black4 from Chicago, Illinois. This band will take your musical needs and drop a hybrid metal/punk/stoner rock evolved earthquake at your doorstep. Black4 has been pushing the limits and building a solid fan base since 2011. Bryan Tunis ( Hungry Onion) brings a life to the microphone that few can deny. In addition, drummer Brian Madurzak (Bello) effortlesssly turns Black4 into a fist pounding roar. With the otherworldly riffs of Curtis Taylor (Guiltrip) on guitar and the thunderous rhythms of Jason Forrester (Guiltrip) on bass, the band is geared to rock Chicago to it's core.
Starting at the beginning of the trail, the suburbs of Chicago is where they planted the seeds of a new group. Breaking into Chicago's rock scene is not an easy task especially when the goal is to bring a new angle to the scene that few others have achieved. One that delivers a punch that leaves you with your fist in the air, celebrating the power of true muscianship and solid rock and roll.
Working their way closer to Michigan Ave. with every move and bringing their dedicated fan base with them. Black4 plays out consistently at many venues in Chicago not only headlining but also opening for high profile acts such as Filter, Wino, The Skull and Mondo Generator. This year, Black4 took their act to the South By Southwest Festival in Austin, Texas, playing to rave reviews and leaving the fans wanting more. Leaving a lasting impression, this was definitley a solid step for Black4. A major highlight for this year, but the best was yet to come.
June of 2014 marked the release of their debut album " The Tales of Cuatro Negro". Recorded at The Island Recording in Chicago with Paul Norman tracking and Elliot Bancel producing. The delivery of killer riffs, slamming drums and solid vocals Black4 brings it full circle with a force that invites you to come along for the ride. Black4 found a new set of rules to play by when the album was completed, pushing their roots deeper into the Chicago streets. This album presents a sort of rock collection, forged together by influences from Kyuss, Black Sabbath, Queens of the Stone Age, Fu Manchu and Clutch. Spending three months in the studio, the band came out with an true representation of their passion. Black4 found a new shot of adrenaline after the albums release, with awesome reviews and support coming in from all directions especially overseas.
October of 2014 saw Black4 as the featured band on episode #220 of the podcast Tell'em Steve Dave. A podcast on the Kevin Smith podcast network featuring members of the Impractical Jokers and Comicbook Men TV shows.
January 2015 started off with a bang as Black4 was the featured band of the week on Twisters Music. Not only was the music featured, but the week ended with a long, live call in featuring Bryan.
March of 2015 saw Black4 returning to the scene of one of last years highlights, SXSW. Once again proving the force from Chicago couldn't be stopped, playing to large crowds and rave reviews.
In July of 2015 Black4 was featured in a interview for the U.K. magazine Fireworks. Along with the interview, the track "Combat" was also featured on the magazines CD sampler.August of 2015 saw the band team up with Breakout Artist Music Group for a stop on the Summer Shine tour. This show helped propel Breakout and Black4 into launching a successful Kickstarter campaign to raise funds for a new video single.
The band entered MicroMega Studios in Austin, Tx. with Marcos Delgado in late 2015 to record the new single "Cougar Love". Mixed at The Island Recording in Chicago by Elliot Bancel and released in April of 2016 with a new video shot by 517 Creative.
The future of Black4 is on the move, with plans to use this momentum as a stepping stone to promote themselves to the right label. With success and their increasing number of supporters, keep an eye out for Black4 as they'll be hitting the stage like a full steam freight train…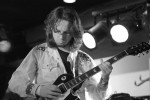 THE BUZZHOUNDS
The Buzz on the Hounds.
Wow, these guys must really like to party with a name like that? The Buzzhounds will be the first to tell you that the buzz is not chemical, but natural. It is all about the live experience. The give and take between a performer, and an audience on a great night. That's the buzz…..that's what it's all about.
These guys are honest, old school musicians. They do it because they love it, and this creed carries over into their music. "We made an honest record", this is how we sound. We used the best vintage gear we could find, (including the same mics and soundboard that the Beatles used at abbey road), and went right to tape with very little editing," says their front man Jeffrey Manga
The result is raw rock and roll. Natural tempo changes and subtle nuances are captured throughout the record, giving it a dynamic, human feel. The record plays like a modern take on 90's rock, paying tribute to Jane's Addiction, Guns and Roses, Smashing Pumpkins, Alice and Chains, and Wolfmother, while maintaining an organic, original feel. There is an underlying element of blues and classic rock DNA as well. Each song has a different sonic theme, leaving the listener on the edge of their seat, and asking what's next ?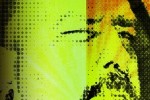 DJ9CHICAGO