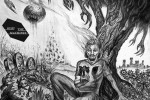 BURY THE MACHINES
Bury the Machines is a stoner metal band initially formed in Chicago, IL by John Bomher and Mark Serpico. The band is currently based in Los Angeles, CA.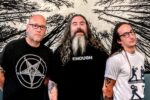 OF WOLVES
Of Wolves are masters of overt catharsis. On Balance, their long-awaited sophomore full length, this caustic crew delivers a devastatingly intense blend of crusty punk, sludge, post-hardcore, gritty stoner doom, and enough noise rock experimentation to keep the listener perpetually on their toes. Their raw approach demonstrates an omnivorous application of genre, and every sound contained herein is employed as a vehicle for release. Nominally for fans of Melvins, High on Fire, Unsane, 16, and Gojira, Balance will, frankly, sit quite well with any fan of extreme music who needs a soundtrack to facilitate the release of their pent-up frustration and rage.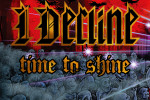 I DECLINE
The words "I Decline" represent a middle finger to the mediocrity in the world of modern hard rock and metal music.  Fusing this creed with the attitude of Punk, riff-laden hooks of Classic and Stoner Rock, and the fury of Heavy Metal, I Decline crafts its own hybrid of hard-edged music that they define as the "New Wave of American Punk Metal" (NWOAPM).  In 2010, I Decline released their 3rd full-length album Time To Shine, a bombastic onslaught of fist in the air anthems for a blue-collar society that touches upon mortality, desolation, and broken relationships.  Time To Shine is a metaphor to the aftermath of 9/11 and the personal struggles we face as humans in this chaotic world, while searching for new hope.  During their fourteen-year history in the Chicago music scene, I Decline has provided support alongside Nick Oliveri (Queens of the Stone Age, Kyuss, Mondo Generator), Joe Preston's "Thrones" (Melvins, High On Fire, Sunn O))), Earth), Toxic Holocaust (Relapse), Holy Grail (Prosthetic), and Krum Bums (Century Media).
MANGY
"If you want to be a different kind of fish, drop out of school." – Captain Beefheart