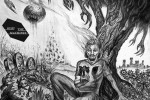 BURY THE MACHINES
Bury the Machines is a stoner metal band initially formed in Chicago, IL by John Bomher and Mark Serpico. The band is currently based in Los Angeles, CA.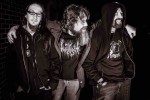 OF WOLVES
Hailing from Chicago, the fully awakened beast that is Of Wolves is a raw and heavy blend of Punk & Metal from Stoner Sludge to Hardcore & Post Punk. This unique three piece focuses on releasing energy through music as therapy and feel like a force of evolution for mankind through their music, topics and imagery. Their viciously savage vocal driven approach and instrumentation seem to transmit sonic vibrations directly to the core of their fans to shock them out of their trance-like state of social programming & control. This intensity paired with a lack of any usual musical boundaries gives them a unique freedom that limits many bands. Because they have not allowed themselves to be caged or boxed into one sound, genre or style these freedoms become a liberating force that allow them to go where their rage and emotions take them as a band without compromise. A therapeutic release comes straight through the songs with a rare straight forward approach of brutal force and raw intensity. While the music is directly in touch with the world with subject matter many of us are also feeling. Subjects that are direct relationship to a working class life. Everyday stress, disillusion & greed, corruption, injustice. A deep seeded frustration with the current issues of our world, jobs, governments, economies, politics & religion. The jaring release the music provides to the band and their fans appears unforgiving as it destroys walls and clears pathways into the lifelong barrage of programming. The uniqueness of this band will be a refreshing change and an addictive new musical fix for all those who witness their fierce and straight forward approach and want something new and different…. a slap in the face, a wake up call to the masses. And its a good thing as it seems as though if these guys were not letting out all their anger and frustrations through their music, they'd probably be in jail or on the news.  But they say they are just regular guys sick of the fixed game they are stuck in. You be the judge.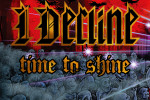 I DECLINE
The words "I Decline" represent a middle finger to the mediocrity in the world of modern hard rock and metal music.  Fusing this creed with the attitude of Punk, riff-laden hooks of Classic and Stoner Rock, and the fury of Heavy Metal, I Decline crafts its own hybrid of hard-edged music that they define as the "New Wave of American Punk Metal" (NWOAPM).  In 2010, I Decline released their 3rd full-length album Time To Shine, a bombastic onslaught of fist in the air anthems for a blue-collar society that touches upon mortality, desolation, and broken relationships.  Time To Shine is a metaphor to the aftermath of 9/11 and the personal struggles we face as humans in this chaotic world, while searching for new hope.  During their fourteen-year history in the Chicago music scene, I Decline has provided support alongside Nick Oliveri (Queens of the Stone Age, Kyuss, Mondo Generator), Joe Preston's "Thrones" (Melvins, High On Fire, Sunn O))), Earth), Toxic Holocaust (Relapse), Holy Grail (Prosthetic), and Krum Bums (Century Media).
MANGY
"If you want to be a different kind of fish, drop out of school." – Captain Beefheart