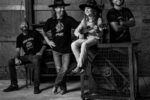 CHAMP JAXON BAND
THE CHAMP JAXON BAND
Champ Jaxon is an eleven-year-old aspiring blues-rock musician based out of Southwest Florida. Champ was born in New Bedford, Massachusetts in 2010 and his family relocated back to Florida in 2013 when he was three years old.
Champ plays a custom-build Blind Armadillo guitar, Red Bear, made by luthier Victor McGuire in Venice, FL. Additionally, he plays a 1959 Gibson Les Paul Special, a Gibson Flying V, a Gibson SG, and a Brad Paisley Fender Telecaster, gifted to him by Mr. Paisley himself.
Champ donated his own tips, (July 2021) for a benefit to his school's music program. One of the first, and most frequent venues Champ has performed at, Nav-A-Gator matched what he had earned, resulting in $3,500 raised. With that donation, the school purchased a Digital Audio Workstation, because Champ wanted all of the kids to have the ability to be involved in some way.
Champ entered the Marshall Tucker Band, Can't You See Challenge on Facebook (May 2021). Champ's video submission of him performing Can't You See in Nashville, was shared by The Marshall Tucker Band on Facebook. Two weeks before the contest ended, Champ was given the opportunity to meet the band. Not only was Champ given a VIP table, Doug Gray, himself- asked Champ to perform with them that night. However, if he did- that meant being taken out of the running for the competition.
Champ picked up his guitar. His pure love of music took him directly to the stage, and performing with them was the real prize. When asked to stay for the encore- 10 year old Champ Jaxon, had one statement. "Let's jam in the key of A!"
A mere two months later, The Marshall Tucker Band needed someone to fill in on lead guitar, for several gigs. Knowing everyone that they know, they called Champ.
Champ performed with The Marshall Tucker Band opening for Alabama in Birmingham, Alabama at The Oak Mountain Amphitheater (August 2021). Shortly thereafter Champ opened two shows for Mark Wills in Arcadia, Florida and West Palm Beach, Florida (Sept 2021)
Champ performed with Scott Sharrard, (Sept 2021) of The Gregg Allman Band, who has been his mentor and guitar teacher for several years in Macon, GA at the Georgia Allman Brothers Band Association's (GABBA) GABBA-Fest.
Champ's first single was released on November 12, 2021, his debut album following on Dec. 10, 2021
You can see Champ Jaxon being interviewed by and performing with Brad Paisley, on The Ellen Degeneres Show, December 29, 2021.
Champ's bandmates include his father, Nate Winkler, on rhythm guitar, Brent Adam on drums, and Nick Rosado on bass guitar.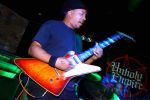 JIGSAW
Jigsaw is a blues/jazz trio with three talented Chicago music veterans. Guitarist/ Vocalist RB Green – Rock, Industrial, Blues, Funk, Punk, Hip Hop / Jazz, Fusion,Experimental, and Dance Remixes. Currently performing with the rock band WIZZO, the Blues band Dr. Malort, the AC/DC tribute Black Angus, and as a solo acoustic artist and session/side player.
$35 VIP
includes early entry, preferred seating, M&G