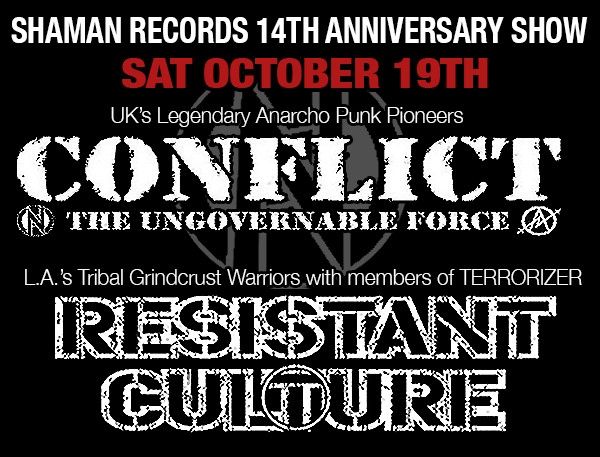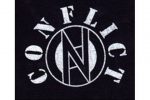 CONFLICT
Conflict is an English anarcho-punk band originally based around Eltham in South London that formed in 1981. They have been described as the world's most influential anarcho-punk band, along with Crass. They influenced the punk movement with their non-conventional approach to music and philosophy. Fierce, tense, cajoling and militant, the reverberation alone is enough to provoke an emotional response. They can be looked on as a combination of what The Clash and Crass could have been, all over a ferocious punk band. The history of rock music has always been intertwined with that of protest, from Bob Marley to Public Enemy, the Stones to the Pistols, etc. Conflict delivers the sound of timeless rebellion.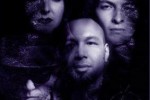 RESISTANT CULTURE
Resistant Culture is the development of extreme and tribal music that has weaved the indigenous flute, rattle, tribal drum, and chant into an organic and flowing tapestry with contemporary punk and metal.
Resistant Culture's root structure extends deep from the tree of extreme music. In its original form going back to the late 1980s, the band was called Resistant Militia. It combined the arts of punk and metal to incite a new movement that fused dark heavy sounds with the politics of survival.
Over the years, Anthony (the founder) has belted out hauntingly audible growls while being backed by many fleeting members. The current line-up consists of the following musical visionaries.
For over a decade, Katina, a classically trained guitarist has brought a high degree of sophistication to the band. Thrashing hair, shredding leads, and incendiary tonedistinguish her as an axe-woman to rival the hordes of men.
Since the late 90s, Rafa, a veteran avante-guard punk innovator has brought diverse musical elements on bass.
In 2003, Ben Axiom, the anarcho-punk/metal influenced drummer was recruited. He thunders out an alternating barrage of machine-like blasts and traditional heart-driven punk beats.
As the current line-up congealed and proved to be the most powerful and dynamic yet assembled, the late Jesse Pintado R.I.P. (TERRORIZER/NAPALM DEATH) a long time friend and former band-mate of Anthony, began writing, recording, and playing with Resistant Culture. He contributed on and off for two years before his tragic abrupt death in August 2006.
The last contribution Jesse made to the world of music was the monumental long awaited Terrorizer follow-up release Darker Days Ahead. It was his recent involvement in Resistant Culture that laid the foundation for Anthony's vocal performance on this historic album.
Resistant Culture tours the U.S. regularly to support the first pressing of 'All One Struggle' on clear vinyl, with a gatefold, and 24×36 full color poster and the third pressing of their 'Welcome to Reality' CD.
Both releases are available at Seventh Generation Records and were funded by a co-op of international labels spanning the U.S., Canada, Mexico, and several European countries.
Resistant Culture recently recorded a 2012 demo that was mixed by Dan Swano at Unisound Studios. They're now label shopping for the upcoming album "Shamanic Healing".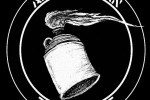 APPALACHIAN TERROR UNIT
APPALACHIAN TERROR UNIT hail from Huntington, WV and play a powerful blend of classic anarcho-punk, crust and a hint of metal, with aggressive female vocals, and urgent political lyrics
KRANG
Members of Expendable Youth, Securicor, Decay After Death, and Black September.Crawling out of the proverbeal Bog of Eternal Stenchcore coincidentally also the name of Krang's debut 7″ they are back with more crusting stench that builds up form the corner of the room before exploding out of the speakers like battle worn worshipping crust metal, an all round hammering sound which brings an amalgamation of 80′s Stench and 90′s Crust of Sacrilige, Deviated Instinct,etc Cover art work will be provided by the indomitable Halsey Swain, who notably has done work for Havok, Toxic Holocaust, Hellshock & more.Check them out here