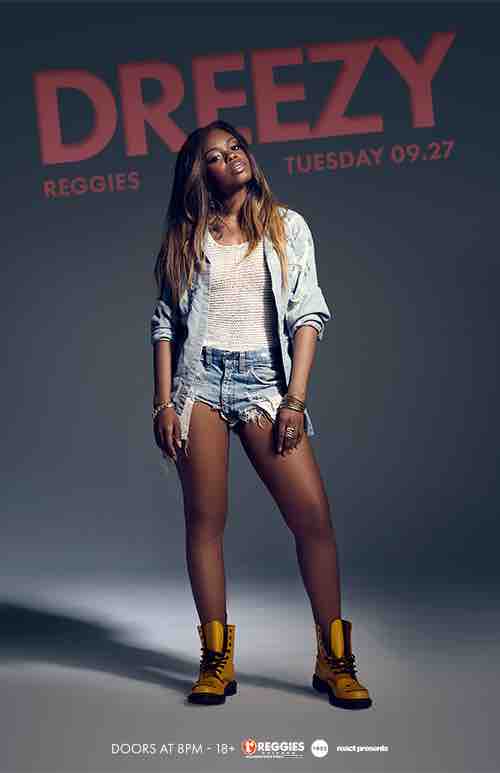 DREEZY
Dreezy, born Seandrea Sledge is a 20 year old female songwriter, rapper and performer from the south side of Chicago. The oldest child of two native Chicago mid class working parents, Seandrea was a natural born poet. She was inclined to music for as long as she can recall and at the tender age of 8 years old, began pinning poems.
As a teenager, and now a child of divorced parents, Seandrea began to live between two worlds, one in the inner city of South Side Chicago with her mom, and one in the south suburbs of Chicago, in the upper middle class neighborhood of Matteson with her dad. It was there, while attending Rich South High School that Seandrea, became Dreezy. Setting her sites on becoming the next "Kanye West" and letting it be known, it was friend that gave her the the moniker that would soon ring through the underground rap world. On April 27th, Dreezy released her first mixtape The Illustration and began making a name for herself on the local scene. But it was the February 14th 2013 release of Business N Pleasure, a  collaborative mixtape with fellow Chicago native Mikey Dollaz that put her on the map. "Break A Band" a song from the Business N Pleasure mixtape, was immediately embraced by the Chicago rap community and gained airplay on Chicago's top urban radio stations. Enjoying local success but hungry for more, on August 8th of same year Dreezy released DSM, a mixtape that featured Dreamer pt2 and Ain't For None featuring local Chicago rapper King Louie. It was videos of those songs that catapulted Dreezy to the top of the Chicago rap scene and caught the attention of many around the nation. It was also that project that introduced her to a young talented up and coming producer named D Brooks. Determined to break out of the pack of other rising Chicago rappers gaining a national following, now armed with a lead producer, Dreezy went to work on her latest offering, Schizo.
A thirteen track mixtape that reads more like an album, Schizo has gained national attention and put Dreezy well in reach of her ultimate goal. Released on February 25th 2014, Schizo features the who's who of the Chicago rap scene and has received a million plus YouTube views of singles released thus far. However, it was Dreezy's poetics and passion which brought her the national spotlight and gained the co sign of rap giants Common and Fabolous, who both tweeted about the new sensation. In addition to Common and Fabolous, R&B stars Rico Love and Elle Berner as well as national blog magazines such as Spin, Complex, XXL, Fader and more exclaimed her the next Queen of the rap world. Thus, following her remix of Nikki Minaj's " Chiraq", which Dreezy wrote and recorded and released in less than 24 hours after the release of the original track. Dreezy showcased her poetic prowess with clever and witty songwriting, a rapid firing delivery and a believability that has many executives in the music industry touting her services.
   Young, smart, attractive, driven and extremely talented, Dreezy is not only destined to be the next "Kanye West" but the first Dreezy.