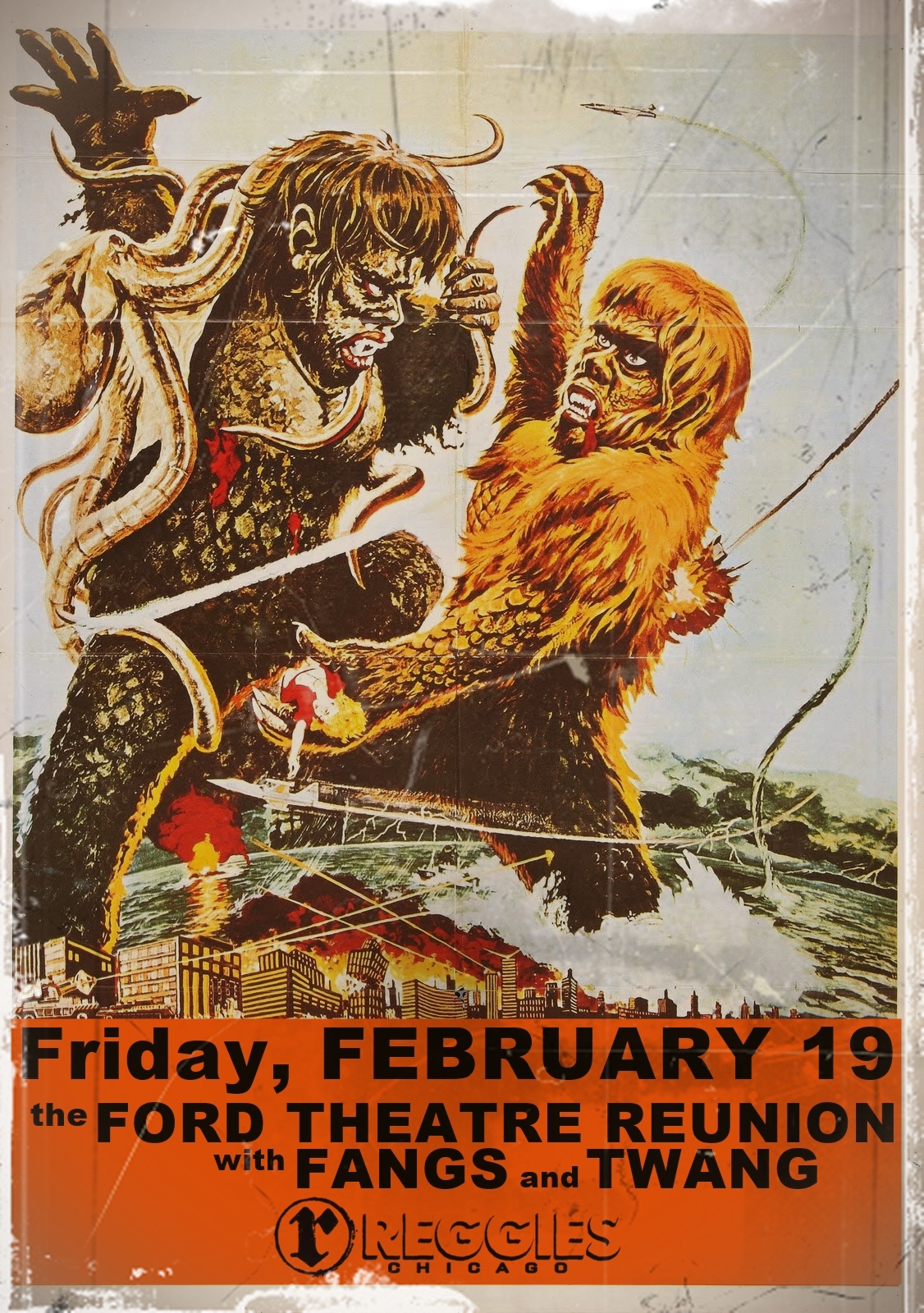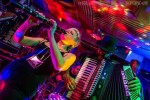 FORD THEATRE REUNION
Citing influences as diverse as punk, balkan, jazz, metal, nightmares, and wet dreams, Lexington, Kentucky's The Ford Theatre Reunion creates a sound that defies easy definition. In one moment ethereal vocals drift over flighty clarinet and melancholy accordion, and in the next moment it's a full-bore, guitar-snarling rock n' roll assault. It is the perfect soundtrack for a puppet show at a funeral or board game night with some werewolves.
Describing them is complicated. So let's just call them well-hyphenated.
Despite their disparities, The Ford Theatre Reunion has one particular aspect that never changes: once they catch your eyes and ears, you aren't going anywhere for the rest of the night. Since 2008, they have been bringing their unique sound and high-energy show to clubs, basements, bars, and bungalows across the US, and they are guaranteed to get even the most stubborn audience moving.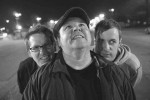 FANGS & TWANG
Metal bands sing about Viking lore while goth bands dabble in Witchcraft…Why can't you get a country band singing about Vampires? Horror hoedowns, if you will? Or, maybe if the Munsters lived in Nasvhille?  Ypsilanti, MI trio Fangs and Twang [Billy LaLonde (drums, vocals), Andy Benes (guitar, vocals), and Joe Bertoletti (bass)] whip a stripped down roots-rock blend of indie-kicks and swinging bluegrass with theatrical, croony lyrics that are half Monster-Mash cartoonery and half Mummies-esque retro-revivalism of B-movie horror tropes. For as fun as that formula is, it should be underlined that these three, who cut their teeth in the formidably forceful (and comparably genre-mutating) Black Jake & The Carnies, take their musicality as well as the performance, pitch and tone of those campy lyrics, quite seriously.   -Jeff Milo, Deep Cutz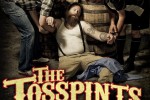 DON ZUZULA
(of the The Tosspints)
solo set by Don Zuzula of The Tosspints
The Tosspints' style of music has been influenced by 3 lifetimes of living through the school of hard knocks, brought to bear from war, loss, degradation, and hard drinking. A band created entirely by a family who has had to make it through life the hard way and use their experience to create songs about the more distressed side of being human. Their fast paced no nonsense stage show drives songs straight into the audience one after the other, pushing their own style of up tempo minor chord melodies out with the highest possible energy level.
Made up of brothers Don Zuzula (guitar, vocals), a combat veteran of Operation Iraqi Freedom and younger brother and Zak Zuzula (bass, vocals), a history teacher, along with drummer John Johnson, they draw from their world experience and working class upbringing in the rust belt city of Saginaw Michigan for their poetically dark yet uptempo songs.
Their powerful stage presence and unending barrage of music from the beginning of their set to the end of the dark, yet high energy show has earned them spots on stage with iconic underground rock heroes such as The Dropkick Murphys, The Tossers, Murder by death, The Young Dubliners, The Goddamn Gallows, Skinny Lister and Flatfoot 56, as well as earned festival showcases from The Michigan Irish Music Festival, 2013 CBGB's Festival in New York City, and the George Killians Irish Red Ruckus in Boston, MA. Their songwriting skills have been recognized in the 2011 John Lennon Songwriting Contest where they earned a finalist position and their powerful fan support has earned them a spot on the 2012 Vans Warped Tour Ernie Ball Stage and Alternative Press Magazine Detroit's Band of the Month for December 2012.