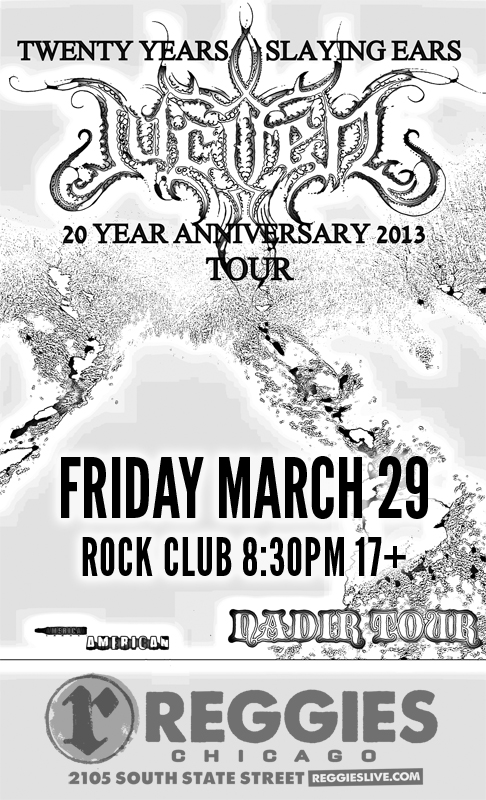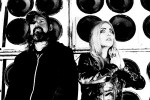 JUCIFER
– Founded in 1993, Jucifer pioneered the sludge / doom metal duo
– They are one of the earliest heavy two piece bands and even more unusual for playing all-live (no loops, keyboard bass samples or drum machine).
– Jucifer trademarks including their enormous amp rig and unconventional shifting / combining of genres have influenced and inspired many over two decades.
– The band has performed steadily and released albums through the 90's and 00's on both major and indie labels as well as recently founding their own Nomadic Fortress label which is distributed by Relapse.
– During the 90's Jucifer was based in Georgia, but in 2001 moved permanently into their tour vehicle. They have lived entirely on wheels for the 13 years since and have stated that this homeless, nomadic life was undertaken to facilitate playing "as many shows as we possibly can". Their endless tour typically covers 20 or more countries each year.
– Jucifer shows are known for being extremely heavy and loud, blending elements of sludge, doom, black metal, death metal, thrash, crust, grind, drone, and noise with occasional melodic passages. Performances are ritual and cathartic, and frequently include improvised sections between or even during the songs. The guitar is downtuned to various non-standard tunings, which lends an unexpectedly pleasing quality to the high volume employed.
– Jucifer has expressed distaste for conforming to a genre but has invented names to describe their blend of styles including "deathdrone" "blackcrust" and "grindgaze".
– Jucifer's live sound has been compared to Celtic Frost, Melvins, Slayer, Black Sabbath, Necrophagia and Napalm Death, as well as bands of their own generation (Jesus Lizard, Darkthrone, Neurosis, Morbid Angel, Harvey Milk, Electric Wizard, Eyehategod, Acid King) and younger groups Lightning Bolt and Sunn0))).
– Because of their knack for odd compositions and onstage improvisation, some have also likened Jucifer shows to the work of Miles Davis and John Zorn.
– Jucifer's albums are impressively diverse, though often not representative of their core style. 2010's 'Throned In Blood' album was the first full length to draw almost entirely from this core, but its sparse production (planned to sound "old school" according to the band) fails to do justice to their massive tones live.
– Early work by Jucifer was released on local independent labels prior to 1999's signing with major label Capricorn Records and subsequently (2006) Relapse Records.
– In 2010 Jucifer founded their own Nomadic Fortress imprint and issued the album 'Throned In Blood' via NF with distribution by Relapse, and LP licensed by Alternative Tentacles Records. Jucifer also licensed their 'Autocannibalist' EP to Canada's Choking Hazard Records and contributed songs to a Terrorizer Magazine (England) compilation and to two French comps: 'Falling Down II' and 'Endless DVD'
– In October 2011 the reissued 1994 EP 'Nadir' was released for digital download by Grindcore Karaoke, J. Randall of Agoraphobic Nosebleed digital-only label.
– LP version of 'Nadir' was released in October 2012 by Mutants of the Monster, the new label run by Christopher "C.T." Terry of the band Rwake and filmmaker / video editor /metalhead David Hall (Maryland Deathfest The Movie DVD series, vinyl from Rwake, Surachai, Tellusian, and Biipiigwan). Mutants of the Monster is distributed by Sony RED.
– July 17, 2013 saw the release of Jucifer's eighth studio album 'за волгой для нас земли нет' on limited edition CD via their own Nomadic Fortress label and partner Mutants of the Monster. A second CD pressing was issued in November 2013.
– Gatefold double LP of 'за волгой для нас земли нет' was also released in November via Alternative Tentacles.
– 'за волгой для нас земли нет' made several "best of 2013" lists including iTunes, NPR Music, and artist lists by members of Fuck The Facts, SubRosa and Deafheaven.
– Jucifer's "20 Years Slaying Ears" tour from January through December 2013 included 32 countries including the band's first performances in Bosnia, Serbia, Estonia, Latvia, Finland, Lithuania and Greece.
– Jucifer is currently recording for a split 7″ on French label Witch Bukkake.
– Jucifer is also in the process of recording for a side project with drummer Dave Lombardo (Slayer, Fantomas, PHILM) and a split with Aaron Deal (Darkest Hour, ex-Salome).
– Jucifer's endless tour continues with U.S. dates already announced for early 2014 as well as a mainstage appearance at England's Temples Festival in May alongside Neurosis, Electric Wizard and Clutch.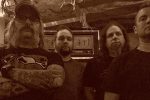 SCIENTIST
SCIENTIST — featuring Eric Plonka (EX founding member of yakuza) on guitar/vox with guitarist/vocalist Patrick Auclair, drummer Justin Cape , and bassist Mathew Milligan — draw heavily from the Windy City's long-running tradition of experimental metal. The band members themselves describe their sound as "architectural metal." Were listeners to ponder this description alongside the band's sound, they would imagine twisted beams, exposed glass diagonals, and post-apocalyptic concrete blocks with a decaying skyline and crimson horizon in the distance. If SCIENTIST's sound is architectural, it is doubtless an experimental edifice. With their second full-length, 10100II00101, the adventurousness the band displayed on their debut album has now gone thoroughly and beautifully haywire adding guest vocalists to the mix venturing away from their mostly instrumental past. 10100II00101 will be released on CD and digitally via the band's official BandCamp page and on double LP via Hell Comes Home Records at a later date.