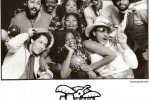 LADIES OF PANAMA
The Ladies of Panama were the core of a fabulous self-contained band in the late 70's early 80's called Israel Torres and Panama. Israel Torres had a vision of putting a female ensemble together to realize his dream of a Brazilian Band along the lines of Sergio Mendes. Panama was one of the premier bands in Chicago at that time and audiences would wait in line for hours just to see the band perform. Panama was indeed the cream of the crop and has been the vehicle for some of the baddest musicians and vocalist the City of Chicago has had to offer, many of them having their humble beginnings with the Panama group. After several years of honing skills and being in demand on every arena imaginable local and worldwide, the core ladies of this great group Panama, have decided to come together once again to do a tribute to a legacy that they helped to build. Shay Jones is the wearer of many hats and she wears them well. As well as an accomplished vocalist she is also an artist and an author. Mae Koen has been in demand for her supreme vocal harmony skills for artist as diverse as Willie Dixon and Aretha Franklin. Regina Walton, shall we say Professor Walton, is a teacher and a scholar and has also had a profound career in theatre. Shawn Christopher has also been in high demand, having several solo releases and fronting the band Sonia Dada, bringing the band to the level of success unprecedented. Diane Madison, also a scholar, has lent her beautiful angelic colorful voice to many a major artist, including Gene Chandler, Otis Clay, and Aretha Franklin. Nanette Frank, the powerhouse vocalist who has become in demand all over the world having toured extensively in Asia and the USSR and enjoying great success with her CD, Room for One More.
These 6 women have accomplished so much through the years. Their individual resumes would put any major vocalist in awe. I salute these women for their stamina, their drive, and their willingness to come together to musically woo us to utter madness and take us to that place once more. So put on your seatbelts and be prepared to surrender completely to the magic that these women will bring. Music to your ears and satisfaction to your soul.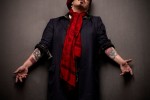 NICHOLAS TREMULIS
Closing in on 30 years as a recording artist, Nicholas Tremulis of The Nicholas Tremulis Orchestra or NTO as they're known affectionately in the Chicagoland area, has recorded over 8 albums in his storied career and has played and recorded with trainload of legandary artists from Keith Richards to Billy Corgan and Wilco. Always rocking, surprising and challenging himself, this is one of the must see live artists Chicago has to offer.