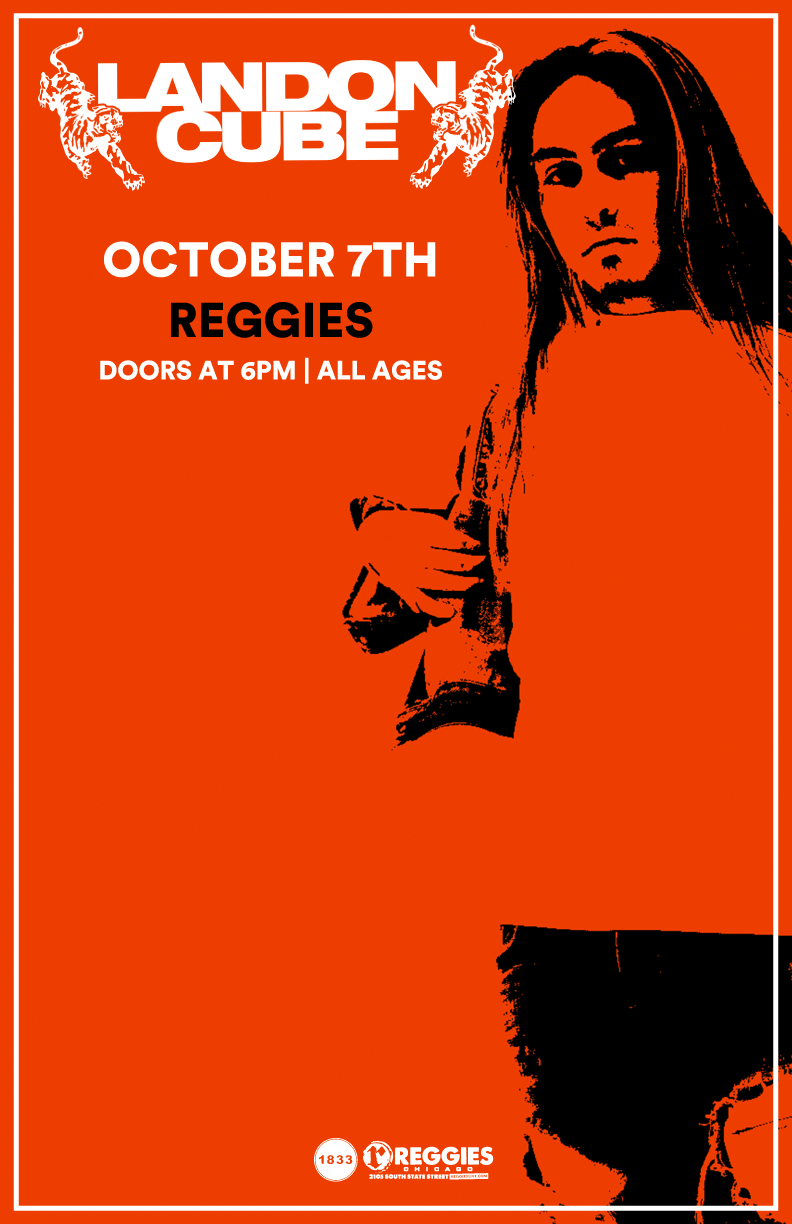 LANDON CUBE
There's a poignant yet feel-good vibe that makes 21-year-old recording artist Landon Cube's sound infectious. The Southern Maryland native has a diverse history within music, punctuated by his versatile catalog. As Landon readies the release of his upcoming single "Makeup," the young star on the rise is geared to level up to the next chapter in his career. "When I write a song, I don't go for a specific genre," explains Landon. Raised in the small 500- person town of Pomfret, Maryland, Landon spent his days skateboarding through his suburb while tinkering with music very early on. "I started singing when I was about eight years old, but I wasn't so sure of my voice," he says with a laugh. It was his father, a career musician, who heard Landon singing one day and urged him to pursue music. Landon would frequently watch his father perform as both a keyboardist and guitarist, learning some tips along the way. In middle school, Landon fronted a small band while recording his own songs on the side using his father's home studio equipment.
By his teens he was performing with his father in the Washington, D.C. circuit, covering Top 100 songs from the likes of Maroon 5, Bruno Mars, and John Mayer. "It was my first exposure performing in front of people," he says. "It's kind of what developed my singing voice." Raised on his father's favorite music of Stevie Wonder, The Doors, and Prince plus his own favorites including Warped Tour bands and Lil Wayne, Landon struck a balance once hip-hop evolved. "My interest in music was everywhere, which kind of describes my music," he adds, "but when rap became more melodic, that's when it all made sense to me."
At 16, he made the firm decision that music was his chosen trajectory and once he graduated high school, he dropped his introductory cut "Euphoria." His participation with local viral video crew Cufboys added fuel to the fire, as Landon began galvanizing a fan base through his laid back authenticity and knack for melding sounds. His cut "18" showed his growth, as the young artist details his mindset at the milestone age. "After 18, I told my fans I was going to do a song for every age after that to best describe that year of my life," Landon explains. He delivered on
that promise with "19" and "20," respectively.
Through Cufboys he met burgeoning star Lil Skies, as the two joined forces on cuts like "Red Roses" and "Nowadays," the former impressively hitting one million streams in less than a month. It wasn't long before Landon was Los Angeles bound and continued his upward mobility as an artist. "I was working on a lot of music and it was getting better and I realized I wanted stronger backing," he says, then independent at the time. "A lot of people had this misconception that I was signed to Atlantic but I wasn't." He ultimately joined the Republic Records roster and is preparing for the release of his six-song debut EP.
When Landon Cube makes music, it not only reaches his fans, but it also speaks to him. His single "Makeup" is a testament to that. The woozy cut is packed with emotion as Landon coos, "Your silence speaks as loud as my screams." It's a direct reflection of how Landon felt at the moment he penned the soon to be hit. "I had been living in LA for a couple months but had been back home to visit," he recalls of the song's genesis. "When I was back home, it brought up old memories that were pivotal to the vibe of the song. It's totally me and what my music is…everything I am as an artist."
While "Makeup," will set the stage for what's to come from Landon Cube, other songs like the Lil Skies-assisted "17" deliver a hindsight understanding where life can take you in just a few years. "I came back to LA and was just thinking about the past stuff, and one of the lines is, 'Girl we ain't 17,'" he expresses. "It's about being onto bigger and better things."
Landon Cube has already secured a solid following based upon his honest and heartfelt music, and the next phase in his career will bring more of that to the forefront. "I just want to be able to keep making music and keep getting better, honestly," he humbly advises. "And have people relate to it and be on board with it along the way."
24KGOLDN
Every decade, music fans are gifted a prodigy with a talent and vision transcendent of their age, from Pharrell Williams to Tyler the Creator. The next generation arrives courtesy of RECORDS LLC. San Francisco native, 24kGoldn is an 18-year-old rapper, singer and arranger who already possesses the adventurous delivery of a Young Thug and song craftsmanship of Future. Add on the fact that he is also a freshman at the University of Southern California and his special begins to crystallize.