The Legions of Metal Festival 2020 is Postponed till 2021 due to Covid-19. We are working with all the bands to carry over as many as able to for the following year. The new date is TBA. Your tickets will be good for the new date. Refunds are available upon request. 
The Legions of Metal Festival was born out of the end of the Ragnarokkr Metal Apocalypse Festival. Legions of Metal Festival will continue to bring the best of the classic metal from the 80's that we all love and also bring in the newer bands who will carry the torch into the upcoming years in the metal world. You will be able to see some of the newest bands in the scene throughout the day and end each night watching the bands you grew up listening to. The fest will feature two stages and plenty of vendors.
Two Day Pass: $79 | Two Day VIP Pass: $120
Friday Single Day Ticket: $40 | Friday VIP Ticket: $60 | After 9pm $20
Saturday Single Day Ticket: $45 | Saturday VIP Ticket $70 | After 9pm $25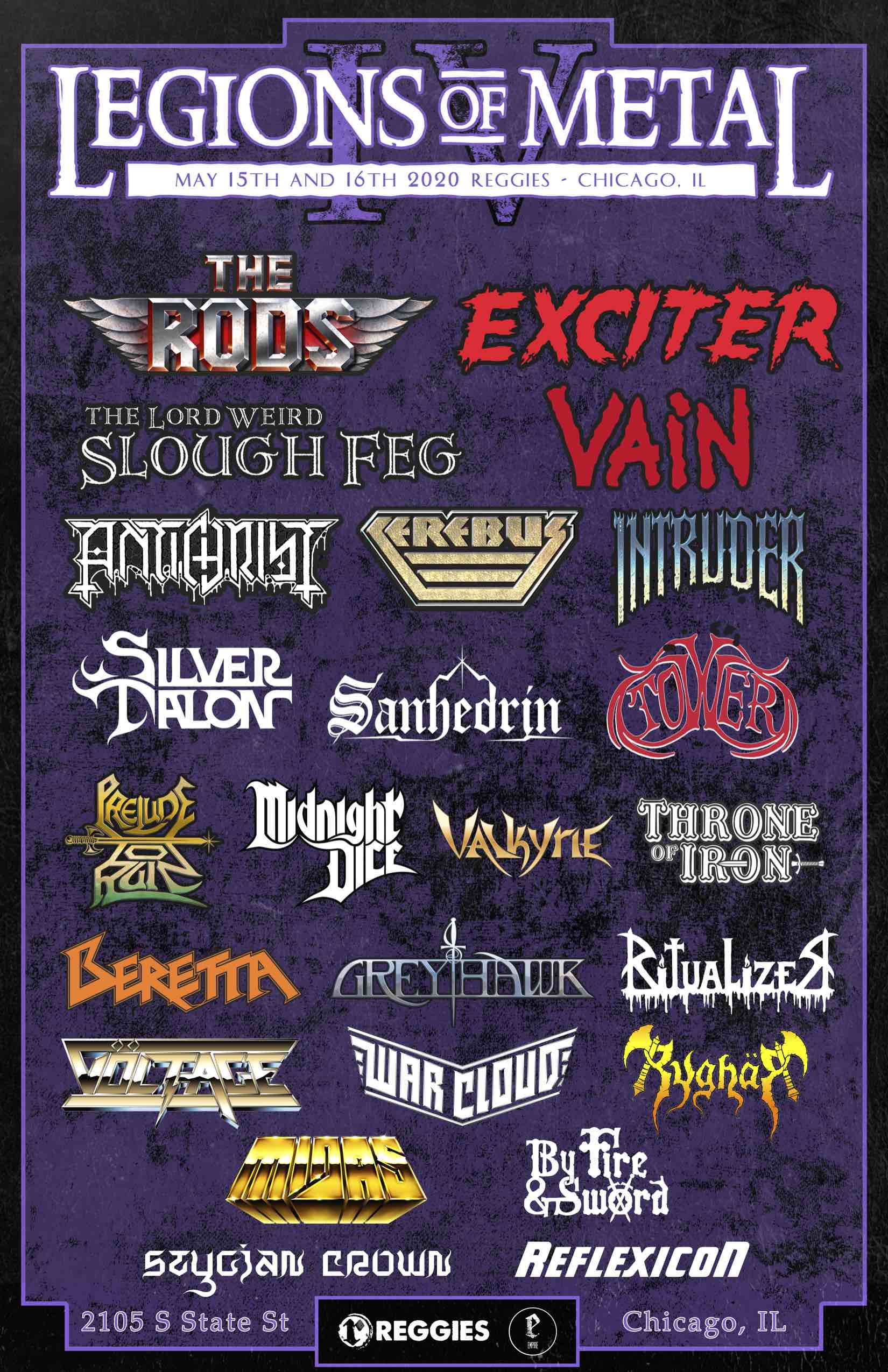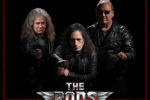 THE RODS
THE RODS are a classic heavy metal trio that rocked their way through the 80's with a powerful, raw energy that led them on tours with some of today's greatest metal bands—Judas Priest, Ozzy, Motorhead, and Metallica, to name just a few.
Listeners will find that THE RODS are still a force to be reckoned with today, as they come screaming full-throttle into the present day with a forceful vintage sound.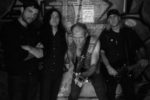 SLOUGH FEG
Slough-Feg's style is an eclectic mix of Celtic Folk and Traditional Metal peppered with buckets of energy and lyrical depth.
INTRUDER
The band was originally formed in 1984 under the name "Transgresser". They released demos in 1984 and 1986 (which would later appear on a re-release of their debut album). After going through several name changes they became known as "Intruder". They released their debut album "Live To Die" on Ironworks and Azra records (a small independent label). Released in 1987, Live To Die was released as a four-piece band in the speed metal vein.
The band signed with Metal Blade Records in 1989. The Metal Blade years saw the entry of rhythm guitarist Greg Messick. Intruder released their second album, "A Higher Form Of Killing", in 1989 as a five-piece band. It presented a move away from Speed Metal to the Thrash Metal scene. Intruder released the very rare "Escape From Pain" EP in 1990. Admittedly released as "an excuse to tour", it featured songs recorded on previous releases as well as a cover of "25 or 6 to 4" by Chicago. It featured just one new song, the title track. Escape From Pain was the only one of their Metal Blade releases not to be issued on all three formats of cd, cassette and vinyl.
In 1991 Intruder released their final full-length album, "Psycho Savant". It was their only Metal Blade release to feature all original songs and had leanings more toward Progressive Thrash Metal. After 8 years, the group disbanded in 1992. In a 2006 interview, Guitarist Greg Messick claimed that the band tried to stay together after being dropped from Metal Blade, but were ultimately unwilling due to inevitable lineup changes. Vocalist Jimmy Hamilton responded to the question of the band's split up in the same interview:
We got dropped from Metal Blade in the middle of our tour when we just hit the top of the CMJ charts. Besides, although we had been together for so long, just like many marriage relationships, there was no more 'love' and we said 'this marriage needs to end for a while, We need counseling.'
—Jimmy Hamilton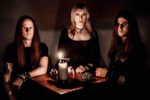 SANHEDRIN
Sanhedrin's sound is familiar but not derivative. While their songwriting is clearly rooted in the classics, their take on rock and metal comes across as fresh and honest. Based in Brooklyn, New York, Sanhedrin's sound is a combination of the toughness and beauty that their home borough embodies.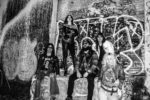 TOWER
(NYC)
"TOWER bring the party wherever they are." – High Times
"This is a group who capture the hearts of an entire audience and within seconds have them all dancing on the floor showing what they've got. This is a band who bring us back to the foundational beauty of the music and remind us why we got into it in the first place." – TwoGuysMetalReviews
"Sarabeth's roar scorches and seduces in the vein of Leather Leone, Janis Joplin or the late great Ronnie James Dio (she did front Holy Diva, after all)." – Slutist.com
FOR IMMEDIATE RELEASE New York, NY (July 11, 2016) – Raised on a diet of pure 20th century rock, New York City's TOWER produces a sound many admire, some attempt, and few can pull off.
Featuring members Sarabeth Linden (lead vocals), James Danzo (guitar), Zak Penley (guitar), and Philippe Arman (bass, backup vocals), the band delivers riffs like a newly discovered bolt of old cloth hidden away since the days of Scorpions and Priest, topped with Linden's vocals which soar through the realm of banshees and angels.
Says the band, "Tower is proud to celebrate The End of a long dry spell for hard rock and metal."
TOWER is currently putting the final touches on their debut album due out later this year.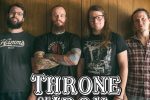 THRONE OF IRON
Formed in the sweltering summer of 2018 in the wake of an alcohol-fueled love of the sounds of classic heavy metal and tomes of roleplaying past, Throne Of Iron is here to bring the wood paneled basement to YOU.
Originally a solo project of Tucker Thomasson (Thorr-Axe), Throne Of Iron released their 2018 Demo, with Tucker performing all instruments. The demo took off on Bandcamp, gaining the attention of writers on the site, BangerTV, and eventually No Remorse Records, who approached Tucker with a contract.
Thinking quick, Tucker gathered forces in the form of Corwin Deckard on guitar, his longtime drummer friend from Thorr-Axe, Jacob Lett, and the cleric Evan Pruitt on bass.
The four immediately descended into the basement to forge their debut full length, which is now in its final stages of formation, set to be released on No Remorse this spring.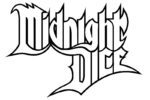 MIDNIGHT DICE
Chicago's Midnight Dice was formed in the Summer of 2017 by Rusty, Steve, Mandy, and Jose after their previous band, Satan's Hallow, went on indefinite hiatus following the release of their well received self-titled album and a performance at the prestigious Keep It True festival in Germany in April 2017. For fans of: Dio, Judas Priest, Dokken, Satan's Hallow, etc.