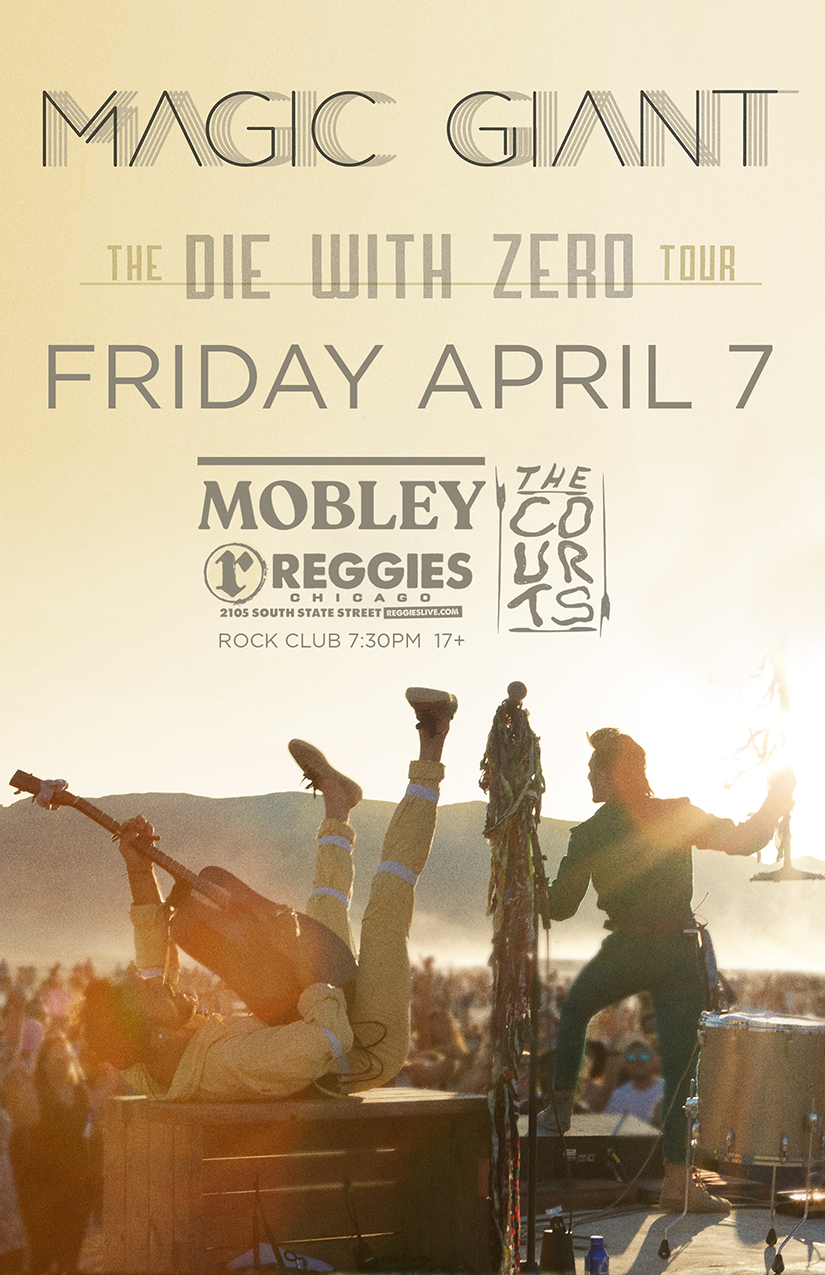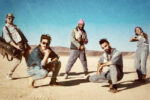 MAGIC GIANT
"The most festive band in the festival circuit," MAGIC GIANT has amassed over 100M streams, had TV appearances ranging from the Today Show to Good Morning America, and been singled out by Billboard as one of "10 Awesome Bands" playing Coachella and by Rolling Stone as one of "10 Artists You Need to Know." Their singles "Set on Fire," "Window," and "Disaster Party" have all broken the top 40 on the US radio charts.
The Die With Zero Tour is inspired by the bestselling book and official tour partner, Die With Zero by Bill Perkins and its theme of living life with no regrets. The nationwide tour kicks off Mar 11 accompanied with the release of a new EP.
Carrying forward the hopeful outlook of the alt group's debut full length record In The Wind and sophomore studio album The Valley, their upcoming EP contains equal parts depth and optimism. Shares lead singer Austin Bisnow:
We recorded our first album in between shows on a solar-powered mobile recording studio. Our second studio album we were hunkered down during the pandemic and going through lots of changes like taking our careers completely independent for the first time since we started. This EP is about finding hope even when it seems daunting or impossible.
When the pandemic struck they responded by throwing one of the first digital music festivals of its kind with guests including The Lumineers, Woody Harrelson, Edward Norton, Walk the Moon, David Blaine, Jason Maz, LP, The Head & The Heart, Edward Sharpe, Glen Hansard, Walk Off The Earth, Ashe, Allen Stone and Local Natives, raising over $100,000 to deliver PPE to frontline hospital workers.
Not only does the group write and produce their records and direct their music videos, they plant a tree through a non-profit partner with every album sold, creating a mini forest with thousands of trees; and have thrown an annual music-festival-meets-summer-camp for their fans called Camp Misfits.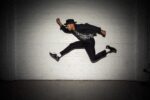 MOBLEY
"Cry Havoc!" is a thrilling introduction to a new sonic and narrative world created by Mobley. At once intimate and epic, these songs find him exploring themes of power, alienation, and dissent with an artful clarity that demands repeat listening.
With his trademark cinematic sweep, the Austin, TX-based songsmith (and record producer/filmmaker/writer) has delivered a new EP that carries forward the concepts that have animated his work to-date. But where 2021's Young & Dying in the Occident Supreme refracted these ideas through surreal spaghetti-western soundscapes and guitar-driven psych rock, "Cry Havoc!" introduces a retro-futuristic world of seductively sinister melodies, distorted synths, jagged cuts, and propulsive rhythms.
What remains unchanged is Mobley's penchant for pop songwriting—ear-worm melodies and hooks for days. He has a mad scientist's need to experiment with the form's limits: for half of the tracks Mobley wrote and recorded whole songs which he then dismantled and sampled to create a fresh, new sound. The result is a record that feels strange and familiar, dangerous and danceable. It evokes the dread curiosity of 70s sci-fi paperbacks—among the inspirations for the EP. "Cry Havoc!" is itself a speculative fiction concept record that takes place in an alternate-past New York and the catastrophic far future. It follows an antihero whose failed heist attempt lands him in a secret time prison.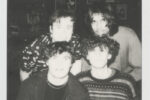 THE COURTS
the courts is a place. loud rock from Chicago, IL.