METAL THREAT FEST 2016
(July 15th, 16th, & 17th) 
$120 Early Bird 3 Day Passes are Sold Out. Limited $135 3 Day Passes are Sold Out.
Final $150 3 Day Passes, and $50 Single Day tickets for Friday, Saturday and Sunday are on sale now.
Coming from out of town?  Stay at the Chicago South Loop Hotel with our Fest Rate!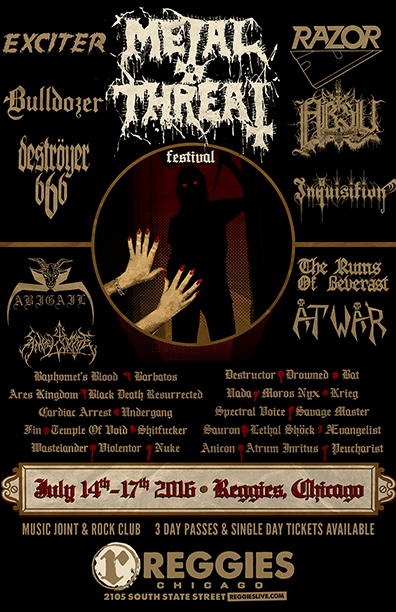 EXCITER
Exciter is a Canadian speed metal band from Ottawa, Ontario. They are widely considered to be one of the first speed metal bands and a seminal influence of the thrash metal genre. Exciter have sold nearly 300,000 units in the USA and a total sales close to 500,000 units worldwide. Despite many changes in personnel, the band has managed to keep a small but dedicated following for over 30 years.
In 1978, the band Hell Razor formed in Ottawa, Ontario. They consisted of vocalist and drummer Dan Beehler, guitarist John Ricci, and bassist Allan James Johnson. In 1980, the band changed their name to Exciter and recorded a demo which they then sent to Mike Varney of Shrapnel Records. Varney included one song from it, "World War III", on the compilation album US Metal Volume II in 1982. Shortly after that, the band were signed to Shrapnel Records. In 1983, they released their debut album, Heavy Metal Maniac.
Later that year, Exciter signed a record deal with Jon Zazula's Megaforce Records and, in 1984, they released their second studio album, Violence & Force. After a few opening dates with fellow American thrash metal band Anthrax, they embarked on their first U.S. tour with Danish heavy metal band Mercyful Fate. Exciter switched to a new label, Music For Nations, and traveled to London to record their third album, Long Live the Loud. It was released in 1985 and produced by Motörhead producer Guy Bidmead. It contained a slightly more "mainstream" heavy metal sound than the pure speed/thrash metal of the first two albums. After its release, the band went on a European tour with German heavy metal band Accept and later a U.S. tour with Motörhead and Megadeth. Before the year ended, Exciter released the three-track EP, Feel the Knife, which was the last release from the original line-up. Shortly after its release, John Ricci left the band and was replaced by Brian McPhee.
Along with a new guitarist came a new, more melodic sound. The band's fourth album, Unveiling the Wicked, was released in 1986 on the Music For Nations label. After its release, the band went out on a very successful European tour with Motörhead and American power metal band Manowar. It was decided at this time that Dan Beehler (who had handled both drums and vocals since the band's inception) would not sing anymore. New vocalist Rob Malnati was hired, and made his debut on the band's next album, self-titled (a.k.a. O.T.T.). The album was released in 1988 through the Canadian record label Maze Music. A Canadian tour followed but the band went on hiatus shortly after.
In 1991, Exciter re-emerged with Beehler on lead vocals again. John Ricci also returned to the band. Bass duties were handled by new bassist David Ledden. The band's first recording with this line-up was the song "Born to Kill" which appeared on a compilation album titled Capitol Punishment, which was released in 1991. The same year, the band went on a reunion tour in Canada, which would largely be focused on songs from their first three albums. The band's first live album, Better Live than Dead, which was released in 1993, had been recorded during their reunion tour at this time.
In 1992, the band signed to German metal label Noise Records and recorded their sixth album, Kill after Kill. The band went on a three-week European tour with Rage to support it. After the tour, the band disappeared for a second time. It would be three years before they would be heard from again.
In March 1996, an almost completely new line-up was announced. Ricci was the only returning original member. Jacques Bélanger was the new vocalist and Rick Charron and Marc Charron (both have no relation to each other) would handle drum and bass duties respectively. The new line-up played a few well received gigs in Canada before recording a new album, The Dark Command. The album was released in 1997. With one of their strongest albums in years, the band went out on a European tour with fellow Canadian heavy metal band Anvil and American thrash metal band Flotsam and Jetsam.
Between 1998 and 2000, the band was basically dormant with only two festival appearances in the two-year span. The summer of 2000 saw the release of the follow-up album to The Dark Command, Blood Of Tyrants. The new album was heavier and more aggressive than its predecessor. In the fall of 2001, Bélanger left the band due to "creative differences". A year later, Marc Charron quit to pursue a career in the technology industry.
At the beginning of 2003, a new line-up was announced, with Ricci and Rick Charron returning along with new vocalist Rob Degroot and new bassist Paul Champagne. This line-up only lasted until March 2003 when Degroot left. His replacement was former vocalist Jacques Bélanger. In 2004, Paul Champagne was released from the band. The band recorded their ninth studio album, New Testament, with Ricci on both guitar and bass. New Testament is somewhat of a compilation album of re-recorded classics from throughout the band's entire career. Later that year, bassist Rob "Clammy" Cohen joined the ranks. The year ended with the band heading out on a European tour with Swedish power metal band Steel Attack.
Exciter participated in a number of European summer festivals in 2005, including the Tradate Iron Fest in Tradate, Italy, Bang Your Head!!! in Balingen, Germany and Metalcamp in Tolmin, Slovenia.
Annihilator mainman Jeff Waters was able to get the rights back to most of Exciters' catalogue titles from the old labels and get them a new deal to re-release these titles. As well, Waters re-mastered these titles and new booklet infos, including comments from the original 3 band members, as well as additional photos were added to the re-releases.
In 2006, Exciter played Keep It True VI in Lauda-Königshofen, Germany. Shortly thereafter, Bélanger left again due to irreconcilable differences. He was quickly replaced in October that year by Kenny "Metal Mouth" Winter, from Brooklyn, New York.
The band played only one headlining show in Toronto, Canada in August 2007 thanks to an intense rehearsal and recording schedule involving a weekly 23-hour trek from NYC to Ottawa by Kenny Winter.
Twice delayed in December 2007 and January 2008, the band's tenth album Thrash Speed Burn was released on February 22, 2008 in Europe, and on March 4, 2008 worldwide. It has since garnered positive reviews from many a European fanzine.
The band's first European show for the tour, with the current line-up, saw their debut at the Atarfe Vega Rock Festival in Granada, Spain. Coincidentally, it also marked Exciter's first ever appearance on the Iberian Peninsula.
In February 2014, it was announced on the band's official Facebook fan page that guitarist John Ricci had decided to retire from the music business, departing Exciter and leaving the band with no original members. In April 2014, Ricci began claiming that the retirement statement was false, however the former band members maintain that at the time of the press release, the information it contained was accurate.
The original Exciter lineup reunited shortly after and will play their first european show on April 25, 2015 at Keep It True Festival
The will also play at Defenders of the Old Festival in New York on March 2015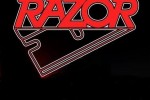 RAZOR
1984 saw the birth of Canada's finest extreme metal outfits, a band whose ideals would not permit compromise, whose conviction would lead to eight releases, and an equal number of years fighting an uphill battle. No mere bandwagoneers, this quartet were out to permanently fuse metal with insane aggression and violence, pummeling listeners with aural and mental fists. This they have undoubtedly achieved, and continue to foster to this day.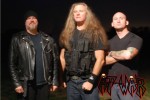 AT WAR
At War was formed in 1983 by guitarist Shawn Helsel, bassist and vocalist Paul Arnold. and drummer Dave Stone. Originally trying out vocalists they quickly decided that the brutal form of metal they had envisioned could only be brought forth by Arnold's growling vocals.
June of 1985 saw the release of At War's first demo entitled "Eat Lead". The two song demo consisted of the songs "Rapechase" and what has turned out to be At War's anthem, "Eat Lead," and immediately received excellent reviews from fanzines and magazines; it was high on rotation on many college radio stations in the US and had an even better reception overseas. It was because of this demo that At War had been dubbed by Spin Magazine as "America's answer to Motorhead." This demo garnered At War much attention and an appearance on the now legendary compilation "Speed Metal Hell" issued by the relatively new label from California, New Renaissance Records for the song "Eat Lead." This compilation is the Holy Grail among metal collectors all over the world. This led to their first full length release " Ordered to Kill" in 1986. So well received was this album and subsequent tour that new Renaissance decided to put the second song from their "Eat Lead" demo, "Rapechase," on their next compilation, "Speed Metal Hell II," now also a collector's item. After more touring and on a roll, At War immediately booked studio time with the great Alex Perialas at Pyramid Sound to produce their awesome 1987 release "Retaliatory Strike." With Rob "Wacko" Hunter co-engineering this masterpiece, At War's place in the world of metal was solidified. At War toured relentlessly through the eighties and early nineties when negotiations began to break down with New Renaissance and the music scene was in the midst of a huge change. Around 1994 At War recorded material for their follow up to "Retaliatory Strike," but were never really happy with the recordings, so it was never released. At War played its last show around this time.
Dave Paul and Shawn remained close friends and At War never officially called it quits. There were several attempts to revive the band during the late nineties and early 2000's, but with families, and businesses to run, it was just not the right time.
Fast forward to 2006. The amount of fan pressure had been and was so intense along with the resurgence of the thrash metal movement, At War felt the time was right to get moving again and take care of unfinished business. Determined to put the brute force of At War back in the faces of the legions of dedicated fans, they are back at it with the original lineup. In 2008 At War is started working on their latest release "INFIDEL" and went back to their roots on the new material, and included a few songs that were written during the "Retaliatory Strike" sessions. At War also fulfilled a career dream by finally getting over to Europe in 2008 when they played the "Thrash Assault II Festival in Wuerzburg Germany in February to a huge crowd of Germanys' most avid metal fans. The crowd response was so intense, they were invited back to Hamburg and played at the "Headbangers Open Air" Festival in July. The weekend prior to heading back to Germany, At War made their first appearance in Mexico City Mexico to play at the infamous "Circo Volador". This marks a milestone for At War as they have always had a devoted following in Central and South America, and the fans finally got a chance to see At War. Talks are in the works to bring At War to Brazil, Columbia, and many other South American countries along with Japan and Europe.
In September of 2008 At war signed a new deal with Heavy Artillery Records for the release of their new CD "Infidel". Released on August 18th 2009 to rave reviews At War's has concreted their return and relevance in the underground metal scene. Infidel was recorded in January of 2009 at Pyramid Sound with famed Metal producer Alex Perialas (Testament, Overkill, Nuclear assault etc.) This pairing has proven to be a perfect partnership, with Heavy Artillery's network, intense knowledge of the metal scene and their enthusiasm with At War.
At War is back with a vengeance, all due to their rabid fan base. Keep your eyes and ears out for At War!!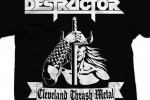 DESTRUCTOR
Destructor, Cleveland, Ohio's legendary premier power/thrash band, return to Auburn with their new 2003 "Sonic Bullet" release. The extended EP contains 46 minutes and 9 tracks of ripping, over-the-top, pounding Destructor-style molten heavy metal!
Auburn president Bill Peters' first encounter with Destructor was seeing the band perform their very first 'live' show in 1984 at The Pop Shop, a club managed by Chris Andrews and located beneath the historic Cleveland Agora. Already working with bands such as Breaker and Shok Paris at the time, Peters fell in love with the band's untamed energy, great songwriting, wild spirit and charismatic stage presence. The Cleveland metal scene was dominated at the time with 'technically' great sounding bands. Many questioned why Peters would choose to work with a band such as Destructor and how he could possibly record and capture the band's energy in the studio. After all, Destructor were considered to be one of the area's most 'anti-technical' of bands at the time. Despite the rough edges and regardless of the criticisms, Peters had a vision that Destructor could develop into something special and saw something in them most of his industry peers did not. He took a chance and moved forward, signing Destructor to his Auburn label in 1984. The band entered Suma Recording Studios to begin recording their debut album with engineer Paul Hamann at the helm. Destructor's "Maximum Destruction" album, released the following year in 1985 on Auburn Records, is considered by many to be an underground metal classic and quickly silenced the critics. It became Auburn's biggest seller and catapulted the band to international success in the metal underground. The album was licensed to Roadrunner Records in Europe several months after the initial release and later reissued by Listenable Records in 1999. Destructor's crushing 'live' performances in the area, both headlining and opening for national acts such as Anthrax, Slayer and Megadeth, became legendary. The band received rave reviews and full features in prestigious metal publications like Metal Forces, Kerrang!, Hit Parader and Metal Hammer. In 1987, Destructor entered Beachwood Studios with engineer Jim DeMain to begin recording their second album "Decibel Casualties". The album, along with Jag Panzer's "Chain Of Command", was going to help launch a joint venture between Auburn and major label Island Records. Unfortunately, both projects never saw the light of day. Several months into the Destructor recording sessions, bass player Dave Iannicca was innocently murdered on January 1, 1988. The incident devastated both the band and Auburn president Bill Peters, who had been a good friend of Dave's over the years. Coping with losing a 'family' member was very difficult for everyone to overcome. Destructor needed time to recover from the tragedy and were in no condition to begin playing music again. Peters struggled with his emotions and his dealings with Island Records, who took more of a business stance on the whole situation. Peters eventually decided to walk away from the entire 3-year label deal. It was a tough decision but the right one he felt to make at the time.
Over the next several years, Destructor struggled to keep things going. They went through several bass players trying to move forward but the chemistry continued to be missing. During these years of uncertainty, the band did manage to go into the studio and finish one song from the "Decibel Casualties" sessions, "Storm Of Steel", for Auburn's 1990 "Heavy Artillery" compilation. The compilation was dedicated to Dave Iannicca. Unfortunately, the revolving door of bass players continued to take its toll, forcing the band into hiatus in the early 90's. Destructor resurfaced in 1999 when Listenable Records reissued the "Maximum Destruction" album. Inspired by the rejuvenated interest from the reissue, Destructor entered the studio in 2000 to begin recording new material. After hearing the final mixes, Listenable expressed no interest in releasing the album and decided to drop the band from the label. Bass player frustrations continued to haunt the band and the album was never released. A song from those sessions, "The Triangle", appeared on the Heavy, oder was!? "Metal Crusade-Vol. IV" compilation.
Finally in 2002, Destructor connected with Boulder bass player Jamie Walters. Although several years younger than the band members, Jamie had been a long time Destructor fan and had seen the band on a number of occasions over the years. Both parties hit it off immediately and Destructor were back on track. Jamie was the missing piece to the puzzle the band had searched for so long and hard. Then in January of 2003, Destructor and Auburn officially reunited. The two parties had been talking for nearly a year and had been unofficially working together since the summer of 2002. Peters challenged the band to write new material and the band delivered with an amazing batch of originals that followed in the same tradition as the "Maximum Destruction" album.
Destructor entered 609 Recording with engineer Don Depew (Breaker) in the Spring of 2003 to record "Sonic Bullet". The EP, released in the Summer, includes 5 new recordings ("Sonic Bullet", "Heavy Artillery", "Silent Enemy", "Blackest Night", "Master Of The Universe"), two tracks from the previously unreleased 2000 sessions ("G-Force", "The Triangle") and two 'live' tracks recorded in 2002 at the Classic Metal Festival ("Pounding Evil") and at the band's opening set for Slayer in Cleveland ("Iron Curtain"). The Summer of 2003 has seen a lot of activity from Destructor on the concert front. They performed at two major festivals, the BW&BK "6-Pack Weekend" in Cleveland (headlined by Candlemass and Trouble) and the Bang Your Head in Balingen, Germany (headlined by Twisted Sister and Dio), and opened the Iron Maiden/Dio/Motorhead Cleveland tour date. The band are currently finishing up writing new material and plan to enter the studio next year to begin recording a new full-length.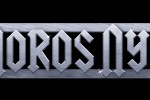 MOROS NYX
Power/Speed Metal from Chicago
$150 3 Day Pass
includes admission for all 3 days.