MoonRunners Music Festival 10
May 7th + 8th, 2022
21+ / 11am doors / $90 for Two Day Weekend Pass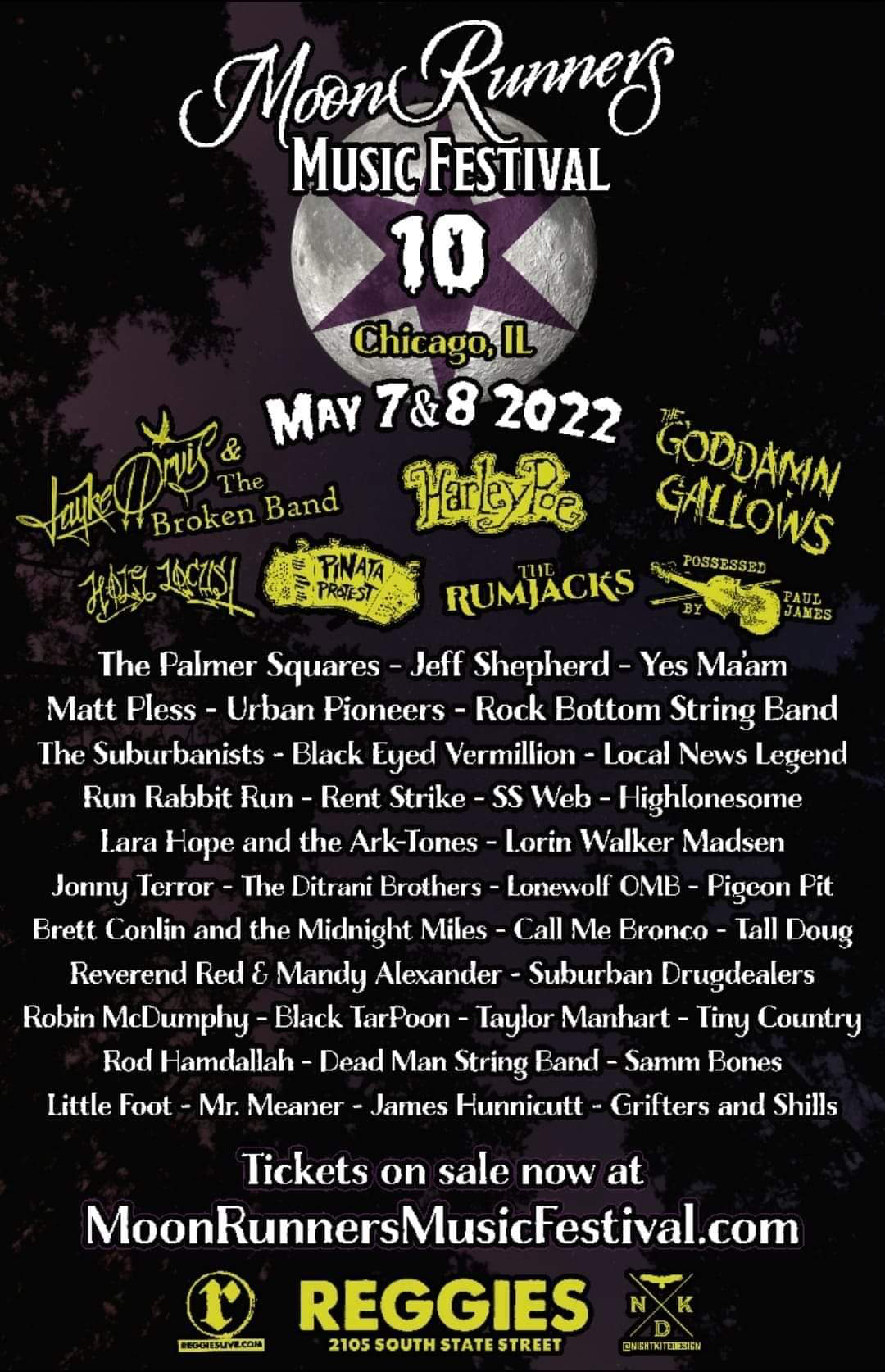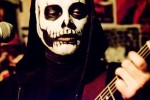 HARLEY POE
It's not enough to say Harley Poe write songs about monsters. Harley Poe sing about being monsters. In the band's world, the vampires, werewolves, serial killers, and cannibals take center stage and become the protagonists onto whom we project our joys, our fears, and our failings.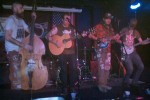 JAYKE ORVIS AND THE BROKEN BAND
A founding member of The .357 String Band and current member of the Goddamn Gallows, Jayke Orvis is ahead of his time even though he plays timeless music. The songs on his solo effort "It's All Been Said" are articles of the heart, exposing Orvis as a fragile, troubled soul. His depictions of love are raw and blue, the pages of his life littered throughout this album.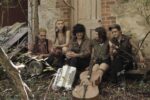 HOLY LOCUST
Far flung from home and steeped in the myriad of their worldly adventures, Holy Locust, in sound, is the embodiment of chaos tamed. Anywhere from street corners in Mexico to pubs in Ireland, they bring a riveting collaboration of acoustic punk, New Orleans jazz and traditional folk music with instrumentation including but not limited to banjo, accordion, cello, fiddle and guitar.
TALL DOUG
(The Ridgelands)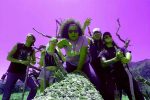 ROCK BOTTOM STRING BAND
A crew of extremely good looking individuals crammin' Bluegrass, Punk, Country, and Folk into one Kick-Ass Band!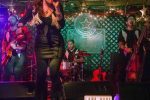 LARA HOPE & THE ARK-TONES
Winner of the 2017 Ameripolitan Music Award for Best Female Rockabilly Artist, and named the "Best Up-And-Coming Band" by Hudson Valley Magazine, Lara Hope and the Ark-Tones are New York's premier roots rock n' roll, rockabilly, rhythm & blues outfit. Born from a hybrid of Lara's former rockabilly band The Champtones, and upright bassist Matt's international psychobilly act, The Arkhams, The Ark-Tones hit the ground running in 2012 and haven't slowed down since.
Lara Hope was featured on the cover of UK Rock n' Roll magazine in March 2015, and New York's Ulster Magazine in March 2016. The band has shared the stage with many well-known acts including Tiger Army, Gary US Bonds, America, Big Sandy, and Wayne Hancock, amongst others, and has performed at at a variety of national festivals including Viva Las Vegas, Ink n Iron, and The Nashville Boogie. The band is also known for their visually arresting videos – "Whiskey Pick" (from their debut album) and "I'm the One" were official selections in the 2014 and 2016 Woodstock Film Festival.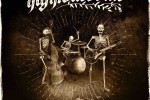 HIGHLONESOME
Highlonesome is a group of guys being as real as can be. They play loud fast music, described as Mountainbilly, a mix of true American roots mountain music mixed with rockabilly influences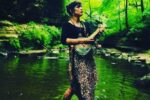 TAYLOR MANHART
Taylor Manhart began traveling and busking across the country at a young age to start her musical career. Thanks to her father's and loved one's insistence, she moved back to Chicago to take her passion of music more seriously and bring it to a larger audience.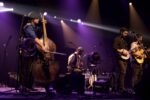 DITRANI BROTHERS
DiTrani Brothers play original songs from and about the dystopic present, and ragtime and jazz tunes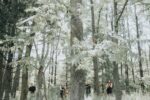 TINY COUNTRY
A scenic detour from a familiar road, Tiny Country, takes you through the the twists and turns of Americana music. They have been winning hearts with their original songwriting and intriguing cover song selection.
The group features Despina Pafralides on acoustic guitar and lead vocals, Chris Grant on Telecaster/ fiddle, Jarret Hicks on Drums, and Kim Sheya on upright bass and backing vocals.