Moonrunners Music Festival!
April 25th and 26th, 2014. Starts 2pm on Friday, 11am on Saturday.
Saturday, April 26th
Music Joint:
11:20am- The Ghost Bandits
11:35am- Tony French
12:15- Rickett Pass
2:00- Carmen Lee and the Tomorrow River Two
3:50- The Hangdog Hearts
4:50- Carrie Nation and the Speakeasy
6:05- Whiskey Dick
6:50- Black Eyed Vermillion
7:55- Rachel Kate
9:00- Joseph Huber
Rock Club Stage:
11:50- Jeff Shephard and the Jailhouse Poets
12:45- Six Gun Britt
1:25- The Imperial Rooster
2:30- Matt Woods
3:15- Filthy Still
4:20- C.W. Ayon
5:30- Last False Hope
7:20- J.B. Beverley and the Wayward Drifters
8:25- Fifth on the Floor
9:50- Roger Alan Wade
11:15- Scott H. Biram
Use this link to reserve rooms at Chicago South Loop Hotel for the weekend at a special rate of $125 per night.
https://www.myfidelio.net/webui/AvailabilitySearch.aspx?chain=IQ&property=USCSL&companycode=OUTMON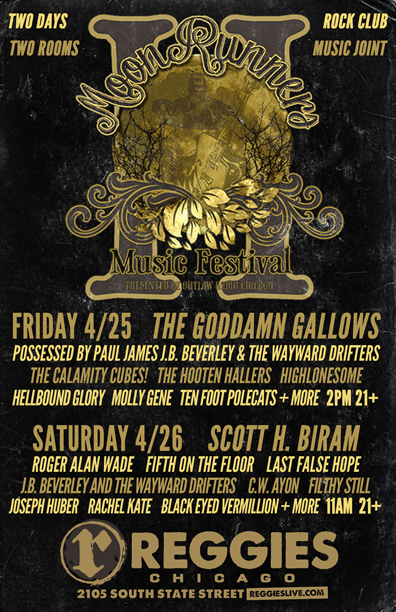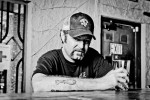 SCOTT H. BIRAM
Rock 'n' Roll ain't pretty and neither is Scott H. Biram. The self proclaimed 'Dirty Old One Man Band' successfully, and sometimes violently, lashes together blues, hillbilly and country precariously to raucous punk and godless metal.
Biram ain't no candy-ass singer/songwriter either, sweetly strumming songs about girls with big eyes and dusty highways. His singing, yodeling, growling, leering an
d brash preachin' and hollerin' is accompanied by sloppy riffs and licks from his '59 Gibson guitar and pounding backbeat brought forth by his amplified left foot. The remainder of this one-man band consists of an unwieldy combination of beat-up amplifiers and old microphones strung together by a tangled mess of guitar cables.
Years of non-stop touring have honed his assault to a fine edge; his wide-eyed throw downs in the First Church of Ultimate Fanaticism routinely lead giddy followers to a fiery baptism.
Scott H. Biram won't die. On May 11th, 2003, one month after being hit head-on by an 18-wheeler at 75 MPH, he took the stage at The Continental Club in Austin, TX in a wheel chair – I.V. still dangling from his arm. With 2 broken legs, a broken foot, a broken arm and 1 foot less of his lower intestine, Biram unleashed his trademark musical wrath.
When Scott H. Biram took the stage at his 2004 SXSW festival showcase right after Kris Kristofferson he was quoted as growling "They said that was a hard act to follow….I'm a hard act to follow motherfuckers!!" The stunned crowd looked on.
"Scott's self described 'dirty old one-man band' had a captivating immediacy that big rock shows rarely reach. On stage Scott is a man possessed, spitting and snarling like a Mississippi juke-joint shouter on a moonshine bender." – Eben Sterling, Thrasher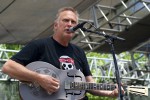 ROGER ALAN WADE
Roger Alan Wade has something to prove. Why would anyone who has penned songs for country music's royalty such as Johnny Cash, Waylon Jennings, George Jones, Hank Williams Jr. and others have anything to prove? A bit of a history lesson may be in order here.
Once upon a time, Wade worked in Nashville writing songs for other folks to record. Hank Williams, Jr. took his song "Country State of Mind" to number one back in 1986 and garnered Wade three gold records and one platinum. When Nashville stopped making country music around the early '90s, where was a guy like Roger to go? For years he played for next to nothing in honky-tonks and clubs entertaining anybody who would listen. Then in 2005, Wade's All Likkered Up became the first release on the independent label Johnny Knoxville Records.
Consisting mainly of novelty songs with a satirical nod to rednecks and honky-tonk culture, All Likkered Up brought Wade to a global audience. The tracks "If You're Gonna Be Dumb" and "BB Gun" were featured in the highly successful "Jackass" films/video game and MTV's "Wildboyz" TV series. But there were a few songs on it like "Sweet Wine of Sorrow" or the heartfelt "Johnny Cash has Died" that showcased Wade's ability to stretch out in a more serious direction.
In 2009, Wade released Stoned Traveler, another solid album with about a 50/50 balance of novelty songs and more traditional singer-songwriter material. Stoned Traveler included "D.R.U.N.K." which appeared in the MTV show "Nitro Circus".
Then in 2010 Wade released his masterpiece, Deguello Motel.
The inspiration for Deguello Motel may have been thirty years of hard living, but the approach was a sober one. The first challenge was for Roger Alan Wade to get sober. (He did.) The second challenge was to see if he could write a song that way.(He can.) But that wasn't enough for Wade. He had something to prove. "He was good till he kicked the drinking and drugs" is how the cliche goes. Years of prejudice and misguided notions were waiting to be quashed. Wade quashed them, and then kept moving. He wasn't satisfied proving the notions wrong, he wanted to prove that the opposite was right.
After hearing Deguello Motel Wade's fans started asking, "Is this the same guy who wrote 'Poontang'? Deguello Motel catches people looking the other way. You keep waiting for the next song to be the goofy one, and it never comes, adding gravity to the songs, making you perk up and pay attention saying, "This is serious stuff."
All this talk of sobriety may have you thinking Wade lost his edge. On the contrary, Deguello Motel is like fighting fire with fire, and telling the hard, cold, ugly truth, with a poet's wit and wisdom. The album is a catharsis, with the lyrics like toxins being purged out in all their candid rawness bringing Wade out of the shadow of being Johnny Knoxville's cousin or a writer of silly songs, and into the company of people like Guy Clark and Townes Van Zandt as a premier songwriter.
In 2011 Wade reached back into his bag of novelty songs one more time and released Too Fat to Fly. Kicking off with the title track, which is based on the dispute between Southwest Airlines and film director Kevin Smith, Wade trades in the bleakness of Deguello Motel for more irreverent humor. More exposure came with "Party in My Pants," which was featured in the film Jackass 3-D.
The best moment of this brief album comes at the end with the masterful tune "The Sun Don't Shine on the Same Dog's Ass Everyday," which, if you believe the story, was pitched to Cash, Waylon, Willie, Bob Dylan, Neil Diamond, and others, all in the hopes of Wade being able to afford a box of jelly-filled donuts for his cousin Knoxville's birthday!
Wade has appeared on "The Jimmy Kimmel Show" and "Howard Stern Show" and Johnny Knoxville and Wade launched their own weekly radio show "Big Ass Happy Family Jubilee" on Sirius/XM Satellite's Outlaw Channel.
In December 2011, Wade launched his Official Facebook Fan Page www.facebook.com/RogerAlanWadeMusic with a special gift for his fans. When friend, fan and Jackass Star Ryan Dunn tragically died in an accident earlier in the year, Wade wrote the hauntingly beautiful tribute "The Light Outshines the Star". Wade gave the song away for free too his Facebook fans as a gift from Dunn and "all the Jackasses that love him". The response has been overwhelming.
2012 is gearing up to be a big year for Wade. The next CD titled "The Last Request of Elijah Rose" is a prequel to Deguello Motel. Roger states, "This album is more about foreboding than darkness.  You will feel the storm coming.  It's about the journey in, when you're young and everything seems like it's going to go as you planned.  And then, man, it just don't sing your song no more for some reason.  You hit a time when it tests your mettle.  You either come out on the other side or you don't.  What's tantalizing is that I can hear it, I can feel the weather change and I can feel all the characters involved in it."
Whether he's writing the dark and poetic tunes of Deguello Motel or "Psycho Bitch from Hell," Roger Alan Wade is "an American treasure and one of the greatest songwriters we have."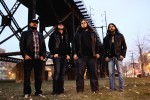 FIFTH ON THE FLOOR
Fifth on the Floor is a rock n roll band. 

Born in the heart of Kentucky, FOTF has torn up shows all over the country. Their recent album Ashes & Angels (produced by Shooter Jennings) made its way onto the Billboard Country charts, a rarity for a record without Auto-Tune or a truck song(s). The band has toured with Shooter Jennings, George Thorogood, Unknown Hinson, and Roger Clyne and the Peacemakers, and has shared the stage with the likes of The Marshall Tucker Band, Wanda Jackson, Lucero, and Jason Isbell. Their songs are an effort in American Music, owing equally to blues and country, good times and bad times, whiskey and wine.
J.B. BEVERLEY AND THE WAYWARD DRIFTERS
Have you ever wondered what happened to REAL country music? Sadly, it has been pushed into the underground by the image-consumed, money-making monster of the corporate music industry. These days, only a few brave souls dare to make the kind of authentic country music that honors American heritage and culture; rooted in the influence of Jimmie Rodgers, Hank Williams, Johnny Cash, Merle Haggard, and the other all-but-forgotten legends of the genre. Genuine country music reflects real life, and not the latest fashion trends. One of the strongest and most charismatic forces in the real country music arena is J.B. Beverley & The Wayward Drifters.
Originally formed in December 1998, J.B. Beverley and the Wayward Drifters have steadily made a name for themselves in the U.S. and around the world. A "retired" hobo, Beverley took his experiences from the road, the trains, and everyday American people he encounters, and molded those experiences into some of the most heartfelt, real-deal country music to see the light of day in a long time. With driving acoustic rhythm guitar, slamming upright bass slapping, amazing banjo rolls, and other blistering accompaniment, Beverley and his "high lonesome" voice have earned a solid reputation for their live shows.
J.B. Beverley and his Wayward Drifters' endless life on the road is studded with highlights, including a 7 week tour with Hank Williams III and shows with contemporary greats like Wayne "The Train" Hancock, Dale Watson and Lee Rocker. They have been joined on stage by legendary Commander Cody guitar picker Bill Kirchen, and other friends in the music community. The band also has made fans out of the likes of John Carter Cash, Slim Jim Phantom of the Stray Cats, Bruce Springsteen, and Piedmont Blues great Warner Williams.
J.B. Beverley & The Wayward Drifters have been featured on several radio and TV programs, including the MHZ Network's "Spotlight", Austin's Capzeyes TV, and radio shows like Colorado's KRFC "Live at Lunch, and Knoxville's WDVX FM. The band has released two heavily-circulated demos, and a full-length studio CD entitled "Dark Bar & A Jukebox" (Helltrain Records). The band toured relentlessly for over two years in support of "Dark Bar", and also wound up the subject of an upcoming documentary road film by Wayward Souls Productions out of New Mexico.
In 2008, J.B. opened Rebel Roots Studio in Richmond, VA to record and produce "Watch America Roll By", the band's sophomore effort. Described as "an organic road record that may as well have soil falling off it's roots", the 2009 release stirred up quite the buzz amongst Wayward Drifters fans and roots-music enthusiasts alike, and took the band across the US and to Europe non-stop from it's release into 2011.
As of 2012, J.B. Beverley & The Wayward Drifters have re-entered Rebel Roots Studio to begin work on their new CD "The Way We Do It In Dixie", scheduled for a 2014 release on RUSTY KNUCKLES MUSIC.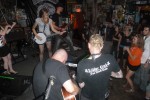 LAST FALSE HOPE
Last False Hope are some city slickers from the mid-western suburbs of Chicago. Their unique sound of underground bluegrass imbibed with their roots in punk and metal is a loose bull in a china shop. This clash of genres that they have dubbed "Brutal-Grass" has quickly earned them a name in the scene. The band was cooked up by Jahshie P. A long time veteran in the Chicago music scene, best known as the former frontman of Failed Resistance, My Vengeance and later, Neverland. In the past few years, Jahshie P. developed an intense interest in country western and blue grass music, along with his new found passion of the mandolin. Come the Summer of 2009, his new skills began to translate into songs. His first step was to bring his wife, Kristina Nutting, a new comer to the Chicago music scene, along for the ride. She would rapidly warm up to the banjo. Quick to the draw, they set forth to include a track to the Outlaw Radio Compilation, volume one. To fill in the blanks, they recruited Producer, Shawn Connors, best known as the drummer of death metal band, Bound And Gagged and later, Jashie P.'s band mate in Neverland, as well as a number of other fly-by-night acts. To fill in the line-up, Arcadia Kust on fiddle, Sean Moriarty on guitar and Dave Beneventi on bass from a local irish punk act, The Fisticuffs, as well as former My Vengeance members, Steve Stepien on drums and David Wiegers, who also played guitar in Neverland. This line-up would go on to record "Two Dollar Pints" for the comp. Over the course of roughly the next year, the seven of them would go on to write more songs and play several shows Come September 2010, they re-enlisted Shawn Connors to begin work on the debut EP, "The Shape Of Blue Grass To Come." Four songs, "Giving Up God For Lent," "Drag Me To Hell," "You Drink, You Drive, She Wins" and "Dying and Diseaed" would make the final cut. The EP was released on March 1st through Pint Of Happiness Records. After the conclusion of the "The Shape of Blue Grass To Come" sessions, Sean, Arcadia and Dave B parted ways with the band. Shawn Connors has since joined to fill the open guitar position, along with Scott Farruggia, also from Bound And Gagged and Neverland on bass and friend of friend, Colleen Mary on fiddle. The new line-up was debuted on a track for the Southern Independent, volume one compilation, titled "Guilty Until Proven Innocent." They new line-up is currently working on a versus split with Nellie Wilson & the Hellbound Honeys on Jahshie P.'s own, Solitary Records. Since their their inception, l/f/h has shared the stage with the likes of Star Fucking Hipster, Those Poor Bastards, .357 String Band, Hellbound Glory, The Goddamn Gallows, Rachel Brooks and Six Gun Britt. They were also, named the Best Country Bandin the Chicago Reader "Best of Chicago 2011" reader's poll. They will continue to play shows with the line-up in support of "The Shape Of Bluegrass To Come, while crafting new material for a debut full length, hopefully to be released in early 2012.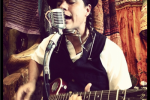 C.W. AYON
I am a One Man Band that plays old school juke house blues, (electric and acoustic) from Las Cruces, NM. I sing, play guitar and harmonica and operate a kick drum and a snare with my feet. I have played in Blues Festivals in New Mexico, Mississippi and Minneapolis MN. I just recently returned from a tour of Australia. I have been playing club gigs and festivals in and around Las Cruces and El Paso TX since 2008. This year I also played at the Downtown Streetfest in El Paso. In 2010 I won a NM Music Award for my song "Seen My Baby" for Best Blues Song. I have 3 self-released albums, "Gone", "Is what it is" and "Ain't No Use In Moving"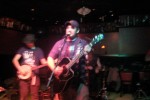 FILTHY STILL
It was June of 2010 when Filthy Still was born in the drunken depths of Providence, Rhode Island in the neighborhood of historic "Federal Hill". Jesse Roderick, Dylan "Sleazy D" Wolk, Jeremy Garland, and Matt Olson began jamming out to old Country songs in a small office space of Jeremy's 3rd floor apartment. After playing their first show July 13th, 2010 with The Goddamn Gallows in Providence, Filthy Still quickly started to gain recognition in the New England region for their unique "bluegrass/punk" sound, with influences ranging from Hank Williams and Townes Van Zandt, and the other end of the spectrum, from The Circle Jerks to GG Allin. On December 12th 2010, washboard player and brother, Dylan "Sleazy D" Wolk unexpectedly passed away in his sleep after a fully packed show at their neighborhood bar. His untimely death shocked everyone and nearly put the band to rest. Several weeks later, it was decided that Filthy Still would continue to play in memory of Dylan. In February of 2011, Filthy Still returned to the stage in New Haven, CT opening for Hick'ry Hawkins, playing for a full capacity crowd.
Having trouble keeping a steady bassist, and going through some minor lineup changes, Filthy Still soon aquired friend Artie Elmer on washtub bass, while touring with "Hick'ry Hawkin's and the Panty Sniffers" in the Winter of 2011. As of Fall 2011, they have played hundreds of shows all around the country, and have no plans of taking much time off. They use traditional bluegrass instruments and play with a punk rock intensity. They currently have one album under their belt titled "All Bottled Up" which was recorded and released DIY style and consists of 13 original songs. Filthy Still will be releasing there sophomore album on Farmageddon Records in 2012.