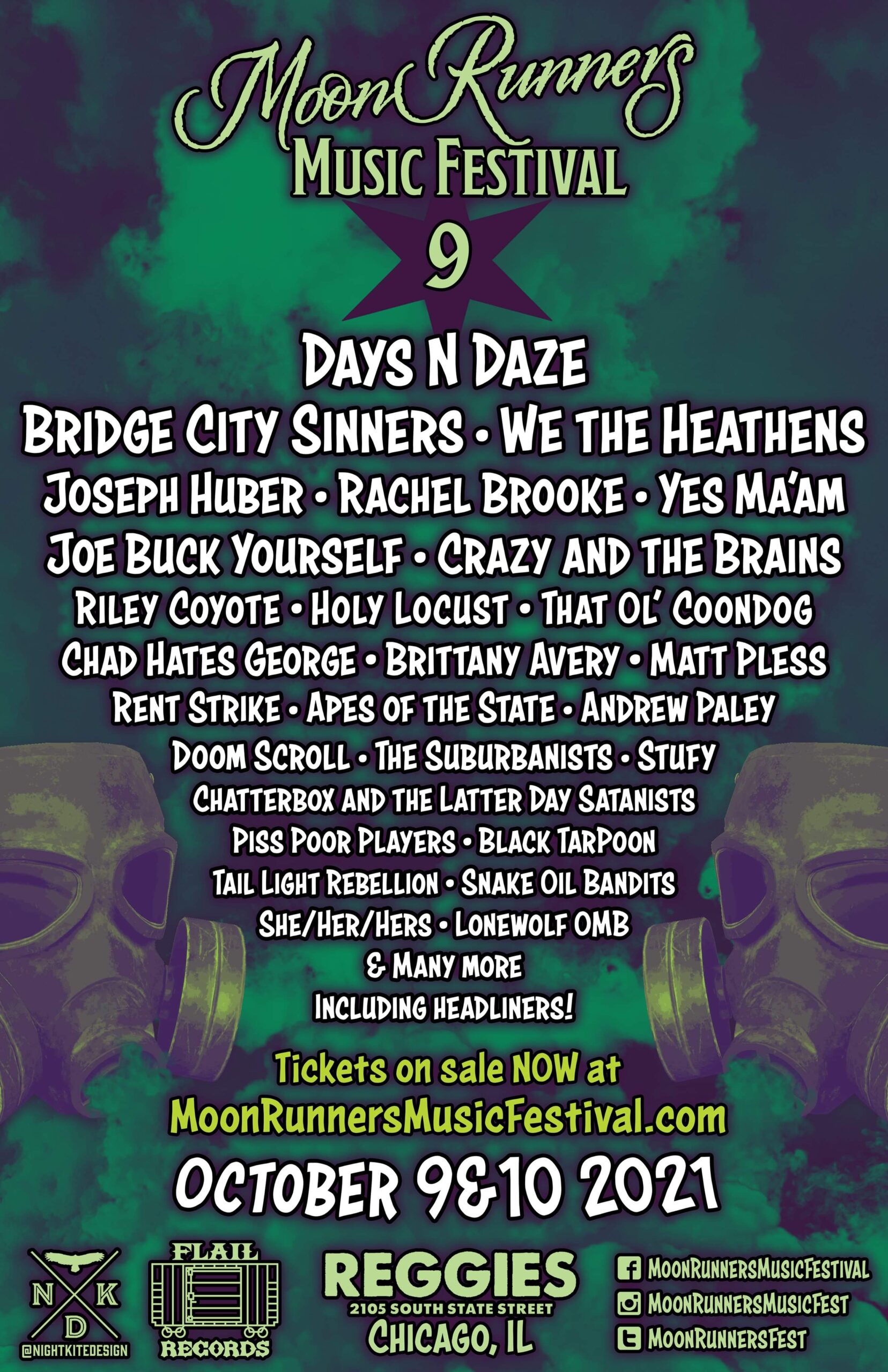 Moonrunners Music Festival 8
MoonRunners Music Festival has been RESCHEDULED to October 9+10, 2021.  All previously purchased tickets will be honored at the door. If you can no longer attend due to the date change, refunds are available upon request at original point of purchase.
Anyone entering the concert will be required to show proof of full vaccination or a negative COVID-19 test result for entry. Final dose of vaccination must be received no less than 14 days prior to the event. The COVID-19 test must be administered within 72 hours of the event. We will accept a hard copy of your vaccination card or negative test result, a printed photocopy or a digital image on your phone, and must match your Government-issued ID. Masks are currently required to be worn by everyone inside the venue in accordance with current City of Chicago guidelines.
Sunday October 10th
Official schedule! (Card subject to change)
11am- Doors
12:00- Tail Light Rebellion- Rock Club
12:30- Austin Possum- Music Joint
1:00- Chad Hates George- Rock Club
1:30- Cameron Foreman- Music Joint
2:00- Riley Coyote- Rock Club
2:30- The Swamp Rats- Music Joint
3:00- Dig Deep- Rock Club
3:30- Lonewolf OMB- Music Joint
4:00- Jeff Shepherd- Rock Club
4:30- 40rty and Jesse's One Man Band- Music Joint
5:00- Mikey Classic and Jayke Orvis- Rock Club
5:45- WT Newton- Music Joint
6:15- The Suburbanists- Rock Club
6:45- Joey Henry's Dirty Sunshine Club- Music Joint
7:15- Last False Hope- Rock Club
7:45- Joe Buck Yourself- Music Joint
8:15- Apes of the State- Rock Club
9:00- Yes Ma'am- Music Joint
9:30- Holy Locust- Rock Club
10:45- Joseph Huber- Music Joint