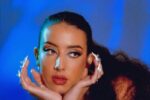 Naïka
Naïka is a singer/songwriter born in Miami, Florida who developed an interest in music from an early age while living and traveling internationally with her family.
With parents hailing from Madagascar and Haiti, and growing up around the world in countries such as Guadeloupe, Kenya, France, South Africa and Vanuatu, Naïka's multicultural background has shaped her both musically and individually which resulted in defining her unique sound she refers to as "World-Pop".
In 2018, Naïka graduated from Boston's prestigious 'Berklee College of Music' with a degree in Professional Music. Her songwriting abilities were first recognized when she won a scholarship in BMI's annual "John Lennon Songwriting Scholarship", where she was awarded first runner up in the nation-wide competition.
In 2017, she took the Haitian community by storm after releasing her take on the forgotten traditional song "Papa Gede Bel Gason", which accumulated over 1M views online. Attention began fueling around Naïka after she released her first single "Ride" which organically amassed over 5 million streams on Spotify alone.
The song reached #2 on the 'Spotify Viral Global', and made its' way to viral charts in over 12 countries around the world including the US, Canada, UK, France, Australia, Norway, Belgium, Czech Republic and Argentina.
The success of 'Ride' led Naïka to sign a record deal with Capitol Records DE (a division under Universal Music Group) while she was still in her last semester as a college student. Two years later, after completing her contract with UMG, Naïka began to release her music independently.
In July 2020, Naïka released Part 1 of her debut two-part EP project entitled 'Lost in Paradïse', which garnered nearly 4 million streams across Spotify and Apple music.
In September 2020, Naïka released a cover of 'Don't Rush' by Young T & Bugsey on Tik Tok that had a big viral moment. With over 20 millions views in just 3 months, Naïka quickly became an internet sensation, gaining the attention of some big names like Jason Derulo and even the original creators of the song, Young T & Bugsey who created a remix version featuring Naïka.
Following the success of 'Don't Rush', Naïka's song 'Water", which is the first song released from the Lost in Paradïse Part 2 Project, was featured in EA Sports Game Fifa 21' and also placed on the soundtrack. The song accumulated over 40k Shazams in just 2 months.
Naïka's dream is to bring people together through her music, to shatter stigmas and encourage human connection that goes beyond race, religion and gender.