Hawkwind Co-Founder Nik Turner Returns To The US
For A Series Of Interstellar Space Rock Performances!
Nik Turner, the inexhaustible saxophone and flute-playing co-founder of space rock legends Hawkwind, will return for another US tour this Fall accompanied by up-and-coming kraut/prog rock band Hedersleben. Following what has been widely regarded as the most ambitious album of his career, one that MOJO called "a sprawling but polished album," Space Fusion Odyssey, Turner continues his astonishing career rebirth with a newly reinvigorated sense of musical creativity and sonic exploration.
Frequently called "The Spirit Of Hawkwind," Turner was a major creative force during that group's most critically acclaimed and successful period, 1969-1976. His outlandish costumes, improvised sax and flute playing, and general wild man persona became iconic representations of the band, and we would go on to pen some of their most popular songs including "Brainstorm" and "Master of the Universe." After leaving Hawkwind, Turner used his newfound freedom to travel to Egypt, where he soaked up the history and culture, and also made a recording of his flute music in the King's Chamber of the Great Pyramid of Cheops. In 1985, Turner relocated to the western side of Wales, where he set up a new age community in a fairly rural, isolated area. He has continued to release new music including 2013's Space Gypsy and 2015's Space Fusion Odyssey. A brand new track from his forthcoming studio album premieres on a special 6CD box set called Space Rock: An Interstellar Traveler's Guide. This incredible collection features a diverse sampling of space rock artists young and old including Hawkwind, Amon Düül II, Ozric Tentacles, Gong, Can, Earthling Society, and Hedersleben along with a whole host of others!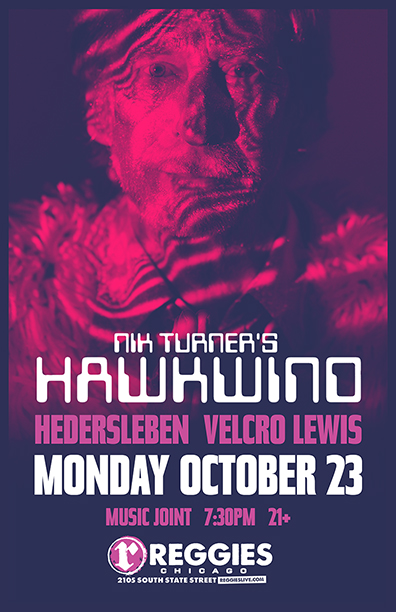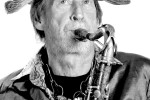 NIK TURNER'S HAWKWIND
(ex Hawkwind)
SPACE☆RITUAL was formed 2001AD, coalescing through time and space by populace demand, and psychic desire and need, to revive the lost magic, the true original spirit of 'HAWKWIND', of which the band were all part, and 'keepers of the flame'.
The band play modern space/ rock/ jazzy/ dancy/ science/ fictional/ fantasy/ spiritual music, to heal and raise spirits, consciousness and awareness, promoting communication and good times, getting high without drugs, using multimedia sound/light/visual imagery to create extremely wild, whacky, mind boggling/blowing experience, each performance truly a happening.
The band have played many prestigious festivals in Britain, inc Glastonbury, Canterbury, Guilford, Ystalavera (Wales), and at many prestigious venues, inc Brixton Academy, London Astoria, and others all over Britain to exstatic crowds.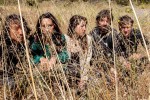 HEDERSLEBEN
Jai Young Kim – Bass (Secret Chiefs 3)
Arian Jade – Vocals/Violin (Nik Turner's Hawkwind)
Kephera Moon – Keyboards/Vocals (Nik Turner's Hawkwind/Brainticket)
Jason Willer – Drums/Percussion (Nik Turner's Hawkwind/Brainticket/UK Subs)
Nicky Garratt – Guitars (Nik Turner's Hawkwind/Brainticket/UK Subs)
History
German? British? American?
Actually Hedersleben was hatched in the village of the same name on the outskirts of Quedlinburg, Germany by British guitarist Nicky Garratt yet are based in the Oakland/San Francisco bay area.
In the role of musical director Garratt pulled together musicians to record the Nik Turners Space Gypsy album in Los Angeles. After a short incubation period the prototype version of Hedersleben manifested from Nik Turner's touring band.
Following the success of Space Gypsy, Hedersleben, worked with original Brainticket Keyboard/Flute/Sitar player Joel Vandroogenbroeck recording a new album for his legendary Swiss band.
Hedersleben recorded their debut album Upgoer back to back with Brainticket's Past, Present & Future, again working again with engineer Jeremy Goody at Megasonic Sound.
In October 2013 Hedersleben embarked on their first national tour, both opening for and backing Nik Turner. Hedersleben's second, highly acclaimed, album Die Neuen Welten featured guest vocalist Kati Knox, and was again recorded at Megasonic sound in Oakland in May 2014. Side A of Die Neuen Welten was set to film by San Francisco filmmaker Erin Franklin.
A one off gig On June 3rd featured special guest Captain Sensible on 2nd guitar. The show was filmed at 1234go records in Oakland. On August 26th Hedersleben took to the road again on a repeat of the previous years tour with Nik Turner. Again Hedersleben both opened and backed the ex Hawkwind front man.
Hedersleben have just finished recording their 3rd album The Fall Of Chronopolis.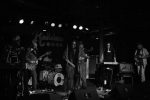 VELCRO LEWIS GROUP
Velcro Lewis Group is Earth's premier acid-rock, space-funk septet. The band twists the aesthetics of Funkadelic, Hawkwind, Temptations, and Black Sabbath into their own living -breathing planet of sound. Using conventional instruments like electric washboard, theremin, and modular synths Velcro Lewis Group mixes in the unique sounds of guitar, bass, and drums to optimize their joyful noise. Lead by Hawk Colman, the brother with the 5 octave range, honky tonk veteran, Lawrence Peters singing bass, and blind growler Andy Slater filling out the harmonies folks can't deny the commands and demands shouted from the stage. Once it becomes possible to drive a Cadillac through space and time the Velcro Lewis Group Will be hot glued into the tape deck. All aboard The starship Impala!
On their 5th full length album, Amnesia Haze, the group set out to deal with some serious shit. The band entered the studio 2 days after the Presidential election. With disgust and uncertainty driving the session the lyrics had changed and the performances intensified. What was once abstractly political had become unapologetically direct. Racial violence, gun violence, police violence, street harassment, xenophobia, fascism, feminism, every point of rage and discourse the country was feeling. Patriarchal Reptile, a free-noise piece voiced by Theremin player Alison Hunger, was recorded and added to the album last minute as a response to the thin-skinned gynophobiac set to lead our country. Amnesia Haze is a cry for unity and awakening from a band sick of fucking around.