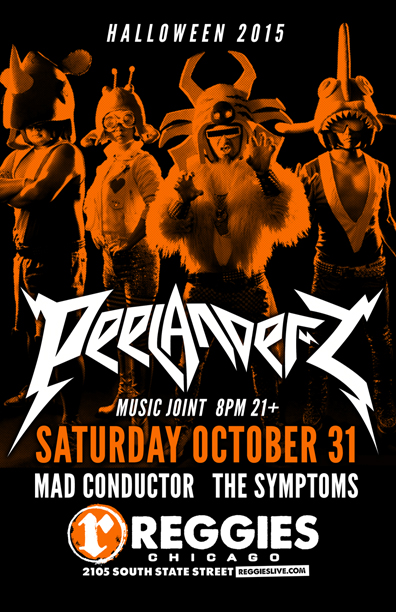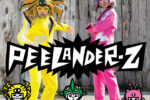 PEELANDER-Z
PEELANDER-Z, the Japanese Action Comic Punk Band based in NYC, was originally formed in 1998 by Peelander-Yellow, Peelander-Red, and Peelander-Blue, after meeting in New York City (although they'll tell you they're all from the Z area on the planet Peelander). Peelander-Green was welcomed in July 2008 after Blue left the band.
Peelander–Z has appeared at major music festivals including Bonnaroo and the Vans Warped Tour and has also been featured on TV programs such as VH1's "Best Week Ever" and Comedy Central's "Upright Citizens Brigade" among others. The band has also been covered by SPIN, Rolling Stone, Village Voice, NPR and The Onion among many others.
At its live shows, Peelander–Z guarantees intense audience participation and a chance to exercise. You'll see the band in colorful costumes reminiscent of Japanese anime, though they describe their outfits as their skin. You'll also see The Red Squid, human bowling and all around insanity. A Peelander–Z performance is a rare occasion for the entire family to rock out and have a great time.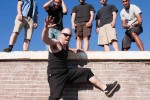 MAD CONDUCTOR
Mad Conductor's ability to consistently create highly original, captivating music while touring extensively in the United States, Canada and also Europe, has earned them a devoted cult following around the world. The independent release of their second full-length album, "MC Rises", in summer 2013 has legions of fans reeling with excitement and many newcomers being drawn to their fresh sound.
Formed in 2005 in Center Valley, PA by song-writer/ vocalist MC Devlin and studio engineer/ pianist Dan McKinney, the duo combined hip-hop, funk, reggae, blues, jazz and psychedelic rock to forge a unique, innovative sound. Devlin and Dan's 20 year age difference also spawned a textured variety of hip-hop that tore down generational barriers, this coupled with Devlin's imaginative, "clean" lyrics created a fun and inviting new genre attracting listeners of all ages. After releasing their first EP, Mechanical Claw, on Christmas of that year, Devlin formed a live band and began touring heavily the following spring. During this time, the band was also writing and recording, and in June of 2007 self-released their first full-length album, "Renegade Space Rock", which has proven to be a timeless masterpiece.
The band continued touring, and after releasing a two song EP titled "Members Only" in February of 2008, Devlin moved to New Orleans where he planned on writing a new album and returning to Pennsylvania to record after a three month stay. Instead, upon arriving in New Orleans, he put his musical efforts on hiatus and spent the next three years dedicating himself primarily to Kung Fu training, meanwhile releasing only an obscure four song EP titled "Central America" in January of 2010.
After receiving a black belt in the spring of 2011, Devlin once again assembled a live band line up, this time of New Orleans musicians and returned to the concert circuit, debuting his six-piece outfit at the New Orleans Block party in 2011. Currently the Mad Conductor live band consists of MC Devlin as lead vocalist with five players mainly stationed on keyboard, bass guitar, electric guitar, saxophone and drum-kit, also offering back-up and lead vocals, with several members platooning between baritone saxophone, synthesizer and hand percussion and utilizing a myriad of effects to capture Mad Conductor's inimitable studio sound in a live setting. The band has steadily been touring the United States and Canada, headlining premiere venues and performing at national festivals with a European tour coming in the near future, with Devlin continuing his Kung Fu training in between tours and also on stage during the band's performances – MC Devlin, known for his lyrical creativity is also gaining a reputation as a daredevil performer, often climbing up walls and swinging over the crowd from rafters during concerts, and showing off with handstands and aerial kicks while rapping his songs with the band.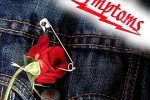 THE SYMPTOMS
The Symptoms gave birth to their sleazy brand of dark punk during summer of 1998. By 2005, the merger between this DIY-street-romp 3-piece and vicious keyboard distortion had given the Symptoms a unique authority over an otherwise predictable bar scene. In 2009, the outfit disbanded to ride motorcycles. After a year in the basement, the founding members have re-emerged brandishing two heavily distorted basses and drums to fire off some ferocious new jams. This is not pop-punk. This is rowdy. This is real.