Sophisticated Ignorance Tour
With over 30 million views and counting, Hiphop Violinist Rhett Price has gone from homeless, to what the Boston Globe called a "Youtube Sensation".
He has been featured on the front pages of publications from Huffington Post to Buzzfeed, requested for parties for celebrities from Matt Damon to Rob Gronkowski, recorded for Chris Brown's 2019 Indigo tour, and has performed on stage with (or opened for) Machine Gun Kelly, T-Pain, Young Thug, Mike Posner, Dave East, Dropkick Murphy's, Solange, The Maine, Amanda Palmer and many more.
Rhett regularly releases music videos on youtube and social media, and is currently writing new music for his upcoming project while gearing up for his 2020 national headlining Sophisticated Ignorance Tour.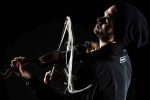 HIP HOP VIOLINIST RHETT PRICE
Rhett has garnered over 30 million views on his videos and received press inquiries/features from top publications including the Boston Globe, Cosmopolitan, Huffington Post and NY Post. With an ever-expanding social media following of over 250k, he has shared the stage and/or opened for such big names as T-Pain, Young Thug, Machine Gun Kelly, Aaron Carter and Dropkick Murphy's to name a few. Rhett's fresh sound and energetic performance are undeniable and leave a lasting impression everywhere his violin is heard. As a result, he has been sought out to perform events for, among others, TEDx, Matt Damon, Cheryl Tiegs and Tom Brady.