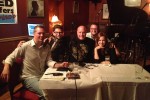 RHYTHM ROCKETS
Since 1996, Chicago's Rhythm Rockets have been delivering 100 shows a year of their brand of vintage Rhythm & Blues, with songs influenced by the sax-driven bands of the late 1940's and early 1950's. In keeping with that style of music, the Rhythm Rockets' performances reflect the diversity of Jazz, Rhythm & Blues for which Chicago is famous.
From original compositions to matchless arrangements of vintage classics, the Rhythm Rockets deliver danceable, high-energy music in an authentic stage show that appeals to audiences of all ages. Fronted by veteran vocalist Nicole Kestler, the Rhythm Rockets move effortlessly between torch ballads by Etta James & Dinah Washington to up-tempo numbers by Louis Jordan & Louis Prima. Along with Nicole's old-school interpretation, the Rhythm Rockets are backed by three saxophones, upright bass, drums and guitar, Ms Kestler transfixes audiences with vocals that are authentic and second to none.
In their home state of Illinois, the Rockets have performed at the Paramount Arts Center, Willowbrook Ballroom, Green Dolphin Street, Rialto Square Theater, House of Blues, Chord on Blues and Chicagoland's longest-running weekly Swing event at Frankie's Blue Room for nine years.
In addition, the band has performed in numerous venues across America, recorded and self produced four albums, and had four original songs featured on the FOX-TV show, the Tick in 2001. From their infectious music to their unforgettable stage show, there's just no telling how high the Rhythm Rockets will soar in years to come.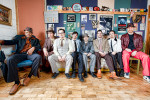 THIRD COAST KINGS
The Third Coast Kings are a seven element proper deep funk and soul outfit from Michigan. They make it a point to remain true to the style and technique of playing proper deep funk and soul to a live audience that might otherwise only be heard on dusty 45s. They are proud to be a part of the growing number of acts putting the right kind of funk back onto the stage, bringing the hot heat to wherever they perform, like only the Kings can. These cats will put the dip back into your hips and the jive in your stride.
The Third Coast Kings are composed of Steve Barker on bass, James "Gemstone" Keovongsak on drums, Andy Filisko on guitar, Terry Kimura on trombone, Ryan Dolan on trumpet, Alec Cooper on tenor sax and Sean Ike on vocals.