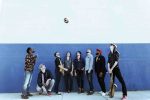 CHICAGO AFROBEAT PROJECT
Chicago Afrobeat Project celebrates the release of its new album What Goes Up with a very special Reggies show featuring guests JC Brooks, Ugochi, Legit, and Akenya. Sure to be a special night given the critic reviews of the record:
NY Times "…a work of fearless diagnostics and badly needed affirmation…"
PopMatters "…Not a single track holds back…"
Afropop Worldwide "….a great fluidity and musicality that is theirs and theirs alone, and the result is a supremely listenable…."
ThrdCoast "…an exuberant album…. executes on the original but also evolves it, pushing it to new and intriguing places."
Fake Shore Drive "This is dope and refreshing…. I think it's something we could all get behind."
CHIRP "…will have you up on your feet and dancing… guaranteed."
The story of Chicago Afrobeat Project begins a short 15 years ago. In 2002, a group of musicians sharing a common interest in West African rhythms met to jam in a West side artist loft on Chicago's Lake Street. Quickly they realized that mixing afrobeat with Chicago house, indie rock, hip-hop, or jazz opened new avenues for experimentation. Something clicked. The group had found a collective calling.
Fast-forward 15 years, hundreds of tour dates, and four studio releases, and the group has found new ways of interpreting afrobeat through American urban sounds. Through it all, CAbP has been at the center of the emergence of the North American afrobeat scene. In its newest release, What Goes Up (September 29, 2017) the band features special guest and legendary innovative drummer Tony Allen, as well as many Chicago vocalists and MCs.
Allen, once exclaimed by Brian Eno as "perhaps the greatest drummer who ever lived," plays kit on all 10 tracks, recording his signature beats behind the band and vocalists. This collaboration makes Chicago Afrobeat Project the first American afrobeat band to produce a full-length studio record with Tony Allen.
Taking the vocal helm on the album are Akenya (Noname, Chance the Rapper), JC Brooks, Kiara Lanier, Legit (Chance the Rapper), Ugochi, Oranmiyan and Rico Sisney/Maggie Vagle (Sidewalk Chalk). The band's new vocal-laden approach makes the songs of What Goes Up concise and intentional, and markedly different from CAbP's prior recordings.
A staple of the American live music scene for years, the band's live show now combines its historically instrumental style with the new vocal approach. Crowds feed off the spontaneity of the soloists and enthusiasm of the band.
Chicago Afrobeat Project has been a 100% independent artist since day one, with its new release What Goes Up following suit.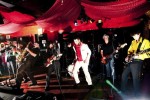 GET UP WITH THE GET DOWNS
"Since 2008, Get Up with the Get Downs have been playing funk and soul with a punk twist. Be ready for original music, deep underground B-sides, and new arrangements of funk hits!"