KALEIDOSCOPE
Alternative Groove Rock band from Chicago.  Kaleidoscope blends many different styles to give you just what you want to hear.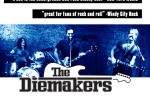 THE DIEMAKERS
NY Waste- "a nod to the underground 60s rock steady beat"
Windy City Rock- "great for fans of rock and roll"
Babysue- "Cool heavy pop/rock"
The Diemakers are a dynamic power trio in the tradition of Cream that deliver gritty rock-n-roll with scalding guitar riffs and infectious melodies. The Diemakers' first release, Assault All Your Senses, was recorded by the legendary sound engineer Jim Diamond of Ghetto Recorders studio in Detroit, Michigan. Bands such as The White Stripes, The Sights, and The Ponys have recorded with Diamond. For the past decade, Dominic Harris (guitarist/singer/songwriter) and Jay Harnish (bass) have been playing in bands that have rocked renowned stages throughout the Midwest. The trio is completed by their new drummer, Sharon Harris.