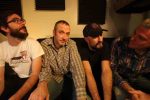 ERIN EDMISTER AND THREE TONS
Erin Edmister has been hollering lyrics and strumming his acoustic guitar through the American Songbook and his striking original songs since 2014 at Bernice's Tavern, in Bridgeport.
It was at this highly esteemed dive bar that Edmister, and long time guitarist/collaborator, Kilian Sweeney, first encountered Joey Werner's pounding drums and Brian Tredup's sultry bass. Soon, the four fused their original sounds together to create a rocking country ruckus: Erin Edmister and Three Tons.
With this new line-up and a fresh record out in January 2018, this group will surely charm you with vibrant harmonies, lively tunes, and a hell of a good time!
TREVOR MCSPADDEN
Born in Amarillo, Texas, Trevor McSpadden grew up in the country music tradition, his earliest years set to a backdrop of George Jones and Tammy Wynette on the radio and the Nashville Network on the television set. A move to San Marcos at a young age exposed Trevor to the dancehall music of Central Texas. Night after night, Trevor was captivated by the power of a good band moving couples across the hardwood. Enamored with the music, he set out to learn the basics on his grandfather's Gibson knock-off. Friends soon became bandmates, and Trevor began to cut his teeth as a serious musician, songwriter, and bandleader, touring the roadhouses and nightclubs of the Texas Hill Country.
Trevor thought his move to Chicago in 2005 would mean an end to his honky tonkin' days, but he was surprised to find the corner bars in the big city not unlike the beer joints in Texas. After rounding up a few dedicated country pickers, it wasn't long before he started his first Chicago country band, The True Historians. Quickly embraced by the music community, Trevor signed on as vocalist with the Hoyle Brothers in 2008, bringing his own style of country western, rhythm, and roots to a long-standing and beloved Chicago institution.
Trevor's years in Chicago have seen him thrive as a singer-songwriter and emerge as a mainstay of local country & western music. With scores of original songs and a cast of superb musicians, Trevor has set out to bring audiences across the country an evening of compelling entertainment tuned to beautiful music. It is the need to play and share the music — its rhythm, its soul, its deep-rooted historical resonance — that calls Trevor to the stage. It is the beauty of an open dance floor filling with couples that keeps him there, night after night.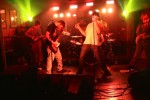 CHEER UP MOON CAT
In Feb. of 2010 we began to play rock 'n roll music. Since then, we have recorded multiple albums and have played many shows (give or take a few). Our songs range from poppy and melodic to eerie and bluesy. I reckon those feet will be a tappin'