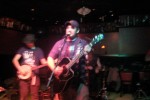 FILTHY STILL
It was June of 2010 when Filthy Still was born in the drunken depths of Providence, Rhode Island in the neighborhood of historic "Federal Hill". Jesse Roderick, Dylan "Sleazy D" Wolk, Jeremy Garland, and Matt Olson began jamming out to old Country songs in a small office space of Jeremy's 3rd floor apartment. After playing their first show July 13th, 2010 with The Goddamn Gallows in Providence, Filthy Still quickly started to gain recognition in the New England region for their unique "bluegrass/punk" sound, with influences ranging from Hank Williams and Townes Van Zandt, and the other end of the spectrum, from The Circle Jerks to GG Allin. On December 12th 2010, washboard player and brother, Dylan "Sleazy D" Wolk unexpectedly passed away in his sleep after a fully packed show at their neighborhood bar. His untimely death shocked everyone and nearly put the band to rest. Several weeks later, it was decided that Filthy Still would continue to play in memory of Dylan. In February of 2011, Filthy Still returned to the stage in New Haven, CT opening for Hick'ry Hawkins, playing for a full capacity crowd.
Having trouble keeping a steady bassist, and going through some minor lineup changes, Filthy Still soon aquired friend Artie Elmer on washtub bass, while touring with "Hick'ry Hawkin's and the Panty Sniffers" in the Winter of 2011. As of Fall 2011, they have played hundreds of shows all around the country, and have no plans of taking much time off. They use traditional bluegrass instruments and play with a punk rock intensity. They currently have one album under their belt titled "All Bottled Up" which was recorded and released DIY style and consists of 13 original songs. Filthy Still will be releasing there sophomore album on Farmageddon Records in 2012.
BACK ALLEY RIOT
After toiling away for years on the Northwest side of Chicago, Back Alley Riot busted down the doors of the punk rock scene, when original members, Mike Nakis (vocals/guitar), Matt Jankiewizc (drums), and Danny Starks (guitar/vocals), hooked up with bassist Russell Katzenmaier. Their sound unites blue-collar story telling with stage-shaking power chords, creating punk rock songs with a down-home twist. Back Alley Riot blends punk, rock, and southern boogie with an explosive live show that will leave you breathless and begging for more. With standout tracks like "Gasoline On The Fire" and "Gunfight", fueled by Russell Katzenmaiers
jaw-dropping bass lines, Danny Starks' raunchy chord attacks, and Matt Jankiewicz's relentless drumming, look for Back Alley Riot to cause a ruckus in the rock landscape for years to come.