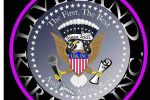 LIVE BAND KARAOKE
We are Chicago's first, longest-running and most successful collective to provide for you the most fun thing in the world: singing with a great band! Whether you see us at one of our always urbane and cheery weekly residencies, a private event for your company, or a festival or University from coast to coast, north, south, east or west, our love is to have you rock with us. Come on up!
GEOFF FARINA
Geoff Farina is a professional musician currently living and working in Chicago, the home of Atavistic, Southern Records, Schuba's Tavern, the Fireside Bowl, and other institutions that patronized Geoff's bands during the indie-rock heyday of the 1990s. Geoff continues to write original music, release records on small labels, and tour the US, Europe, and Japan as a soloist and with his current band Glorytellers. He also performs the solo guitar arrangements of Mississippi John Hurt, Elizabeth Cotton, Blind Arthur Blake, Sylvester Weaver, Blind Willie Johnson, William Moore, Bayless Rose, Norman Blake, Clarence White, Doc Watson, and other seminal American steel-string guitarists. Geoff performs in the Piedmont, Delta, and flatpicking guitar styles developed in the southeastern United States before WWII, using period instruments from his personal collection of vintage Martin, Gibson, National, and Stella guitars. The Last Kind Words, Geoff's duo with mandolinist and American & Country Tune Book author Kenneth P.W. Rainey, emulate the Monroe Brothers, the Blue Sky Boys, and other classic guitar/mandolin combos from the 1930s and 1940s. Geoff's duo with guitarist/songwriter Chris Brokaw recently released a collection of pre-WWII blues, rags, and spirituals called The Angel's Message To Me.
Geoff teaches music history at DePaul University, where his courses include That High Lonesome Sound: Bluegrass 1936-1972 and What Were The Blues? 1920-1960. He has also taught music history and music theory at Colby College and the University of Maine, and English composition at the University of Massachusetts. Geoff's own music education includes a BA from Berklee College of Music, an MA from the University of Massachusetts, and private studies with Guggenheim fellow Roswell Rudd and guitar virtuoso Ben Monder.
Geoff is probably best known for the genre-flouting guitar style he developed during his 12 years fronting Boston's Karate, or as one-half of The Secret Stars, the seminal early-90s duo that circulated home-made cassettes of original songs now covered by the likes of Ida and Death Cab for Cutie. Since the early 90s, he has played on 40 releases, and performed at more than 1000 venues in 20 countries, including the Brussels Botanical Gardens, Denmark's massive Roskilde Festival, MTV Europe's Supersonic, and NPR's Talk of the Nation radio show. More recently Geoff has recorded 3 albums with the Roman punk/folk group Ardecore, and composed original music for Cinamazero's annual Schermo Sonoro festival in Pordenone. Geoff's music has also appeared in Staccato Purr of the Exhaust, a film featured in the 1996 Sundance Film Festival, and Andrew Gillis' 2000 film Security, Colorado, a film produced under the constraints of the Danish Dogme 95 Manifesto. Geoff has collaborated with musicians Michael Zerang, Massimo Pupillo, Dan Littleton, Luther Gray, Frank Rosaly, Nathan McBride, Allan Chase, Taylor Ho Bynum, Rebecca Gates, performance artist Jed Speare, and dancer Alissa Cardone.