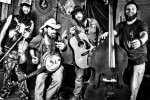 MOUNTAIN SPROUT
Mountain Sprout is a highly energetic hillbilly music machine, spitting original tunes and blowing minds with whitty lyrics and face melting musicianship. The Sprouts are a full-time working band and play shows all year round for anyone who will listen. Whether it be Grayson VanSickle playing his machine gun banjo, singing out the novel of our lives or guitarist Adam Waggs, who yanks up the melody up by the ear and keeps you kickin'. With a smile on his face, Daniel Redmond pulls out cannon fire notes pounding the stand-up dog house bass, and Blayne Thiebaud gives the crowd a spectacular show, burnin' rosin and bendin' air, exploding the fiddle while bursting into flames. Together, they are MOUNTAIN SPROUT.
CLETUS GOT SHOT
Started around a bottle of whiskey in the summer of 2007, Arkansas-based Cletus Got Shot has been growing and polishing their sound at hundreds of shows around the Midwest. With passionate songs ranging from slow burning emotional intensity to raging calls to action, Cletus Got Shot has been bridging the gap between folk protest songs and punk rock rebellion.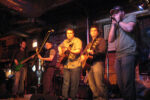 MAD BREAD
Chicago based country folk and bluegrass band that performs their own original songs mixed with traditional covers.