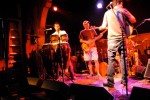 RONNIE AND THE PUZZLE
SILHAVEY
Welcome to Silhavey. We are a rock band from Chicago. We'd like for you to listen to the rock music we make. Our first album is an EP we call Maru.
"…very impressed with their six song debut, mostly for the songwriting, but there are also some interesting production touches as well…" – Richard Milne, WXRT
WELLS NEXT THE SEA
Chance encounters in the frozen foods aisle and at a going away party for a friend of a friend first brought the group together. Mike Medina, Dann Morr, Philip Robbins, and Sarah J Wille were a combination of new acquaintances and old friends; veteran sidemen to many Chicago artists and newcomers to the Windy City music scene. Their common interests in folk and roots music plus the enjoyment and challenge of learning to play new instruments inspired them to collaborate on a sound of their own. The result of this collaboration is Guest House, Wells-next-the-Sea's debut album.