SLIM CHANCE AND THE CAN'T HARDLY PLAYBOYS
Slim Chance and the Cant Hardly Playboys are ripping up their own brand of Outlaw Country originals and your favorite classic country numbers. These boys put on an exciting show that"ll keep you on the dance floor and a shot of whiskey in your hand.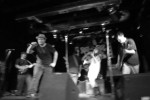 THE FISTICUFFS
For nearly a decade, The Fisticuffs have been proving themselves as a band to be reckoned with. Their songs are fast paced, complex in nature and direct in delivery. While many bands in the Celtic punk genre lean heavily on played out and sped up traditional pub melodies accompanied by lyrics that are heavy on shtick but low on substance, The Fisticuffs make every effort to steer clear of these pitfalls. According to singer Bobby Baldwin, "If you want that leprechaun b.s. don't buy a Fisticuffs record, go eat at a Bennigans." The earth pounding drums and bass of Tony Dellorto and Neal Farrell meet head on with the thrashing guitar work of Sean Moriarty. On top of this mix Dave Beneventi's mandolin and Arcadia Kust's fiddle unleash melodies that, depending on the song, can dampen your eyes or clench your fists. Through it all are Baldwin's growling lyrics about family, hard work, a great many sins, and life on the South Side of Chicago. The band are known for their raucous live shows that can be described as equal parts Irish wake and soccer riot. These kinds of heart racing performances are achieved by the groups love and respect for their music, fans and from the experience gained from years of playing all over Chicago and the eastern United States. In a musical landscape where the term Celtic punk is often synonymous with watered down punk rock, The Fisticuffs are hell bent on standing out. They're all whiskey, no water.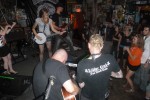 LAST FALSE HOPE
Last False Hope are some city slickers from the mid-western suburbs of Chicago. Their unique sound of underground bluegrass imbibed with their roots in punk and metal is a loose bull in a china shop. This clash of genres that they have dubbed "Brutal-Grass" has quickly earned them a name in the scene. The band was cooked up by Jahshie P. A long time veteran in the Chicago music scene, best known as the former frontman of Failed Resistance, My Vengeance and later, Neverland. In the past few years, Jahshie P. developed an intense interest in country western and blue grass music, along with his new found passion of the mandolin. Come the Summer of 2009, his new skills began to translate into songs. His first step was to bring his wife, Kristina Nutting, a new comer to the Chicago music scene, along for the ride. She would rapidly warm up to the banjo. Quick to the draw, they set forth to include a track to the Outlaw Radio Compilation, volume one. To fill in the blanks, they recruited Producer, Shawn Connors, best known as the drummer of death metal band, Bound And Gagged and later, Jashie P.'s band mate in Neverland, as well as a number of other fly-by-night acts. To fill in the line-up, Arcadia Kust on fiddle, Sean Moriarty on guitar and Dave Beneventi on bass from a local irish punk act, The Fisticuffs, as well as former My Vengeance members, Steve Stepien on drums and David Wiegers, who also played guitar in Neverland. This line-up would go on to record "Two Dollar Pints" for the comp. Over the course of roughly the next year, the seven of them would go on to write more songs and play several shows Come September 2010, they re-enlisted Shawn Connors to begin work on the debut EP, "The Shape Of Blue Grass To Come." Four songs, "Giving Up God For Lent," "Drag Me To Hell," "You Drink, You Drive, She Wins" and "Dying and Diseaed" would make the final cut. The EP was released on March 1st through Pint Of Happiness Records. After the conclusion of the "The Shape of Blue Grass To Come" sessions, Sean, Arcadia and Dave B parted ways with the band. Shawn Connors has since joined to fill the open guitar position, along with Scott Farruggia, also from Bound And Gagged and Neverland on bass and friend of friend, Colleen Mary on fiddle. The new line-up was debuted on a track for the Southern Independent, volume one compilation, titled "Guilty Until Proven Innocent." They new line-up is currently working on a versus split with Nellie Wilson & the Hellbound Honeys on Jahshie P.'s own, Solitary Records. Since their their inception, l/f/h has shared the stage with the likes of Star Fucking Hipster, Those Poor Bastards, .357 String Band, Hellbound Glory, The Goddamn Gallows, Rachel Brooks and Six Gun Britt. They were also, named the Best Country Bandin the Chicago Reader "Best of Chicago 2011" reader's poll. They will continue to play shows with the line-up in support of "The Shape Of Bluegrass To Come, while crafting new material for a debut full length, hopefully to be released in early 2012.