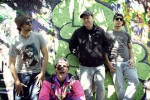 SONS OF MARY
The SONS OF MARY is the brainchild of singer/songwriter Donald Bond Moreland. The band has had many formation with different members but always with its core Donald and his Brother Dallas. Proficient in an array of styles of music and songwriting the band covers almost every genre in the spectrum. While Blues/Rock is the main influence they feel comfortable in any situation. Never afraid to push the boundaries you will here folk,reggae and hip hop peppered into everything. With recently added Bassist and long time friend John Strand and Santino Carbonaro on rhythm guitar the band feels poised to make a mark on an industry filled with mediocrity.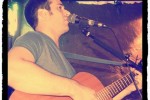 MARTY PETERSON
Marty Peterson is a singer songwriter based out of the Chicago area. During his time as a Vocal Performance major at Columbia College Chicago, Marty learn to hone his skills as a singer and musician while working with local and famous musicians such as; Fernando Jones, Nick Tremlous, Charlie Sexton, Sean Mullins, and Joan Osborne. Marty has also toured the country and has competed in the Internation Blues Competiton held annuall in Memphis, TN and has open for the blues legend B.B. King in the Summer of 2010. He also also played various venues across the city of Chicago including: The House of Blues, The Metro, The Montrose Room, The Abbey Pub, and Buddy Guy's Legends.
Currently Marty can be seen at his residency every Tuesday night at Dillinger's Bar and Grill in the heart of Lincoln Park. He is currently writing and recording his follow up his debute album As Long As You're Here released with Patch Records.  Marty's diverse musical background and love of roots music gives him a sound of songwriters of old, but with a twist of harmonic sofistication. He hopes to have to project completed by early 2013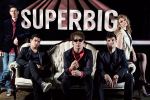 SUPERBIG
Simply put, Superbig stands out. In a city constantly in search of whatever musical movement is next, the polished, pulsating pop/rock sonic landscape of Superbig married with their mission statement is the result of desperate living, failed relationships and obvious bad life choices. It's astonishing how fluid and potent their delivery and studio work remains. The band paints a radio­ready picture that keeps its heart on its sleeve and the hooks coming a mile a minute.
Lead Singer, Guitarist, Jim Fountalas was born and bred in Chicago. As a songwriter and recording artist Jimmy's objective is to connect his songs with the history behind them and share universal experiences of life and love that connect us all. Producer Chris Steinmetz of Stonecutter Records says "Jim Fountalas has a voice that not only draws you in, but captivates you. His ability to please your ears while he engages you in the lyrics is apparent from the first hypnotic listen. He truly brings his multi faceted background to each performance and leaves one wanting more. He is an elusive wordsmith with the skills and ability to connect emotionally powerful lyrics with colorfully commanding melodic phrases." Where Jim is the brainchild of Superbig, Drummer Dan Hill, Bassist Chip Znuff, Guitarist and Background Singer Pat Serorsky, and Violinist Heather Boehm lend their talents to create traditional Pop/Rock through a powerfully lush live sound that is unrivaled in the Chicago scene.