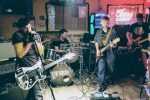 FILLABUSTER
We are an original 4 piece rock band from the south west suburbs of Chicago. Like any good local band we have a lot of hart and little cash. Unlike most bands however we have trouble pinning down a genera we fit into. From what are fans tell us "Fillabuster" has a sound that echos from mid 80's underground punk up to early 90's grunge. Our chord progressions are not intended to resemble any specific brand of music and are lyrics are deeply personal and thought out. We would like to make enough money at this to be able to quit our jobs and devote all our time to creating and performing. But the likely reality of being a struggling musician is we will forever be struggling. So we will continue to create our noise and perform simply for the love of self expression.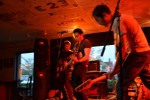 WARHELLRIDE
Punk Rock has always been about looking through a situation and seeing what's really going on and not the smokescreen that's put up around everything. It's easy to forget this, especially when the scene rigidly builds barriers around its so-called "Elite" and is tainted by corporate/mainstream conformity.
Warhellride is a Chicago based rock quartet fusing the influences of classic punk rock, alternative, hardcore, folk, and shimmers of indie rock to the fold. They combine earnestness with pop sensibilities, rounding it off with walls of rambunctious instrument volume, acoustic rhythms, angsty yet emotional vocals and crafty drumbeats while maintaining a sense of honesty, awareness and storytelling aspect in their lyrics. What comes out of their instruments sonically may not always exude the public's stereotypical ear and definition of a punk rock band, but their spirit and attitude strongly suggest otherwise.
MARA
We are a metal/post-hardcore/experimental band from the southside of Chicago. Formed in the summer of 08, with Fern, Walter, Stevematt and Jimmy. Recently Stevematt left the band so we then added Guerro to take over. Then we decided to add Paco to do keys/synths. With a new line up we are pretty much branching off into other genres. Expect something way different but still brutal!!
THE ISLAND OF MISFIT TOYS