YOUNG DUBLINERS
Seamlessly blending their rock and Celtic influences into a high energy, anthemic and lyrically poignant mix, the band whose lineup since 2002 includes co-founder Keith Roberts (vocals, guitar), fellow Dubliner Brendan Holmes (bass, vocals), American-born members Bob Boulding (guitar, vocals), Chas Waltz (violin, keyboards, harp, mandolin, vocals) and Dave Ingraham (drums, percussion)–jumps energetically from ballad to barn burner, documenting as they go the vibrant yet chaotic world they find themselves in. From edgy political tunes to the travails of life in an internationally touring band, Saints and Sinners chronicles and tackles it all with joy, wit, enthusiasm and a profound belief that things can get better. They're joined once again by Uillean pipe and pennywhistle master Eric Rigler, famed for his film work on the Titanic and Braveheart soundtracks, who has appeared on the bands last three albums and is a regular touring member.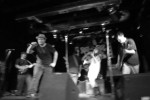 THE FISTICUFFS
For nearly a decade, The Fisticuffs have been proving themselves as a band to be reckoned with. Their songs are fast paced, complex in nature and direct in delivery. While many bands in the Celtic punk genre lean heavily on played out and sped up traditional pub melodies accompanied by lyrics that are heavy on shtick but low on substance, The Fisticuffs make every effort to steer clear of these pitfalls. According to singer Bobby Baldwin, "If you want that leprechaun b.s. don't buy a Fisticuffs record, go eat at a Bennigans." The earth pounding drums and bass of Tony Dellorto and Neal Farrell meet head on with the thrashing guitar work of Sean Moriarty. On top of this mix Dave Beneventi's mandolin and Arcadia Kust's fiddle unleash melodies that, depending on the song, can dampen your eyes or clench your fists. Through it all are Baldwin's growling lyrics about family, hard work, a great many sins, and life on the South Side of Chicago. The band are known for their raucous live shows that can be described as equal parts Irish wake and soccer riot. These kinds of heart racing performances are achieved by the groups love and respect for their music, fans and from the experience gained from years of playing all over Chicago and the eastern United States. In a musical landscape where the term Celtic punk is often synonymous with watered down punk rock, The Fisticuffs are hell bent on standing out. They're all whiskey, no water.
THE TOSSPINTS
The Tosspints' style of music has been influenced by 3 lifetimes of living through the school of hard knocks, brought to bear from war, loss, degradation, and hard drinking. A band created entirely by a family who has had to make it through life the hard way and use their experience to create songs about the more distressed side of being human… Their fast paced no nonsense stage show drives songs straight into the audience one after the other, pushing their own style of up tempo minor chord melodies out with the highest possible energy level. Their powerful stage presence and unending barrage of music from the beginning of their set to the end of the dark, yet high energy show has earned them spots on stage with iconic underground rock heroes such as The Tossers and Murder by death, and earned festival showcases from The Michigan Irish Music Festival, the Crispy Music Festival, and the George Killians Irish Red Ruckus.Their songwriting skills have been recognized in the 2011 John Lennon Songwriting Contest where they earned a finalist position.