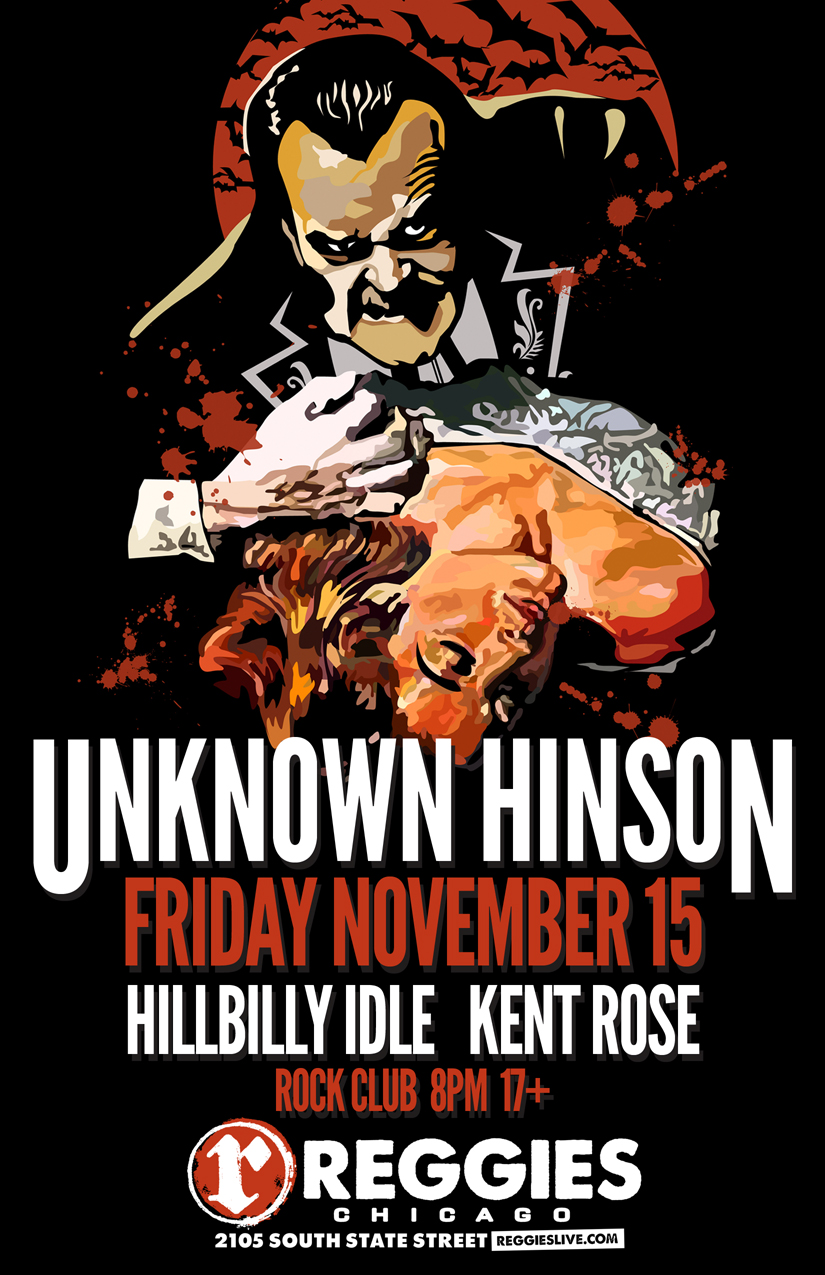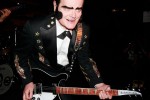 UNKNOWN HINSON
Looking somewhat like Dracula's nasty little brother who spent some hard years drinking and working as a carnival barker for a second-rate freak show, Unknown Hinson translates that vibe to his style of country and western-tinged psychobilly. The band is now touring nationwide, wowing audiences with outrageous and campy, white-trash persona and freewheeling, sleazy tone.
Hinson's most recent CD release, "Live and Undead", melds weepy twang, searing guitar riffs and lyrics that speak of love-gone-bad. Recorded at a sold-out show, an enthusiastic honky tonk crowd sings along with the King on every song.Raucous, theatrical and over-the-top, Unknown Hinson isn't just for the trailer park set anymore!
Unknown is gaining notoriety in the 18-34 demographic as the voice of lead character "Early Cuyler" in the popular show from Cartoon Network – "The Squidbillies". The first four seasons were so well-received that an immediate green light was given to future seasons.
Unknown Hinson is a winner in Independent Music Awards for his entry alternative Country track "Torture Town" from the album "Target Practice". http://www.musiciansatlas.com Unknown Hinson is a featured artist for Reverend Guitars, representing them in many Guitar Player Magazine features. A signature Unknown Hinson guitar is currently part of Reverend's celebrity instrument lineup. http://www.reverendguitars.com Rockabilly Magazine named Unknown Hinson as their "Find of the Year" http:// www.rockabillymagazine.com Live interviews with Unknown Hinson along with his music are broadcast nationally on XM Radio's National Lampoon channel. (XM 154 along with FM radio partners). http://www.nationallampoonradio.com/
Sirius XM – Outlaw Radio has Hinson's tunes in regular rotation. He's toured with Hank3, Rev. Horton Heat, the Boxmasters and Willie Nelson.Appearances on Jimmy Kimmel Live and other syndicated programming round out the list.
Hinson seems to collect quite a few celebrity fans. Billy Bob Thornton names Unknown as "one of my favorite songwriters and a genius picker". Matt Groening (creator of The Simpsons) labels Unknown as a "guitar maniac (and funny as hell to boot!)" Hank3 has Unknown's face tattooed on his bicep! Unknown was asked to join The Rolling Stones for sound check at their last show in Charlotte, NC. You must witness the encounter with Ed King (Lynyrd Skynyrd) in Nashville (http://www.youtube.com/watch?v=sbFx0STLKqQ). You'll find Unknown Hinson's music everywhere from Snoop Dogg's movie "LA Spectacular" to the newest version of the action-adventure open world video game "Saints Row 3".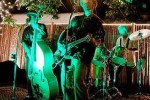 HILLBILLY IDLE
Hillbilly Idle takes traditional Rockabilly, Country, Surf, and a little bit of Punk Rock – throw it all in to the blender, add a whole lot of Rum and turn it on high! This ain't your Grandad's Rockabilly!
Over the years, the band members' musical credits include such bands as: Rebel Rousers, Sea Sick Crocodiles, Venus Flycats, The Bottletones, HiFi, and many many more…
Taking all their experience and putting it to work, these guys can't be pinned down into one subcategory of the Rockabilly genre, and has proudly shared the stage with everyone from Wanda Jackson and Art Adams to Hillbilly Casino and The Phantom Rockers.
You can catch Hillbilly Idle's explosive sounds at Kustom Car events all over Chicago. Highlight Kustom car events have included: Hunert Car Pileup, Barnyard Boogie, Blacktop Barons' Roadblock, World of Wheels, Voodoo Larry's Open house, Route 66 Car Show, and the list keeps growing..
Hillbilly Idle is well known to perform at Charity events accross the city helping to raise money for charities like: JDRF (Juvenile Diabetes Research Fund), Katie's Kids, Camp I Am Me (IFSA's camp for child burn victims), Autism Speaks, Toys For Tots, as well as benefits for musicians Nick Curran & Daddy-O Grande (Los Straightjackets)!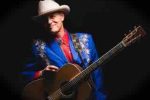 KENT ROSE
"He's a throwback to the guitar-toting country troubadours of yesteryear and at the same time a product of the rock and roll era, certainly the only performer of his kind in the greater Chicagoland area."
— Bill Dahl, author of The Art of the Blues.