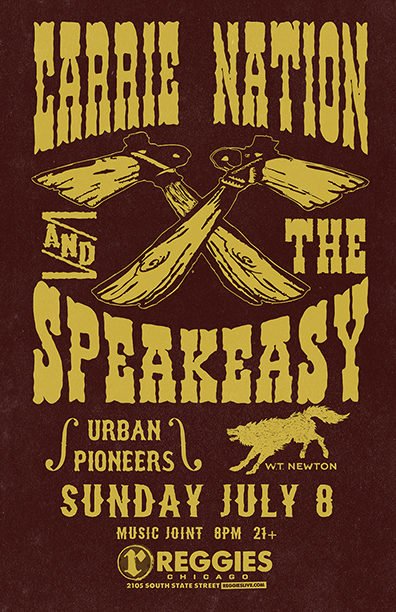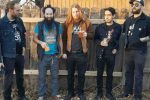 CARRIE NATION & THE SPEAKEASY
Carrie Nation & the Speakeasy is a high-energy "Brass 'n' Grass" sextet from Wichita, KS. The band, whose sound has been described as "…a stagecoach in overdrive", has brought their eclectic blend of punk, bluegrass, and dixieland to packed bars, basements, and festivals across the US since their inception in the spring of 2007.
With a lineup of great musicians, the band's live show is never the same twice. Brothers Jarrod and Zachary Starling provide acoustic guitar and drums/washboard; along with Dallin Bulkley on standup bass to round out the rhythm section. Garrett Briggeman adds to the energy with 5-string banjo, while Josue Estrada's trumpet provides layers of jazz and Western to the sound. Tyler Grubb holds down double solo duties, playing both mandolin and trombone. This blend of influences and instrumentation ensures a unique and interesting show each night.
CNS plays hundreds of dates a year hitting 47 states and 5 countries. The band has built a dedicated following with their energetic live show and ability to fit on the bill with acts ranging from bluegrass to rockabilly; punk to ska. Breakneck mandolin solos melt into blaring trombone and trumpet lines, while the standup bass and feed-bucket-trap-set churn out driving rhythms that carry the force of a Kansas freight train.
Thoughtful songwriting that explores deeper, more interesting themes is what sets this band apart from the multitudes of acts content with singing about Whiskey and Women. From social satire to labor union songs to Civil War Ballads to existential journeys that explore life, death, despair, and indulgence, CNS's songs will provoke thought, incite riots, and lure your children into a life of travel and debauchery.
With 2 original LP's (2010 Self-Titled, 2013 Hatchetations) and 1 split EP ( 2012 Liberty, Solidarity, Responsibility w/ Cletus Got Shot), CNS has built a repertoire of original songs that continue morph with the progression of the band. Another 2017 full-length is on the horizon that will prove to highlight the band's musical growth, and maturity of writing.
The band's DIY mentality is shown through their self-recorded albums, self-published music, self-booked tours, and a community of local and regional visual artists that show the band's distinctly grassroots approach. CNS has been pounding the highways and byways of this great country for 8 years now, bringing their songs and stories to thousands. Always providing a high energy, drink'em down atmosphere to any place they play, CNS has proven a dedication to their live shows with a solid understanding of what entertainment really means.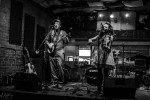 URBAN PIONEERS
Liz Sloan was born in Abilene, TX and grew up in a small west Texas town called Breckenridge. When she was three years old her mother entered her into violin training. Her first violin was a Cracker Jack Box with a ruler taped to it. She was home schooled for most of her childhood so she could focus on playing violin. She eventually got fed up with the classical world and looked for a change in the world of country and bluegrass. She joined began touring with Bob Wayne and the Outlaw Carnies in 2009 where she met Jared.
Jared was born in Pensacola and grew up in Chattanooga, TN. He grew up playing in local punk bands that never made it out of the basement. He joined the Navy in 2001 and after his time in the Navy he wanted to play music again so he bought an upright bass and taught himself how to play. He played in a lot of New England rockabilly and psychobilly bands as well as partially fronting his own band, Soul Reapin' 3. In 2009 he decided to 'make a go at the music thing' and left everything behind to tour with the Hillbilly Hellcats in Europe for a month. The day he came back he got a phone call from Bob Wayne saying that he needed a bass player. That evening Jared hit the road from Connecticut and met the Carnies in Austin, TX.
Liz and Jared hit it off immediately and since then have toured and recorded with countless bands in the roots community. The Urban Pioneers are Liz and Jared's new project where they set out to conquer the blacktop sea playing their brand of old time music that is guaranteed to get you stomping your feet!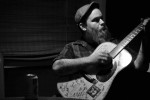 W.T. NEWTON
Spinning tales of folklore, tragedy, and drunken debauchery, he'll soon be at a dive bar near you. Keep your ear to the ground.

Also, be on the lookout for the first full-length album "Worse Endings" due out this Fall!