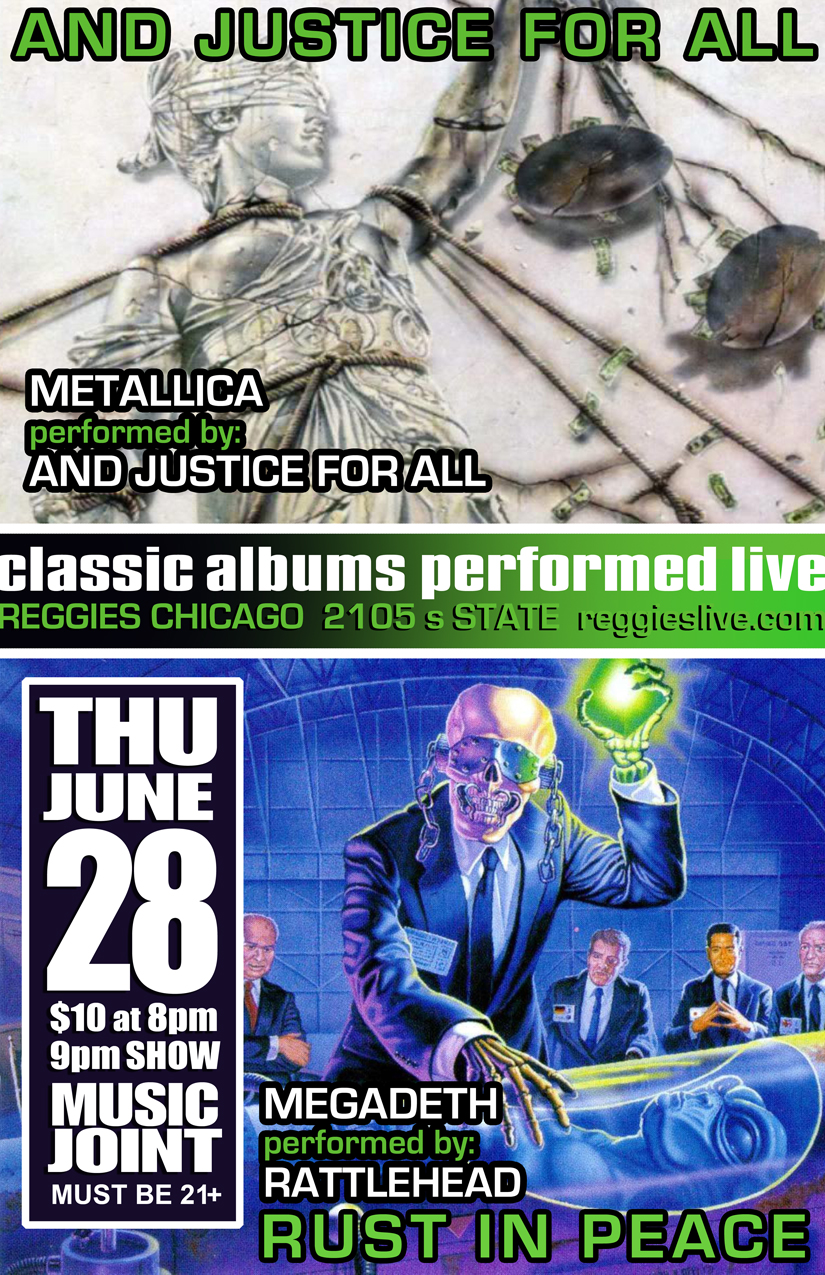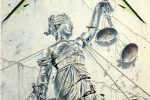 METALLICA "…AND JUSTICE FOR ALL"
(performed by And Justice For All)
…And Justice for All is the fourth studio album by American heavy metal band Metallica, released on August 25, 1988, through Elektra Records. It was the band's first studio album to feature bassist Jason Newsted after the death of Cliff Burton in 1986.
The band recorded …And Justice for All during early 1988 at One on One Recording Studios in Los Angeles. Musically, the album is progressive, with long and complex songs, fast tempos, and few verse-chorus structures. It is noted for its sterile production, which producer Flemming Rasmussen attributed to his absence during the mixing process. The lyrics feature themes of political and legal injustice seen through the prisms of censorship, war, and nuclear brinkmanship. The album's front cover, designed by Stephen Gorman on a scheme by James Hetfield and Lars Ulrich, features a representation of Lady Justice, bound by ropes, with two breasts bare and its scales tipping toward one plate filled with money. The phrase "…And Justice for All" appears spray-painted in the lower right corner. The album title is derived from the American Pledge of Allegiance. Three songs from the album were released as singles: "Harvester of Sorrow", "Eye of the Beholder" and "One"; the title track was released as a promotional single.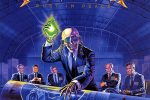 MEGADETH "RUST IN PEACE"
(performed by Rattlehead)
Rust in Peace is the fourth studio album by the American thrash metal band Megadeth, released on September 24, 1990 by Capitol Records. Following the departure of band members Jeff Young and Chuck Behler in 1989, Rust in Peace was the first album to feature guitarist Marty Friedman and drummer Nick Menza. Rust in Peace received universal acclaim from fans and critics, and was responsible for bringing Megadeth to the attention of a mainstream metal audience. It has been cited as one of the best thrash metal records of all time by publications such as Decibel and Kerrang!, and listed as one of the 1001 Albums You Must Hear Before You Die. The album was nominated for a Grammy Award for Best Metal Performance at the 33rd Grammy Awards.
Two singles were released from the album: "Hangar 18" and "Holy Wars… The Punishment Due", which have become staples of the band's live performances. Rust in Peace features complex musical structures and lyrical themes such as nuclear war and UFOs. The album's cover art references "Hangar 18". A remixed and remastered version featuring four bonus tracks was released in 2004. In 2010, the band announced a North American tour to commemorate the album's 20th anniversary. The performance at the Hollywood Palladium was filmed and released as Rust in Peace Live on CD, DVD and Blu-ray later that year.