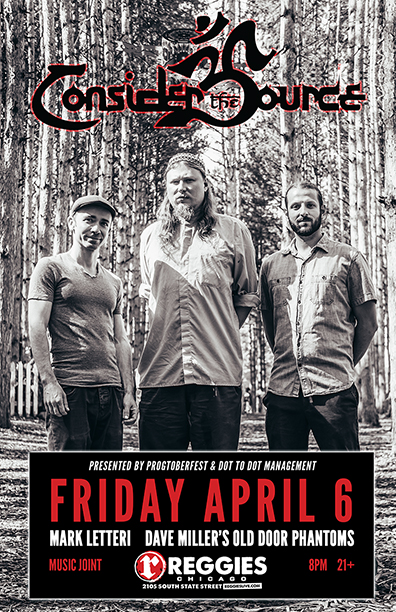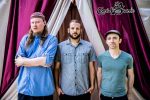 CONSIDER THE SOURCE
NYC trio Consider the Source defy easy description. If intergalactic beings of pure energy, after initiation into an order of whirling dervishes, built some kind of pan-dimensional booty-shaking engine, powered by psychedelics and abstract math, it'd probably just sound like a CTS tribute band. Drawing from progressive rock, fusion and jazz, with alien sounds soaked in Indian and Middle Eastern styles, CTS blends disparate parts into a striking, utterly original whole. Dubbed "Sci-Fi Middle Eastern Fusion", the band's music strikes a rare balance between cerebral and emotional, intellectual and primal. A relentless touring schedule has won the band a fervent following from California to Israel, with fans ranging from jam-band hippies and jazz cats to corpse-painted headbangers and prog geeks.
Formed in 2004, Consider the Source features Gabriel Marin on fretless double-neck guitar, bassist John Ferrara, and drummer/percussionist Jeff Mann. Called "the guiding light for his generation of six-stringers", Marin channels the mystical fury of McLaughlin and Coltrane into wailing melodies, kaleidoscopic soundscapes and boneshaking riffs. With a background in classical musics both Eurpoean and Indian, and an instinct for avant-jazz and destructive metal, Marin's hypnotic fusion of styles is ever unpredictable. Ferrara's propulsive, percussive attack, equally suited to simple grooves and impossible chords, can ground the music or launch it into space. His madcap gumbo of slap bass, Indian rhythms, earthy minimalism and complex tapping constantly pushes into strange new worlds, whilst still dropping thick booty-clap beats. Underneath them lies Mann's rolling thunder; dense rhythmic architecture built from pure swagger and bounce. Half double-bass prog-metal, half crackle-pop Buddy Rich swing, with African and Balkan swirls, Mann's muscular, freewheeling polyrhythms are the engine fuel for Consider's multiversal mischief. Even when not improvising, Consider's music is always a conversation, a roiling stew of dynamic interplay. Each member of Consider the Source alternately leads and follows, spars and assists; in any single song, alliances are made and broken, bargains struck and divorces finalized.
Touring from coast to coast, as well as Europe and the Middle East, has not only earned the band thousands of fans, but has allowed them to perform with a wide variety of well-known artists, including Victor Wooten, Wayne Krantz, King Crimson Projekt, Kris Myers (Umphrey's McGee), Wyclef Jean, Andy Statman, Matt Darriau (Paradox Trio), Grace Potter & The Nocturnals, Jacob Fred Jazz Odyssey, Dumpstaphunk, Keller Williams, George Porter, Jr., Jeff Sipe, Panzerballet (Germany), Eatliz (Israel), Freak Kitchen (Sweden), Morglbl (France), and many others. They have performed at numerous festivals and events, including Burning Man, the NYC Fretless Guitar Festival, Catskill Chill, The Big Up, Sun Seekers Ball (Canada), Aura Music & Arts Festival (Florida), Jazz Fest (New Orleans), Head For The Hills Festival & SXSW (Texas), Rootwire (Ohio), and the NYC Gypsy Festival. The band's latest release, "F**k It! We'll Do It Live – Volume I" (2012) is available at considerthesourcemusic.bandcamp.com.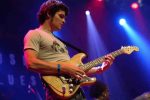 MARK LETTERI
Mark Lettieri is a guitarist, composer, and instructor based in Fort Worth, TX.  Proficient in a multitude of styles, he records and performs in virtually every genre of popular music with both independent and major-label artists. He also composes and produces original instrumental music under his own name.
A member of jazz/world group Snarky Puppy since 2008, he contributes as guitarist, as well as arranger and composer. The group has earned three GRAMMY Awards: Best R&B Performance ("Something" feat. Lalah Hathaway in 2014), and Best Contemporary Instrumental Album (Sylva in 2016, and Culcha Vulcha in 2017). Snarky Puppy tours constantly, having performed on every continent except Antarctica.
Lettieri has logged road miles with neo-soul icon Erykah Badu, gospel singer/actress Tamela Mann, and American Idol: Season 11 winner Phillip Phillips. He's also performed with a myriad of other artists, including Nelly, Anthony Evans, Chrisette Michele, Myron Butler, N'dambi, Bilal, Pat Boone, and even comedians Dave Chappelle and Harry Shearer.
An in-demand session guitarist, recent work includes David Crosby, 50 Cent, Snoop Dogg, Eminem, Adam Levine, Kirk Franklin, Fred Hammond,  Ledisi, Anthony Evans, Eric Roberson, Lecrae, Lupe Fiasco, Keyshia Cole, Xzibit, as well as numerous radio and television jingles. Lettieri is also a member of Team SKP, a production collective led by GRAMMY Award-winning producer Symbolyc One (Kanye West, Beyonce).
Since 2010, he has been a member of the house band for the Marcus & Joni Show, a Christian morning talk/variety show broadcast in 200 countries on the Daystar Television Network.
Lettieri has released three albums as a leader: Knows in 2011, Futurefun in 2013, and most recently, Spark and Echo in 2016 (Ropeadope Records). Spark and Echo climbed to #11 on Billboard's Jazz Albums Chart, and #2 on iTunes' Jazz Chart. Through tours with Snarky Puppy and social media network shares, these records have created a sizable buzz among fans of instrumental music worldwide. He performs frequently in a trio setting featuring a revolving rhythm section of world-class Dallas musicians, and has begun touring this music in the U.S., Europe, and Asia.
Born and raised in the San Francisco Bay Area, Lettieri came to Texas via Texas Christian University (TCU), studying advertising and public relations, and competing in track and field. A passionate guitarist since middle school, he began his music career in the Dallas/Fort Worth Metroplex area upon graduating from TCU. He resides with his wife, daughter, and two cats.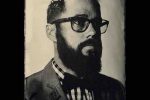 DAVE MILLER'S OLD DOOR PHANTOMS
A truly unique musical product of both Brooklyn and Chicago, Dave Miller, who "plays with refined restraint of someone twice his age" (Time Out), has once again redefined his parameters with the improvisational psych-folk of "Old Door Phantoms". Out 4/1/16 on ears&eyes Records with a national tour to support!