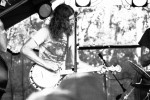 JOSEPH HUBER
Singer/Songwriter/Multi-Instrumentalist Joseph Huber is a founding member of, and also had spent 6 years of playing banjo and heavy touring with the Milwaukee, WI based "streetgrass" group, the .357 String Band–a group that, despite it's abrupt break-up, still continues to gain popularity, is known as one of the most influential groups in the recent insurgent underground country and bluegrass movements. Hard living put together with plenty of downtime has offered more than enough motivation and opportunity for his songwriting, and Huber has continued moving onward and upward captivating folks with his sincere and well crafted songs.
"Bury Me Where I Fall", Huber's introductory solo album was an unseen side to his writing–less high-octane and blistering as his known work, "Bury Me…" reveals multiple, new landscapes, ranging anywhere from desolate, world-weary ones; to brooding and ominous ones. His 2nd release "Tongues of Fire" is much the flip-side to that–joyful, light-hearted, and laughing even in the face of hard times. Being a multi-instrumentalist, Huber performs all the tracks on his records on his own…fiddle, banjo, guitar, harmonica, percussion, and bass. Huber can be seen playing with a backup band, or also opting for a "one-man-band" setup–singing and playing banjo/guitar/harmonica and opting for a trusty ol' Samsonite suitcase as a kick-drum. In his solo career he has had the pleasure of sharing the stage with many great performers including Hellbound Glory, Bob Wayne, Graham Lindsey, Robert Earl Keen, Keller Williams, and more.
His lyricism and introspective writing style has received high acclaim from many Americana enthusiast looking for a more substantive substitute to much of today's modern country. Maintaining a solid touring schedule, playing all throughout both the U.S. and all around Europe, he has steadily gained ground and gotten much positive press, and has shown himself a sincere and influential member of the growing roots movement. Huber has a planned release of his 3rd solo album 'The Hanging Road' featuring 10 new tracks, which will be available on Nashville's 'Muddy Roots Recordings' in Spring 2014.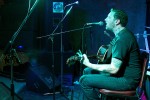 BRETT CONLIN
From deep, ringing vocals telling the outlaw's tale to story songs about hopping trains and leaving town, Brett Conlin is using his small-town sound to resonate with crowds all over Illinois. City Slicker or Local Yokel, you won't want to miss this show when it comes to town!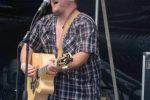 GARY MOORE II
Born and raised to a working-class family, singer/songwriter Gary Moore II blends his blue-collar mentality with songs about heartbreak, hard work, and hard living. With influences from Hank to R.A.T.M., TVZ to the DBTs, and everywhere in between, GMII's songs find a place in the ever-evolving Americana genre. As a founding member of the Miles Burning Band, he co-fronted the band, releasing one EP and opening shows for regional/national touring acts and taking part in festivals like the Honky-Tonk Throwdown and Nippersink Fest. While recording the bands second release, vocal issues and the subsequent surgery forced him to take over a year off, and ultimately leave the band.
With a successful surgery under his belt, and a newfound respect for music and singing, GMII began pushing forward as the working-man's troubadour. Working closely with long-time collaborator, multi-instrumentalist, and producer Michael Pentz, they've carved out an original roots-rock sound with a familiar feel.
2016 looks to be the culmination of Gary Moore II's uphill climb from silence to stage, with festival appearances such as Moonrunners 2016 scheduled as well as solo and supporting gigs throughout Illinois and the Midwest being booked. More importantly, GMII's debut solo album, Tin Man's Blues, is projected for a late-spring/early-summer release by Hole In The Wall Records.