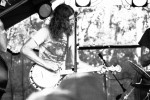 JOSEPH HUBER
Singer/Songwriter/Multi-Instrumentalist Joseph Huber is a founding member of, and also had spent 6 years of playing banjo and heavy touring with the Milwaukee, WI based "streetgrass" group, the .357 String Band–a group that, despite it's abrupt break-up, still continues to gain popularity, is known as one of the most influential groups in the recent insurgent underground country and bluegrass movements. Hard living put together with plenty of downtime has offered more than enough motivation and opportunity for his songwriting, and Huber has continued moving onward and upward captivating folks with his sincere and well crafted songs.
"Bury Me Where I Fall", Huber's introductory solo album was an unseen side to his writing–less high-octane and blistering as his known work, "Bury Me…" reveals multiple, new landscapes, ranging anywhere from desolate, world-weary ones; to brooding and ominous ones. His 2nd release "Tongues of Fire" is much the flip-side to that–joyful, light-hearted, and laughing even in the face of hard times. Being a multi-instrumentalist, Huber performs all the tracks on his records on his own…fiddle, banjo, guitar, harmonica, percussion, and bass. Huber can be seen playing with a backup band, or also opting for a "one-man-band" setup–singing and playing banjo/guitar/harmonica and opting for a trusty ol' Samsonite suitcase as a kick-drum. In his solo career he has had the pleasure of sharing the stage with many great performers including Hellbound Glory, Bob Wayne, Graham Lindsey, Robert Earl Keen, Keller Williams, and more.
His lyricism and introspective writing style has received high acclaim from many Americana enthusiast looking for a more substantive substitute to much of today's modern country. Maintaining a solid touring schedule, playing all throughout both the U.S. and all around Europe, he has steadily gained ground and gotten much positive press, and has shown himself a sincere and influential member of the growing roots movement. Huber has a planned release of his 3rd solo album 'The Hanging Road' featuring 10 new tracks, which will be available on Nashville's 'Muddy Roots Recordings' in Spring 2014.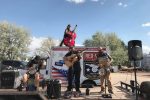 TEJON STREET CORNER THIEVES
Weighing in at an accumulative 846 pounds, The Tejon Street Corner Thieves hail from the Colorado Rockies. The outlaw blues and trash-grass pioneers forged their original brand of whiskey roots from the ground up. Honing their craft on the streets, they swiftly gained recognition from the music community with the 2015 Gazette "Best of the Springs" award.
Now as a nationally touring act, the band has become notorious for their shenanigans and over the top live performance. TSCT's consistent show schedule and heart filled showmanship has captured the hearts of show goers everywhere.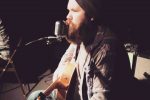 OLD WOLVES
Blues/Folk fit for the rainiest of days.