The Legions of Metal Festival was born out of the end of the Ragnarokkr Metal Apocalypse Festival. Legions of Metal Festival will continue to bring the best of the classic metal from the 80's that we all love and also bring in the newer bands who will carry the torch into the upcoming years in the metal world. You will be able to see some of the newest bands in the scene throughout the day and end each night watching the bands you grew up listening to. The fest will feature two stages and plenty of vendors.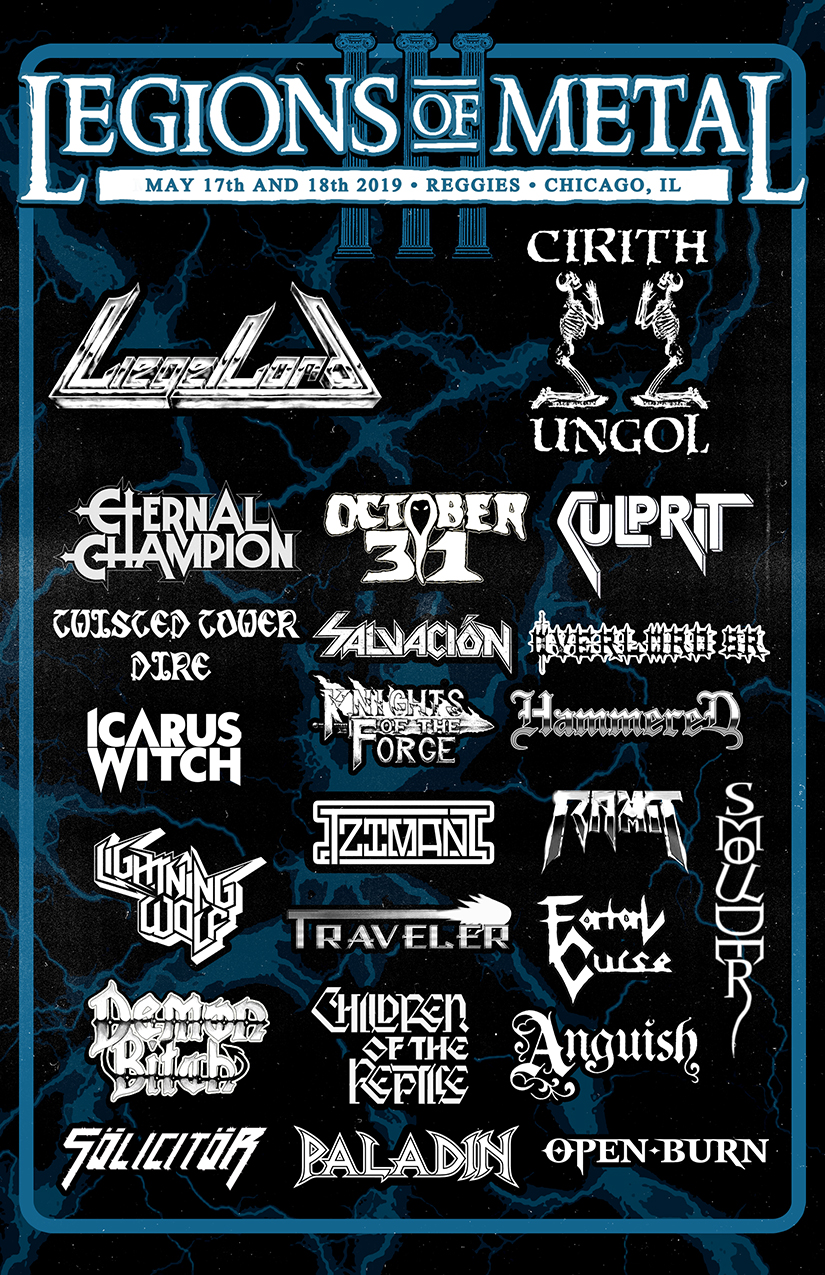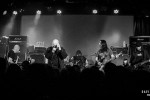 LIEGE LORD
If you were lucky enough to grow up with the birth of American heavy metal, you undoubtedly remember what a special time it was.
Great bands were everywhere. Metallica. Slayer. Testament. Exodus. Death Angel. And the list goes on.
Notice a theme here? All of the said bands are still relatively at their respective games.
Percolating just below those giants were the bands that comprised the heart, soul and spirit of the scene. Among them was Liege Lord, the preeminent Connecticut power metal band that recorded three ground-breaking albums before drifting apart.
Good things come to those who wait. Twenty-five years after the release of "Master Control," the final — and some would argue best — album, Liege Lord has reunited around the songwriting core of bassist Matt Vinci, guitarist Joe Comeau and guitarist Anthony Truglio. Liege Lord is scheduled to headline the Keep it True festival in Germany in April and record new music by year's end.
Liege Lord formed in Stamford, Connecticut, in 1984 around the high school friendship of Vinci and Truglio, and the latter's drumming cousin Frank Cortese. Originally called Deceiver (named after the classic Judas Priest song), the band became Liege Lord — which originally also included singer Andy Michaud and drummer Pete McCarthy — when it began writing its own material.
Local gigs begot regional gigs and by 1985 the band had recorded the pioneering power metal album "Freedom's Rise." Marked by break-neck and intricate riffing — with Vinci being every part of that guitar attack — it marked the arrival of a band destined for more. The following saw Paul Nelson replacing McCarthy and the group unveiling the slightly more progressive-leaning "Burn to My Touch," produced by Blue Oyster Cult's Joe Bouchard and released by Metal Blade Records. With this album Liege Lord became mainstays at tri-state area venues, sharing stages with Hades, Overkill, Anthrax, Raven and Carnivore.
By 1988 a shake-up was in order. Comeau, a Rochester, N.Y., native gave the band that push it needed. A power metal singer in the style of Iron Maiden's Bruce Dickinson yet with the angst of an overdriven Rob Halford, he proved an extremely logical fit. "Master Control," produced by Terry Date before he was a go-to producer, was the group's high water mark. It was also its swan song.
Until now.
With heavy metal undoubtedly more popular than ever, "Master Control" celebrating its 25th anniversary and the key players game, a Liege Lord reunion is very well-timed. Truglio and Comeau never left music. Truglio has established himself as one of Connecticut's finest guitarist, as adept in jazz and blues as blistering metal. He has logged serious time in project's with Helmet's Page Hamilton. Comeau has lent his singing and guitar talents to Ramrod, Overkill, Annihilator and Tad Morose among others. Vinci became a professional photographer.
New to the Liege Lord 2013 roster are guitarist Danny Wacker, who has played with Atlantic Records artist New Blood Revival and in Baptized By Fire, with Dee Snider's son Jesse Blaze. Drummer Frank Gilchriest comes from a serious metal pedigree, having been a member of Virgin Steele and Riot.
– Ray Hogan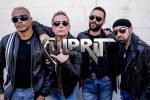 CULPRIT
As Iron Maiden was to England and Metallica was to San Francisco, Culprit was to Seattle. For a generation that grew up on Kiss, Rush, and Ted Nugent, Culprit proved that Seattle and the Northwest could rock with the best. Inspired by Culprit, thousands went on to form bands. Others who were in awe of the musicianship and popularity were inspired to try other styles of rock or metal music. In part, you can thank Culprit for their influence on Sound Garden, Pearl Jam, Mud Honey, Alice-In-Chains, Queensryche, and even Nirvana.
The interaction and energy between Culprit and their fans is pure magic. With an army of head bangers in front of them, Culprit dominated stages in a way the Northwest had never seen before.
Featuring John DeVol and Kjartan Kristoffersen with a twin guitar attack, crisscrossing the stage like charging animals; Scott Earl, an "in your face" bass player, flying through the air while scissor kicking or at the front edge of the stage, teetering on monitors; Bud Burrill, a powerhouse drummer, towering over the stage, keeping it all together while being totally locked in with Scott; and, Jeff L'Heureux, a vocalist like no other, overseeing it all with his intense voice and great sense of humor.
Culprit delivered what people craved: intense high-energy metal in a British sounding vein, complete with cascading duo-guitar runs, split second time changes, staggeringly complex rhythms and piercing vocals that adds uniqueness to the band's overall sound. Enjoy the taste of energy and insanity that is Culprit!
-Brett Hartman-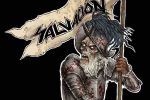 SALVACION
Salvación began as the brainchild of drummer Carlos Denogean. Eager not only to pay tribute to classic Heavy Metal but to play a part in keeping the tradition alive and vital as well. The band formed in 2009 when childhood friend and guitarist Nicholas Sponsel moved to Wilmington North Carolina with the same ambitions. Enlisting the help of some of the most talented musicians in the area they set out to have their vision realized. Despite lineup changes the core of the group remained and in less than three years self-released two full length albums and played numerous shows with some of the best internationally known Heavy Metal bands. In 2013 they set out on their most ambitious project yet, a concept record inspired by Hernán Cortés and the conquest of Mexico. Identifying with the historical figure's unwavering conviction for his goal the record is a monument to the band's steadfast resolution for Heavy Metal. The year 2013 also marked the return of Lead guitarist Dan Todd who contributed immensely on the band's well received second album Way More Unstoppable. The alchemy of this lineup is the strongest it has ever been and they are determined now more than ever to keep defending the faith of True Heavy Metal.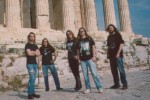 TWISTED TOWER DIRE
In the year of 1995, when metal was being viciously suffocated by an almost supernaturally lame mainstream pop culture, TWISTED TOWER DIRE was born. Iron Maiden, Black Sabbath, Judas Priest, Candlemass…these were the teachers. After releasing two cult demo cassettes, several split EPs and contributing to various sampler CD's to critical acclaim, the band began a partnership with long time fan an…d Solstice mainman/guitarist Rich Walker. He had recently begun a new label called The Miskatonic Foundation and offered to support the recording and distribution of the first TWISTED TOWER DIRE album.
The band unleashed their self produced, full-length debut in 1999. Despite a modest budget, "The Curse of Twisted Tower" won over many dedicated fans that appreciated TWISTED TOWER DIRE's traditional yet unique sound. From 1999 to 2000, the band embarked on a relentless, self-financed world tour in support of "Curse" including several American festival appearances. A European stretch of the tour with fellow heathens Slough Feg and Solstice followed, including several club dates and the Wacken Open Air Festival, where the band had to perform directly after Venom's headlining set!
In 2001, TWISTED TOWER DIRE released the critically acclaimed "Isle of Hydra" (produced by Kevin 131 & TTD) on The Miskatonic Foundation and Hellion Records. The album featured tighter songwriting and improved production, but still retained a certain underground feel. In support, they played shows in North America's Mid Atlantic Region and beyond, including more festival dates. In July 2002, TWISTED TOWER DIRE returned to Deutschland, once again with the mighty Slough Feg, to continue their assault on clubs and festivals, including a headlining appearance at the Headbanger's Open Air Festival.
In September of that same year, TWISTED TOWER DIRE signed to Germany's Remedy Records. Their third release "Crest of the Martyrs" (produced by Piet Sielck & TTD) was unleashed upon the masses on May 26th, 2003. "Crest" had the distinguished honor of being named one of Terrorizer Magazine's Top 20 Power Metal Albums of All Time (Issue 137, Nov. 2005). This release was accompanied by another European invasion with festival gigs at the Metal Bash Open Air Festival and their second appearance at the Wacken Open Air Festival. "Crest" was also the first TWISTED TOWER DIRE album to be officially released in Japan (Spiritual Beast) and the USA (Magick/Cleopatra).
Between 2004 and 2006, the members of TWISTED TOWER DIRE all went through some heavy personal times. The band kept moving forward despite the setbacks, playing shows across the US, including the first Alehorn of Power Festival (Chicago) in June 2006, and working on the aptly named fourth album "Netherworlds". In September 2006, lead vocalist of nine years, Tony Taylor left the band after a long battle with depression. Once it was decided that Tony's departure was permanent, TWISTED TOWER DIRE welcomed Viper (NC) vocalist Johnny Aune as their new singer, reinvigorating the spirit of the band making an appearance at Germany's Keep it True Festival.
Tragically, the world lost ex singer Tony Taylor to a fatal motorcycle accident in February 2010.
TWISTED TOWER DIRE have gone through countless trials and changes, but the purpose has remained the same from early basement practices to today's basement practices. The "Tower Brethren" continue to play their guts out for the legacy of Classic Heavy Metal with their latest album "Make it Dark" in 2011 and their headbangmania live shows. The band appreciates the support of their dedicated friends and fans around the world and hopes to soon see YOU in front of the stage banging thy head!
Current Line up:
Jonny Aune – Vocals
Scott Waldrop – Guitar
Dave Boyd – Guitar
Jim Hunter – Bass
Marc Stauffer – Drums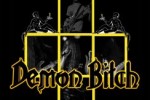 DEMON BITCH
"By the evil and dark spirit of heavy metal we were invoked to come forth cloven hoofed and forked of tongue.. we are the friends of Hell."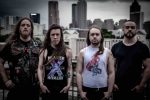 PALADIN
Fast, melodic, and technical, Atlanta's Paladin is on a mission to bring some European flavor to the city's metal scene. The foursome blends soaring vocals, harsh rasps, catchy melodies, and fiery guitar work reminiscent of the 80s to create their own brand of thrashy power metal.
VIP Tickets
2 Day Pass: $120.00 VIP Includes fest poster, exclusive access to second floor VIP lounge featuring all you can eat buffet and meet and greets with various festival bands