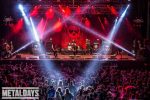 SACRED REICH
Sacred Reich is a Phoenix, Arizona based thrash metal band that formed in 1985. Part of the second wave of thrash along with Testament, Death Angel, Destruction and Dark Angel, Sacred Reich has produced a catalog of politically charged aggressive music that has stood the test of time. The band plays a limited amount of shows each year and can be seen performing at several European festivals each summer.
Discography:
* Draining You of Life 1985- self-released demo * Ignorance 1987 LP – Metal Blade Records
* Surf Nicaragua 1988 EP – Metal Blade Records – CD version has two live bonus tracks
* Alive at the Dynamo 1989 Live EP – Roadracer Records
* The American Way 1990 LP – Enigma Records
* A Question 1991 EP – Hollywood Records
* Independent 1993 LP – Hollywood Records (Japanese Version includes Fear cover "Let's Start a War" as a bonus track)
* Heal 1996 LP – Metal Blade Records – (Japanese Version includes Fear cover "Beef Bologna" as a bonus track)
* Still Ignorant: 1987-1997 Live – 1997 Live LP – Metal Blade Records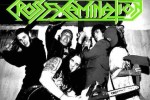 CROSS EXAMINATION
Professionalism is stupid; bios are even worse.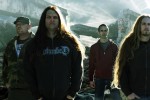 JUNGLE ROT
Jungle Rot unravel unregulated aggression in a purely candid style. As if set to an egg-timer, it never takes more than a heartbeat for this four-piece from Chicago to go straight to the fuckin' point. Their songs are known for hostility and tightly infectious riffs. They have an impressive ability to deny sounding "reused" or "recycled". Throaty, but understandable vocals have long been a trademark of Dave Matrise all throughout the nine years JR has been shoveling forth their particular brand of underground demolition. About the best thing going for Jungle Rot is their versatility. Referring mostly to musical style, their capacity to be a welcome addition to any bill is almost without question. Be it Sodom, In Flames, or the Beastie Boys, Jungle Rot is destination unto themselves.