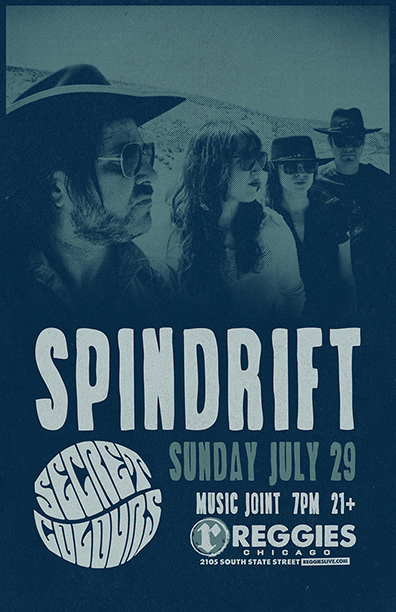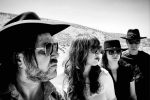 SPINDRIFT
SPINDRIFT is a cinematically-driven, psychedelic "western" rock band based out of Los Angeles, CA, led by singer-songwriter-producer-composer Kirpatrick Thomas.   Among many various EP/Single releases, they've produced and released two feature films with soundtracks available on Teepee Records, (The Legend of God's Gun, Ghost of the West), in addition to two full LP albums on Xemu Records, (Classic Soundtracks Vol 1, The West).   SPINDRIFT has contributed to several film scores and soundtracks, most notably HBO's "East Bound & Down", Quentin Tarantino's "Hell Ride", and Viceland's "Hamilton's Pharmacopeia."
The band has actively toured the U.S. and Europe since 2004 while performing with acts such as X, The Dandy Warhols, Black Rebel Motorcycle Club, Dead Meadow, The Black Angels, and Kurt Vile.  They've helped ignite the psychedelic revival of the 2000's, with highlighted performances being Austin Psych Fest, Roadburn Tilburg, Levitation, Liverpool Psych Fest, SXSW, and film screenings accompanied by performances at Park City's Slamdance Film Festival and Spain's Almerian Western Film Festival 2014, 2017.  Members of the band have crossed over with other acts such as The Brian Jonestown Massacre, Psychic TV and have had strange collaborations with punk legend Jello Biafra on tunes such as "Ghost Riders in the Sky" during their Ghost Town Tour of 2012. A ambitious tour which was documented in the film "Ghost of the West"(Directed by Burke Roberts).
While in their formative years in the 1990's, SPINDRIFT slowly developed their own mixture of sounds reminiscent of 60's psychedelic rock like The Doors and 90's shoegaze similar to My Bloody Valentine, however, while relocating from Newark, DE to Los Angeles in 2001, Thomas & Co. were captivated by the wide, expansive, unfolding western landscape and began to develop a more mature, conceptual approach to songwriting.  Utilizing Ennio Morricone influenced chord progressions, spacey soprano vocals, twangy doubleneck bass/baritone guitar, and string section like guitar effects, their sound has evolved into that of a psychedelic, spaghetti western rock orchestra which continues to evolve with each film they score.
Most recently the band collaborated with Hollywood/Bollywood actor Bivas Biswas and actress Sapna Gandhi on the Hindi sung "Dil Gera Na De (Don't Fall For Me)". The new single is set to be released by Divine Droid Records in the United States and India with a new video directed by Mike Bruce (Noel Gallagher, The Legend of God's Gun).  The original East Coast lineup recently reunited to celebrate the release of the first 8 songs the band recorded (in Newark, Delaware) from 1991-1995 with a newly added studio tune "Cabin Fever," through SDS distribution.  Currently, the band is actively working on finishing the next studio release and continue to book US and European tours for 2018.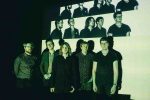 SECRET COLOURS
If you didn't know these guys were from Chicago, you'd assume they're a bunch of Brits, with their insanely Britpop-influenced sound and their unusual spelling of Colours, but the Windy City exports manage to capture the soul of the UK in the late '90s/early '00s and mix in a good amount of 70's Psychedelia for a sound all their own. Ample amounts of fuzz and pop combine to sound something like if The Stone Roses and The Black Angels decided to mate, and their offspring is something to be cherished.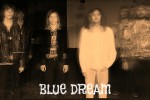 BLUE DREAM
"Slipping through the cracks of the midwestern walls of Chicago is a haze of psychedelia, blues-infused riffs, and garage-dwelling rock induced by Blue Dream."