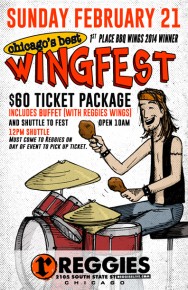 Reggies at Wingfest 2016!
Cheer on the Reggies team at WingFest 2016! Our BBQ Wings have been voted  #1, we return to take the title back!
We have a limited number of WingFest tickets available. Our package includes WingFest ticket, buffet with Reggies award winning wings!, and round trip bus ride to Wingfest.
Reggies opens at 10am. Bus Shuttle leaves at noon. Must come to Reggies morning of the Fest to get your WingFest ticket.