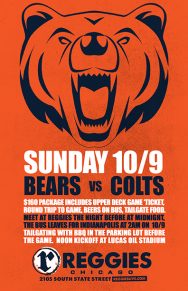 BEARS VS COLTS ROAD TRIP
Ride with the Reggies crew and root for your team at the Bears vs Colts game in Indianapolis on October 9th!
Includes round trip bus ride, beers + refreshments on bus, tailgate BBQ in stadium lot, and upper deck ticket to Bears at Colts game at the Lucas Oil Stadium in Indianapolis!
Meet at Reggies the night before the game at midnight, the bus departs at 2am. After an overnight drive to Indinapolis, estimated arrival is 7am the morning of the game. Enjoy a tailgate BBQ with beverages before the game starts at noon! Return trip back to Reggies after the game ends.
Buy a ticket for the package online or at our box office in Record Breakers!