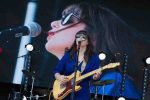 BETH BOMBARA
With a folksinger's head and a rocker's heart, Beth Bombara has built her career on an evolving sound that blurs the lines between genres. To those who make their living onstage, she's a musician's musician — a road warrior who writes her own exemplary material, plays multiple instruments, and fronts her own band, often a duo with her husband. With 2017's 'Map & No Direction,' Bombara's songs take aim at a larger audience with melodic hooks that showcase a love not only for roots-rock, but the irresistible punch of classic pop, too. (NEW ALBUM OUT MARCH 3rd)
Layered with lush string arrangements, polished to a light shine by producer Karl Kling (RAC), and influenced by more than a half-century's worth of British pop classics and rock home runs……The result is Map & No Direction, an album that casts the widest net of Beth's career, from the George Harrison-worthy guitar riffs of the kickoff track, "I Tried (You're Too Late)," to the sad, sparse beauty of the piano ballad "What We're Giving." It's the sound of Beth rediscovering her own abilities as a songwriter — and expanding them, too.
Bombara's new batch of songs are vintage-influenced hooky Americana and rock & roll and equal parts "bourbon-warmed Neko Case", as her hometown Riverfront Times (St. Louis, MO) described. They named her best Americana artist 3 years in a row.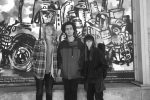 STRING FIGURES
Folk/crust punks from Hyde Park playing out of your local dumpster.