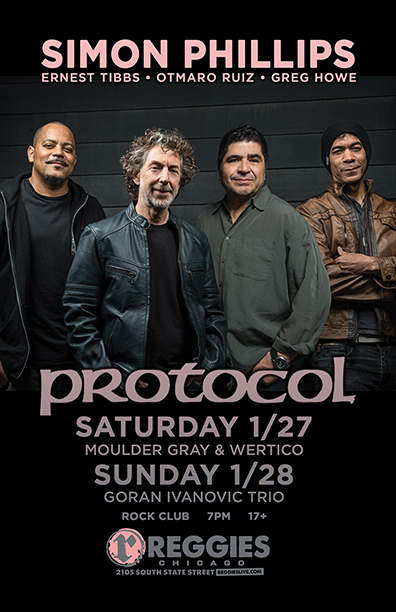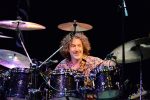 SIMON PHILLIPS
Simon Phillips is by far one of the world's most renowned and respected drummers, whose style not only reflects his technical gift but also his distinct musical sensibility. Whether it is Rock, Fusion or Jazz, Simon applies the same precision and intensity to his drumming, which is never lacking in emotion and feel.
Simon's professional musical career began at the early age of twelve, performing and recording with his father's – Sid Phillips – Dixiel and band until he turned sixteen. With an offer to play in the musical Jesus Christ Superstar, his path was marked and his career in full bloom. Simon soon became one of London's most celebrated session drummers. In his early twenties he was well on his way to having a musical career nothing short of brilliance. To date he has toured and recorded with many bands and artists, including: Mick Jagger, The Who, Jeff Beck, Jack Bruce, Peter Gabriel, Joe Satriani, Tears for Fears, Judas Priest, Roxy Music, Michael Schenker, Nik Kershaw, Phd., Al DiMeola, 801, Pete Townshend, Russ Ballard, Robert Palmer, Stanley Clarke, The Pretenders, Jon Anderson, Whitesnake and Dave Gilmour… to name but a few.
In 1992 Simon decided to move to the USA, coinciding with being asked to join Toto for their world tour. He has remained a full time member ever since. After recording the Toto album "Tambu" in 1995, another year of touring followed in 1996, covering Europe, Japan, SE Asia and South America.
In 1997 Simon took a break from Toto in order to reach a personal milestone: He took his own band on tour, and for the first time he was the bandleader, and it was his music. This great year included tours of Europe, Japan and The United States, and a performance at The North Sea Jazz Festival.
1998 saw the recording of another Toto studio album entitled" Mindfields", followed by 2 years of touring around the world of which the live CD "Livefields" captures. The most recent Toto record "Through the Looking Glass" took the band in 2002/03 on extensive concert trips to Europe and Asia.
Expanding his career from drumming to writing solo projects, Simon recorded his first album "Protocol" in 1988, followed by "Force Majeure" in 1992. "Symbiosis", which he recorded in 1995, was as spirited but more inspired than ever, and showed a change of direction in the compositions. Simon likes to link his growth in songwriting and new artistic depth to his move to the States. The 1997 record "Another Lifetime" shows yet another layer of his tremendously resourceful playing and an even more motivated composing. "Out of the Blue", a live album, followed in 1998 and in 1999 another complete change of style took place in his latest record "Vantage Point", which is a pure, straight ahead jazz album.
Yet another expansion to Simon's musical career is producing and engineering, which he first started back in England with British composer Mike Oldfield, working on three albums with him. Aside from his solo projects, Simon also co-produced Toto's "Tambu" in 1995,followed by "Mindfields" in 1998. Simon was asked to engineer the latest Toto album, and spent a couple of months during the winter of2001/02 recording "Through the Looking Glass" in his own studio. Simon is currently back in his studio mixing a recently recorded show for the next Toto DVD.
In 2000 Simon took a break from Toto and recorded with Derek Sherinian, formally of Dream Theater, as well as produced and engineered "Inertia". The following year included the recording of progressive band Planet X, "Moonbabies" and mixing a live CD "Live From Oz".
Simon's sympathy to the various styles of music and his interest in sound and arrangements will always drive him to expand his career.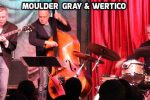 MOULDER GRAY & WERTICO
John Moulder
John Moulder is a guitarist and composer whose music has evolved from an assimilation of various musical traditions. His most recent release entitled Earthborn Tales of Soul and Spirit (Origin 2016) features Donny McCaslin, Marquis Hill, Paul Wertico, and many other long time musical companions. Inspired by soulful individuals, it has been described as a contemporary musical narrative. John's compositions and playing are featured on his CDs entitled Awakening (Mo-Tonal Records 1993), Through the Open Door (Igmod/Mo-Tonal Records 1997), Spirit Talk (NAIM 2003), and Trinity (Origin 2006) and Bifröst (Origin 2009) were both named one of the "Ten Best Jazz CDs" of 2006 and 2009 respectively by the Chicago Tribune. On The Eleventh Hour: Live at the Green Mill (Origin 2012), John collaborated with his long time musical companions, Paul Wertico, Larry Gray, Jim Trompeter, and Geof Bradfield.
Televised feature stories on John and his work have aired on Artbeat (WTTW) and Chicago Tonight (WTTW). He has played nationally and internationally at numerous festivals, clubs and concert halls and has performed with artists such as Eddie Harris, Bob Mintzer, Paul McCandless, Lyle Mays, Paul Wertico, Gary Burton, Niels-Henning Ørsted Pedersen, Arild Anderson, Bendik Hofseth, and Terry Callier.
John received his Master's Degree in Music from Northwestern University. As an educator, he is currently a faculty member at Northwestern University, Benedictine University, and Roosevelt University's Chicago College of the Performing Arts. He has lectured, taught master classes, and conducted clinics at universities, high schools, music institutes, and other settings.
John's official website is: johnmoulder.com
Larry Gray
Bassist, multi-instrumentalist, and composer Larry Gray has enjoyed a career spanning some four decades in which he has collaborated with a long list of many of the world's most important jazz artists, including Jack DeJohnette, Bobby Hutcherson, Joe Williams, McCoy Tyner, Benny Golson, James Moody, Sonny Stitt, Larry Coryell, Kenny Burrell, Joe Pass, Clark Terry, J.J. Johnson, Steve Turre, George Coleman, Lee Konitz, Benny Green, Eddie "Lockjaw" Davis, and Gary Bartz, among many others. He has five solo recordings to his credit, beginning with Solo + Quartet and most recently, Three Equals One. Among many projects as a collaborator or sideman, he appeared on five CDs during his twelve years as a member of the Ramsey Lewis Trio. Through the years, he toured with many artists, including Joe Williams, Clark Terry, Frank Wess, James Moody, Marian McPartland, and Ramsey Lewis, appearing at many important festivals and concert venues worldwide.
Most recently he appears on the recording on ECM, Jack DeJohnette-Made in Chicago, with Muhal Richard Abrams, Roscoe Mitchell, and Henry Threadgill. He currently tours with Jack DeJohnette's group and also played in Larry Coryell's Trio, alongside drummer Paul Wertico. Another recent project, The Gray Wilkerson Ra Trio, features the internationally acclaimed improvisation musicians Ed Wilkerson and Avreeayl Ra. He also serves as an Associate Professor of Jazz Studies at the University of Illinois School of Music in Urbana/Champaign.
Larry's official website is: larrygraymusic.com
Paul Wertico
Hailed in the press as "One of the most versatile and musical drummers in music today," Paul Wertico was a member of the Pat Metheny Group from 1983 to 2001. During that time, he won seven Grammy Awards (three for "Best Jazz Fusion Performance," three for "Best Contemporary Jazz Performance," and one for "Best Rock Instrumental Performance"), won numerous magazine polls, received several gold records, and played drums & percussion on David Bowie's hit recording (with the Pat Metheny Group), "This Is Not America."
He has played with countless artists and has performed in all 50 states and in over 60 countries. Paul has also played drums and percussion on hundreds of recordings. As a solo recording artist, Paul's recordings have received great critical praise. DownBeat magazine listed Paul's CD, Impressions of a City, as one of its "Best CDs of 2010." LA Weekly even wrote, "His recent records, such as 2000s Don't Be Scared Anymore and the new StereoNucleosis, are stunning examples of the electronic, rhythmic and intellectual directions jazz could be going."
Paul is also extremely active in the field of education. In addition to teaching drums privately for over 45 years, he is an Associate Professor of Jazz Studies at Roosevelt University's Chicago College of Performing Arts. For over four decades, he's conducted drum masterclasses, clinics, and workshops around the world and has written educational articles for numerous magazines. His instructional DVD, Paul Wertico's Drum Philosophy, was named "One of the best drum videos of the last 25 years" by Modern Drummer magazine, and in July 2017, Alfred Music published his new book, Turn The Beat Around (A Drummer's Guide to Playing "Backbeats" on 1 & 3), in which Paul even coined a new word for these types of reversed beats: frontbeats.
In 2004, Paul was a Chicago Tribune "Chicagoan of the Year." In 2010, he was honored with two "Lifetime Achievement Awards": one from the Cape Breton International Drum Festival for his "Major Contribution to The World of Drumming & Education," and the other from the Montréal Drum Fest. As Musical Director for the crowdsourced TV video series, Inventing The Future, Paul was nominated for a 2012-2013 Emmy Award in the "Outstanding Achievement In Interactivity" category by The National Academy of Television Arts & Sciences, Midwest Chapter. He also hosted his own weekly radio show for two years, Paul Wertico's Wild World of Jazz.
In the international press, Paul's drumming has also been compared to that of an "Impressionist painter," and he has also been called "an inspired madman," "a restless innovator," "a true legend of jazz drums," "a master of drumming insanity," "a genius of the sticks," and a recent review stated, "Wertico simply oozes musicality."
Paul's official website is: www.paulwertico.com