Exclusive RSD releases!
Free Hot Dogs and Soda!
Live In Store Performances!
Half Off all CDs!
Open early at 8am! Don't miss out!
Don't forget to enter the raffle to win a pair of weekend passes to THE FORECASTLE FESTIVAL this July in Louisville, KY when you stop by tomorrow! Oukast, Jack White, Beck, and The Replacements are just a few of the artists scheduled!
Stick around for a FREE show with G.Love at noon in the Rock Club presented by WXRT and Tito's Vodka! Enter for you chance to win guaranteed entry to the event! G. Love and Special Sauce tickets are still available for the full-length show at Metro on Friday, April 18.
You can pre-order the new album 'SUGAR' (available on April 22) at Record Breakers! With the preorder purchase fans will get a specially made poster for the event which G. Love will sign after the performance.  Come in to the Record Breakers anytime during or after the release date to pick up your copy of the record.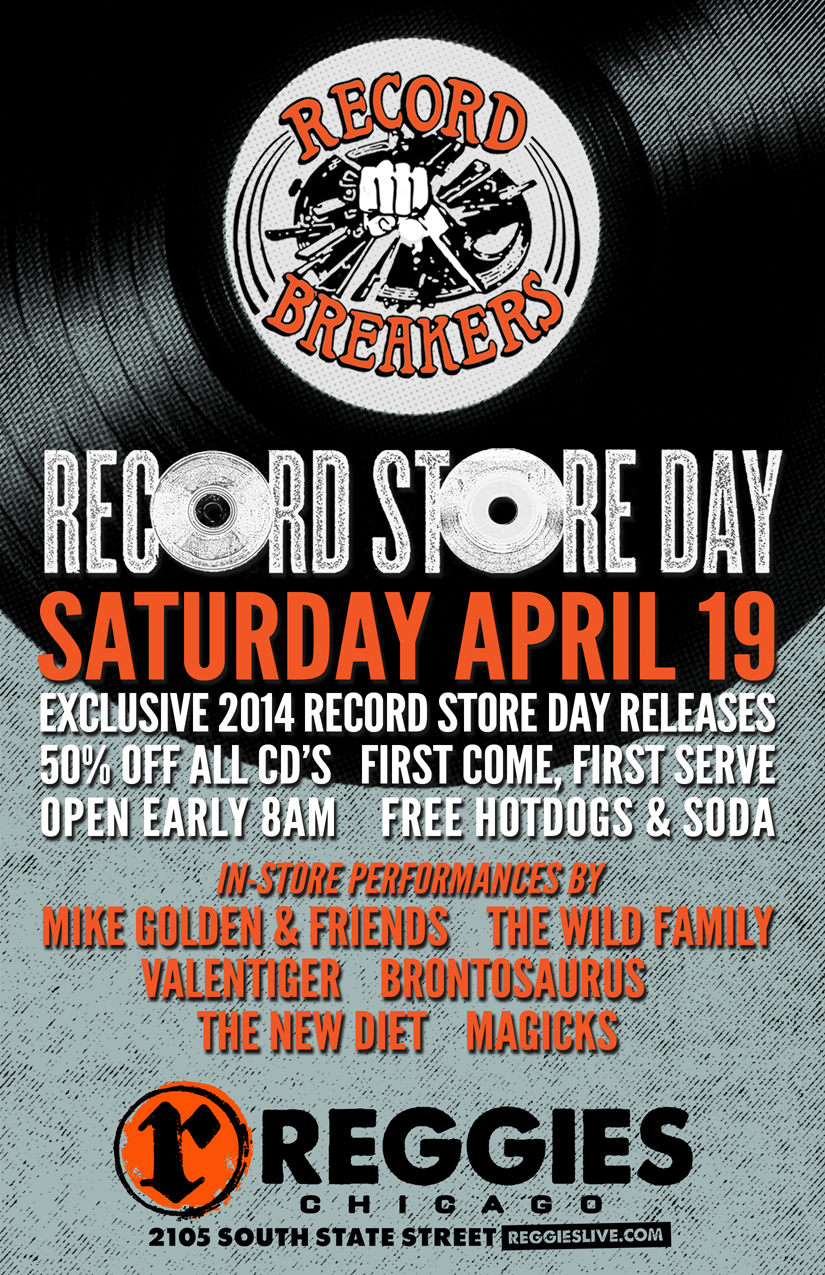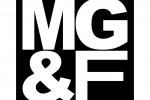 MIKE GOLDEN & FRIENDS
In the midst of a public relations and marketing degree at Purdue, Mike Golden, like many college sophomores, began questioning his status as a student and began wishing for life as a musician. Mike, however, had some things that many other college kids do not: a raw passion for music, something to say, and the motivation to get himself heard. He called an old friend, some fellow musicians and recording artist from Chicago, and Trees EP Part I, Trees EP Part II and Groceries were born.
This collection is the first of Mike's recorded music under the name "Mike Golden and Friends." It is a raw, low-budget, but passionate mix of music recorded completely in the Chicago apartment of producer Scot Stewart. Scot's creativity and vision included unconventional tactics: microphones made of thrift store telephones, bathtub recording, stomping, clapping, and clashing beer bottles to create the album's percussion. No bass, electric guitar, or drums can be heard on these albums; the focus is on Mike's breath-taking voice and the sounds of being surrounded by friends. Shows were played to replicate this raw sound, with the stage being full of Mike's friends drinking, singing, clapping, and clanking their bottles together in unison. Now comes "Groceries": Mike Golden and Friends' first full-length record. The album name is meant as a metaphorical description of the music; at a grocery store, you may fill your cart with a variety of seemingly unrelated items, but they all work together to sustain life in a multitude of different ways. The music on this album is meant to sustain the soul, using a variety of different styles, genres, and moods. Mike also wrote many of his song structures and lyrics within a grocery store while working as a butcher, before deciding to pursue music full-time.
Scot Stewart again produces, engineers, and mixes the album, with Mike co-producing. It was recorded from June to October in 2011 at the homes of both Mike and Scot in Indiana and Illinois, respectively. This time, drums, electric guitars, and bass are included, as well as all of the quirks from the first album – stomping, beer bottles clashing, and background talking. The album also includes a new instrument Mike acquired: a true cigar box guitar, made by scratch for him from his lady for Valentines Day.
Mike currently plays shows mostly in the Midwest, having debuted at several college campuses and venues around major Midwest cities. He is based out of Chicago, however, and makes frequent appearances at renowned venues including Schubas, Metro, and Congress Theatre. This September, he made his debut in Cincinnati at Midpoint Music Festival, and hopes to continue playing shows and expanding the reach of his music.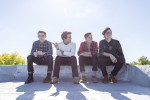 THE WILD FAMILY
After learning and playing music together for years as kids growing up in Genoa, IL, brothers Jake and Zach Schweitzer have tackled multiple instruments, different styles of playing, and managed to find extended-family members in Graham Young and Kevin Koreman who complete the group's effortless melodic folk DNA.
Zach, Jake and Graham began writing together in September of 2012 and The Wild Family was born from their soft, crooning melodies complimented by intense guitar parts and bold lyrics that deny their young age. With Jake on vocals and guitar, Graham with lead guitar and vocals, Zach with backing vocals and bass guitar, and recent addition, Kevin Koreman on drums, their lofty vocal harmonies intertwined with the heavy drive of an electrified rock set up, encourage a significant amount of movement and dancing to ensue.
After only a year together, their style and apparent talent continues to unfold as they perform heavily around the Chicagoland area. Recorded by Jonathan Alvin at Chrome Attic Studios, their debut self-titled EP will be released on February 4th, 2014.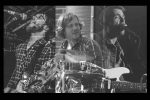 VALENTIGER
Valentiger plays charismatic pop rock that caters to a wide variety of sensibilities. Carefully crafted and effortlesslyorchestrated, their collective confidence as a band is as deserved as it is tongue-in-cheek. Their infusion of wit and humor with an enlightened cultural outlook creates a product as reflective of their individual personalities as it is cloaked in surprising wisdom.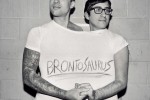 BRONTOSAURUS
There might not be a duo these days – in Chicago or elsewhere – making as big of a noise as Brontosaurus. The pair of Nicholas Kelley and Nicholas Papaleo formed Brontosaurus as an outlet for their often pretty, often eerie powerful pop constructions. Drawing inspiration from a variety of sources as well as their varied musical upbringing (classical/indie rock/metal/prog), Brontosaurus performs their songs using all 8 limbs, often at the same time, as well as intertwining their distinct voices to create a unique and and entertaining live experience. Brontosaurus' debut LP, Cold Comes To Claim, released in 2011 on the revered Chicago label Plus Tape owes as much to the sound and feel of Tin Pan Alley as it does to the Pacific Northwest of the late nineties. Cold Comes To Claim runs the gamut – from sweeping grandeur to math-induced freak-outs. The duo has been touring throughout the U.S. in support of Cold Comes To Claim and has shared the stage with Maps & Atlases, Suuns, Des Ark, Maserati, Owen, The Pass and A Lull to name a few.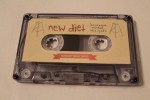 THE NEW DIET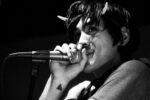 MAGICKS
Chillwave is alive and well in Chicago. Magicks combines mellow indie-pop with atmospheric noise to create what Magicks (either seriously or not) refers to as "beach daze." And beach daze seems to perfectly describe that moment where you've been baking under the sun for far too long and then sets that feeling to music.  Recently taking the lead on vocals, Monica Rose is a thoughtfully stylish Chicago, Illinois-based indie jazzy/pop singer-songwriter, rollerblader, subconscious mind student, future fashion icon, and skilled painter. She intrinsically fuses that healing melody that helps us deal with our day, as this is a caring musician who selflessly makes music to help others through her art.