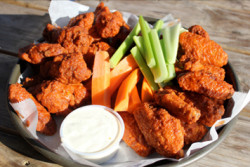 REGGIES' KITCHEN is known for its finger-lickin' homestyle cooking. Take your pick from char-grilled burgers, chicken, ribs and more, slow cooked for great flavor on an open-flame, wood-burning grill. Not your average bar food, REGGIES uses the finest, freshest ingredients.
Some fan favorites:
Our Jumbo Sized Wings start with a secret spice rub, finish with homemade Hot Buffalo or BBQ Sauce. Reggies is the proud winner of BEST BBQ CHICKEN WINGS at Wingfest 2012.
Homemade, thick-sliced corned beef in our just right Reuben.
The oven roasted turkey breast that tops off the hearty Club Sandwich.
The fresh-cut fries that go great alongside our tender Portobello Mushroom Sandwich.
And our fresh grilled Chicken Caesar Salad really rocks!
Let REGGIES cook for your next party with on-site or to-go catering.
Rave reviews:
Brian J: "Best wings ever."
Tony Cheese: "I tell everybody they have to taste a Reggie burger…"
Owen & Dustin S: "The fried pickles are amazing!"
MB: One of the best corned-beef Reuben sandwiches in the state, if not the country!
Find out what others are saying:
Order On-Line to pick up your favorite food from Reggies.