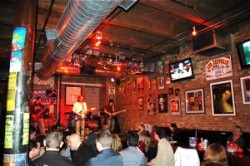 Come to REGGIES' MUSIC JOINT for great food and live music! With the JOINT's exposed Old Chicago Brick and unique collection of music and sports memorabilia, our laid-back bar and grill feels like it's been a neighborhood fixture for years.
Get inspired by a great live performance, almost nightly, on an incredibly close-up, intimate stage. Since there's a wide variety of musical genres playing Rock, Blues, Jazz, Blues, Reggae, Jam and More be sure to check the MUSIC JOINT's daily schedule . Sit close to the stage, along the bar, or in one of our cozy booths and enjoy great balanced sound and incredible sightlines. This a terrific place to catch a show.
Watch your favorite sporting events on the MUSIC JOINT's 17 flat-screen TVs and two big-screen projectors – we have all the network sports packages to get you surrounded in the action no matter what the season!
Take your pick from our delicious comfort food menu. We serve it up daily from 11 a.m. to midnight. Winner of BEST BBQ CHICKEN WINGS at Wingfest 2012. You don't want to miss our tasty woodfire-grilled sandwiches and our HOMEMADE TV dinners.
Choose from more than 70 beers, including 25 eclectic taps. The JOINT's fully stocked bar features premium whiskeys, vodkas, and tequilas to create your perfect cocktail.
Relax over lunch, dinner, or drinks on our dog-friendly front patio.
Whether you're here for the game or out to treat yourself to some great live music, sit back, chill out, and soak in the vibe of REGGIES' MUSIC JOINT.
Regular Events of the Month…
TIPSY TUESDAYS… Featuring Mr. Blotto (Acoustic) and other great bands.
CLASSIC ALBUMS… Last Thursday of each month. Some of the best musicians in the city get together to recreate your favorites live on stage.
FRIDAYS… Free after work Blues | Rock | Acoustic shows.
PIG ROASTS… See EVENTS for schedule.
ALL YOU CAN EAT TAILGATE BUFFETS… Every Bears home game and more.
Order On-Line to pick up your favorite food from Reggies.
You can now Order Catering On-Line from EZ-Cater